WHO WE ARE
We are a South America tour company with a staff trained at Switzerland's and South America's most prestigious Travel & Hospitality universities. Born out of our own experience of working within the travel industry throughout the world. The lessons we picked up from travelers and through our own observations, has helped us to design tailor-made experiences for travelers.
After backpacking around South America in their youth, the founders, Katherine and Frederic, decided to pursue formal education in the field of tourism. Katherine, having spent several years guiding trips throughout South America for major travel companies, studied Sustainable Tourism and Local Development at the International Training Center of the International Labour Organization. Frédéric studied International Hospitality Management at the Lausanne Hotel Management School in Switzerland and worked in several major hotels around the world. The unique insights and genuine passion gleaned from these experiences, means that we offer first rate services to the places which represent the very essence of South America. Each trip we create is based on your personal interests and desires. Whether this is a few day's journey or month long epics, we will use our expertise to provide an enriching experience that you will never forget.
Our specialties include trips within Peru, to Machu Picchu, wine tasting in Argentina, as well as to the Salt Flats in Bolivia, the Galapagos Islands in Ecuador, and other destinations in South America.
If you ever dreamed of hiking the widely known Inca Trail to Machu Picchu, to cruising down the Amazon River, or sailing to the Galapagos Islands, you will not find a more attentive or personable company to help make these dreams come true!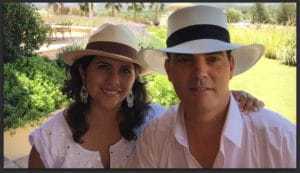 Katherine Montesinos & Frédéric Pannatier
Founders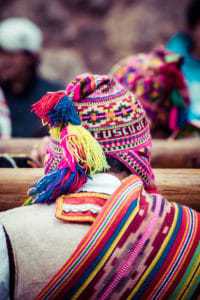 WHY PIE EXPERIENCES
GUARANTEED QUALITY
At PIE EXPERIENCES we expect and uphold the highest standards and leave no stone unturned with regard to our customer's expectations.
Thanks to our outstanding performance, we were awarded the MINCETUR Quality Assured Seal in Tourism. This QA seal is the greatest distinction awarded by the Peruvian government within the tourism sector. It officially recognizes the top technical standards throughout the tourism industry in Peru.
Trained Experts in South America Travel and Hospitality
We are experts in South American travel tours and all-inclusive vacations. After a decade of running PIE EXPERIENCES, we are still as enthusiastic and passionate about what we do, and just as keen to look around every corner of this awe-inspiring continent. We aim to continue designing incredible travel experiences for as long as we can!
SMALL IS BEAUTIFUL
We are not a big company and do not pretend to be one. Every customer has a personal travel & customer service expert dedicated to crafting a tailor-made vacation designed just for you. This travel & customer service expert will be fully focused on your journey and well being from the beginning to the end of your tailor-made vacation in South America.
Due to the fact that we only work with individual reservations and small groups, we enjoy the considerable advantage to be able to offer unique accommodations. This might be beautiful boutique hotels or unique local experiences, something a larger company would not be able to offer.
CONTINUED SUPPORT BEFORE AND DURING YOUR TRIP
Our support does not stop once your reservation has been confirmed. In additional to your own travel & customer service expert, we will send a detailed document which includes useful recommendations and suggestions to help you to enjoy your trip. This document includes everything you need to know about the people who will be there with you throughout the trip, including drivers, guides, and local tour operators.
WHY DO OUR CLIENTS LOVE TRAVELING WITH US?
We think of tourism as the business of dreams. Over the years, the feedback from our clients has been overwhelmingly positive and many have let us know that our trips exceeded their expectations.
This is the motivation for us to keep on improving and raising the bar of our own expectations.
WHAT PEOPLE SAY ABOUT US
We think of tourism as the business of dreams. Over the years, the feedback from our clients has been overwhelmingly positive and helpful in improving our services.
We have just arrived home after spending 3 fabulous weeks in Peru with our two daughters. A country that is so diverse in all aspects...history,culture,activities,flora,fauna and an array of foods that meet every palette. There is absolutely no question for us that this is the company to go with. From our initial contact to the heartfelt hugs at the airport, Katy and Frédéric and their guides were with us every step of the way. The local cell phone that we recieved on arrival meant that we were had immediate contact with the office when necessary or just to check on how things were going. No query was too much and all were dealt with in an efficient and professional manner.Thank you Katy, Frédéric and in particular our guide Henri on the Inca jungle trail, for making this one of our more memorable adventures.This is one company that really exceeds the word excellent!
Rachel Warren,
We had a complicated itinerary traveling by bus, train, airplane, and boat. Everywhere we went there was someone to meet us and take us where we needed to be. All the guides were great and spoke English well enough to give us insight to their wonderful country. We had to slightly alter our schedule due to illness and they made the change smoothly and without problem. We had a cell phone for our use which was helpful when we had to make the change in our schedule. Katherine and her whole crew were superb and helped us have a wonderful visit to Peru.
Butch Peterson,
Thank you so much for my incredible experience in Peru.Everything was wonderful. The people who met us were on time and made us feel so confident we were in good hands.You made this a no worry vacation for me. You made this the most carefree vacation I have experienced. Thank you so much. I told everyone along our trip about you.
Debra Jones,
I spent 2 weeks in Peru with a group of friends. We arrived in Lima, went to Lake Titicaca, Cusco, Machu Picchu, and the Amazon. I was really impressed with the support we had. We received all the plane, boat, train, entrance tickets when we needed them and were always met and taken to our accommodation. All the guides were knowledgeable in their areas. This was an excellent, well organized trip and will keep me talking to anyone who listen to this great adventure.
Helen Gendron,
PIE EXPERIENCES was amazing. Our trip was well organized. We didn't have to worry about anything. Our transportation was always on time with well informed guides. Our transfers for buses, Trains and planes were timely and we were always met at our destination by someone ready to make sure we got to our hotels and as well as our luggage. Hotels were clean with staff that was pleasant and went out of their way to make sure all our needs were met.
Linda Ann Golden,
This was the most wonderful, educational trip I have ever been on. I explored many tour companies before going with Katherine. She was accommodating, rearranged many things to suit our needs & wants, she phoned us while she was on holidays to make sure everything was good. Everywhere we went there was someone waiting for us - train stations, bus depots, airports etc. The tour guides were excellent!! Hotels were top of the line and if something was rearranged, we were informed and completely looked after with many bonus things added. I can't say enough positives about Katherine & our trip- it was way above all our expectations. I would highly, highly recommend Katherine and PIE EXPERIENCES! I am looking to book another trip with her in the next 2 years.
Susan Culum,
PIE EXPERIENCES did an incredible job in organising our trip. Organisation-wise everything went excellent: local guides and drivers were always well-informed, knowledgeable, reliable, punctual and their level of English better than average. Accommodations were always exactly as described. We had a great time without any worries, largely because of the fantastic organisation. Thank you Katherine.
Bart Verachtert,
The service provided by PIE EXPERIENCE AND Katherine suited our needs albeit was somewhat misunderstood earlier that we needed wheelchair accessible locations and sites. This was managed by the accommodation people to suit our needs. Katherine also provided us a contact arrangement and checked in on us. Some guides doing the private tours provided limited tours and I don't think our tour time should include visits to vendors to purchase goods. PIE guides attended to tours only however it would been desirable to visit sites in the sacred valley rather than just being a straight transfer.
Daniel Eaton,