Hiking the Colca Canyon in Arequipa
The beautiful scenery on the way to Cabanaconde is part of this unique adventure. On your Colca Canyon Trek, you will trek down one of the deepest canyons in the world and enjoy a one-of-a-kind experience when watching the majestic condors fly. While trekking to the Village of Llahuar, the apachetas will guide your way just like in ancient times. Deep in the Canyon, you will fall in love with the Sangalle oasis, a perfect place for trout fishing, taste mouth-watering nutritious local foods, and relax in the natural hot springs.
Highlights of the Colca Canyon Trek: 3 Day Hike to Colca Canyon from Arequipa
Hear the wingbeat sounds of the majestic Andean condor soaring above you on your Colca canyon trek.
Interact with native people, who have lived for centuries in the Colca Canyon raising livestock and taking care of the land.
Enjoy calm nights beneath the stars accompanied by the lullaby of the babbling river.
Have the opportunity to taste our native delicious foods which are prepared with homegrown goods by the local people.
Itinerary Overview: This service is in private service
Click through to "Tour Plan" to see the full itinerary for the Colca Canyon Trek.
Day 1: Travel from Arequipa to Cabanaconde by bus. Begin your exploration of the Colca Canyon with a moderate descent(4 hours) to Llahuar.
Day 2: Trek along ancient paths to Sangalle (4 hours). Spend the afternoon relaxing along the oasis pool or relaxing along the banks of the Colca River. After lunch we will continue ascending to Cabanaconde ( 3 hours). Overnight in Cabanaconde
Day 3: Visite Cruz del Condor. From here, you will have the chance to see the Andean Condor and enjoy a lunch with a local family in Yanque  before returning to Arequipa.
Important Information:
We recommend you book your Colca Canyon trek at least 30 days in advance.
Travel voucher & contact details:
You will receive an electronic voucher via e-mail once your booking is confirmed.
Book  Now Pay Later
Simply pay an initial deposit of $99 per  person and  pay the rest later.
You must pay the balance of your trip  no less than 45 days before the departure date, or at the time of booking if less than 45 days before departure.
If full payment has not been received before 45 days prior to check-in the booking will be automatically cancelled and your deposit will be forfeited.
You don't need to miss out – JUST BOOK NOW PAY LATER!
Departure

From your accommodation in Arequipa

Departure Time

3:00AM - 3:20AM

Return Time

5:00PM - 6:00PM

Include

Activities described in the itinerary

Meals

Tour guide

Accommodation

Entries

Transport

Not Included

Tips

Travel Insurance

Domestic flights
1
Day One: Feel the calm of nature as you descend into the Colca Canyon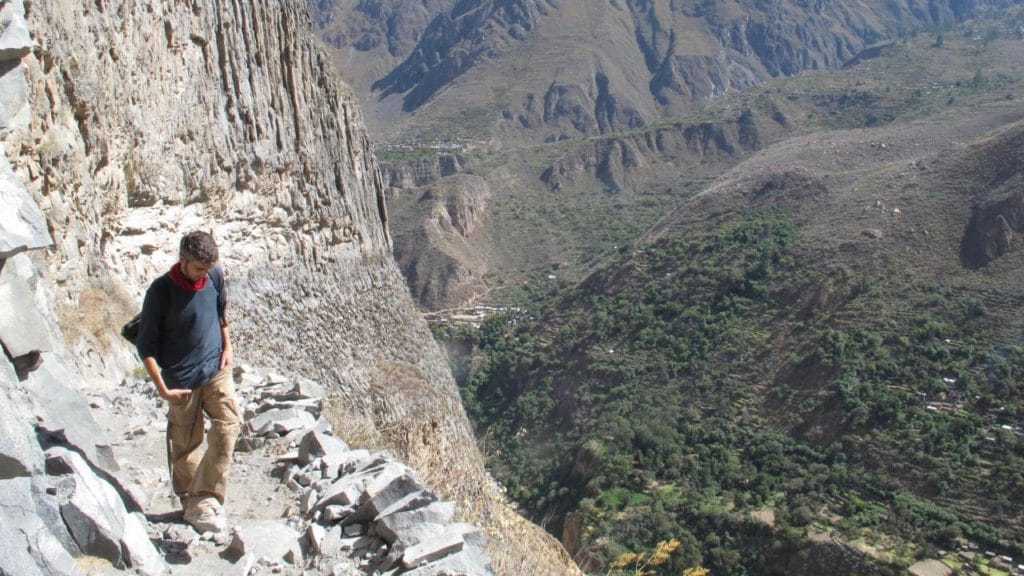 Your adventure begins as you're collected from your hotel at 7 am; an early start for nature's explorer. As you  travel , watch the charming countryside surrounding Arequipa transform into dramatic mountain ranges you are about to discover. Arriving in the picturesque village of Cabanaconde at approximately 12:00am, prepare your mind and body for the day ahead with a sumptuous and nourishing lunch. Readied for the day ahead, you will begin your descend into the terraced landscapes of one of the world's deepest canyons. Surrounded by natural flora and fauna, wandering over babbling brooks, your four hour trek will end at the remote village of Llahuar. Take in the grandeur of the land around you from dipping into a natural hot spring or fishing for wild trout. Let the landscape delight you in the simplicity of its natural offerings. As evening falls, a well earned dinner will be served. You may be able to taste a freshly caught trout supper before retiring to your rustic bungalow filled with that unique sense of excitement and satisfaction. Reflect on the day's events as you fall asleep under the stars.
Hiking time: Approximately 4 hours
Hiking Level: Strenuous 
Meals: L, D
Accommodation: Basic cabins
Included activities: Tourist entry ticket for the canyon and all the activities described in the itinerary accompanied by a professional tour guide
2
Day Two : Guided by the ancestors to an unbelievable oasis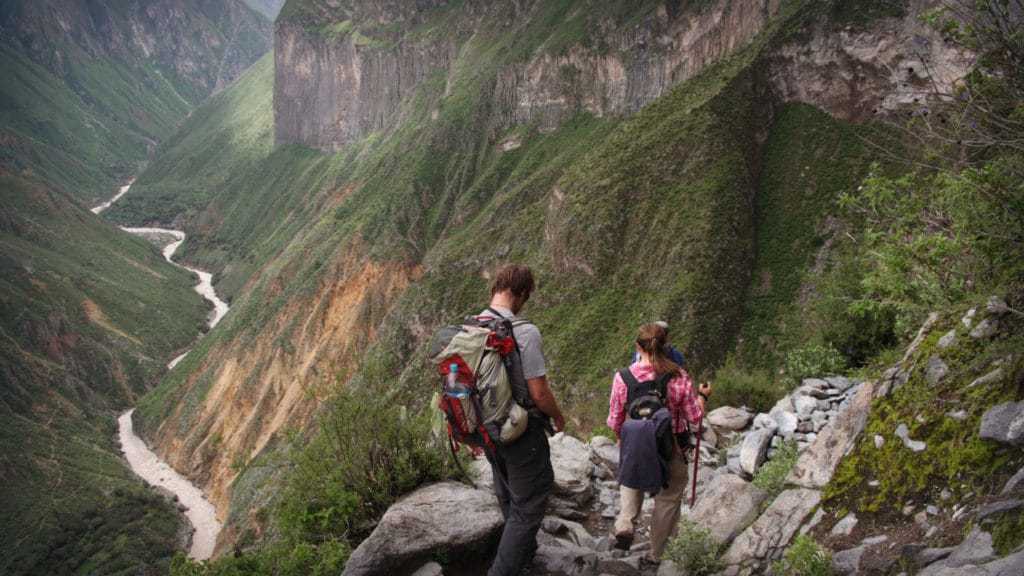 After breakfast,a second day of adventuring begins as you start towards Sangalle, the epitomy of serenity provided only by the protection of the mountains. Marvel at your progress as you reach a point that allows a pristine panoramic view of last night's rest point, Llahuar, and your forward destination, Sangalle. You'll notice that your way is being guided by Apachetas, age old towers of stones constructed by Andean wanderers, who like yourselves, have needed a way of marking their trail. Assimilate with the ancestors as you walk these ancient paths, consuming the rich history of the canyon with every step. Lunch will be taken at Sangalle, where afterwards you'll be free to spend time lounging around the tropical oasis pool or exploring the banks of Colca River. 
After some essential relaxing, the final stage of the day will be an ascension to Cabanaconde, where your final destination and rest point for the night will be the Kunturwassi Hotel.  
Hiking time: Approximately 7 hours
Hiking level: Strenuous
Meals: B, L, D
Accommodation: hotel accommodation in Cabanaconde
Activities: All the ones described in the itinerary accompanied by a professional tour guide
3
Day Three: The amazing soaring of condors and beautiful viewpoints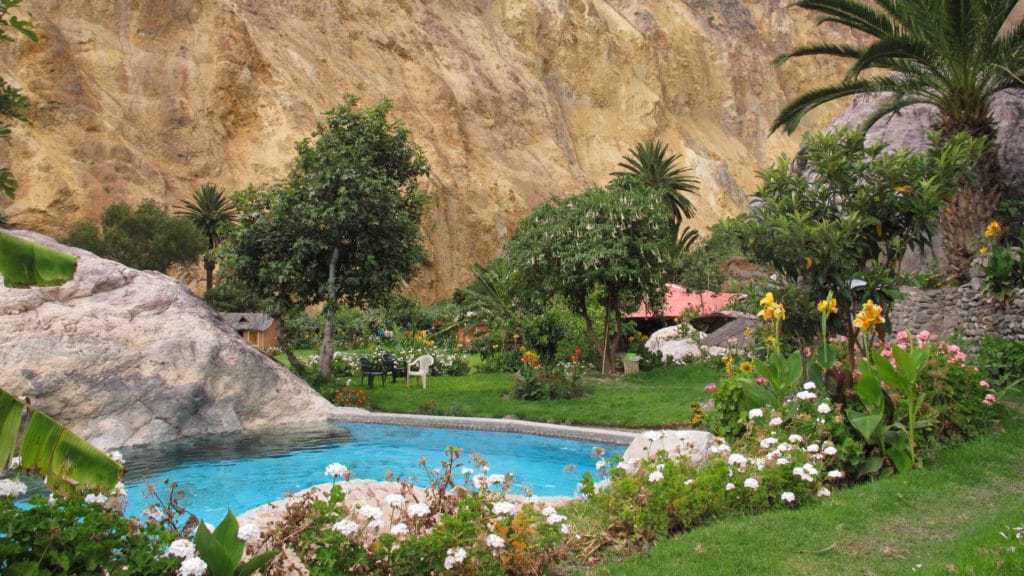 Wake for your final day of exploring the Canyon. You'll be breakfasting at the hotel, before taking a private transport to Condor Cross. Savor the opportunity to take a car after two days of trekking. You'll be dropped off at one of the only vantage points in South America where you can see the magnificent flying Condor in its natural habitat. If you're lucky, you'll be able to feel the wingbeat of the condor rippling the air across the canyon.Kings and Queens of the sky, this is a magical day for nature lovers. Lunch will be taken in Yanque, where you'll stop at a local family's house to eat to enjoy some respite and Colca hospitality. On your way back to Arequipa you will be able to stop off at Chivay, if you wish, to peruse the town and again relax in some hot springs. You'll be arriving back at the White City of Arequipa at the beginning of the evening.
Hiking time: Approximately 3 hours
Hiking level: Easy
Meals: B, L
Transport: Private tourist transport
Activities: All the ones described in the itinerary accompanied by a professional tour guide.
Our Gallery
Colca Canyon Trek in Arequipa - Peru
Pie experiences reviews and Score Breakdown
Your opinion is important to us! Here at pie experiences we greatly value your feedback, because thanks to your comments we can create more fascinating itineraries and confirm that we are doing an excellent job. Many of our clients also choose to post handy tips and advice about their travels. It's great to know what to expect on a pie experiences tour before you go, so thank you for sharing your experience!