Peru culture tour: A Voyage to the Cultural Heart of Peru
Your 10 day Peruvian adventure will begin right in the historic heart of Lima, the world's second biggest desert city. Let your imagination soar when you move onto the White city of Arequipa, spellbound by the majestic condors of the Colca Valley.
Pay a visit to the Aguada Blanca National Reserve, where unique Andean camelids wander freely and spend nights like no other staying in cozy local homes where a host family will welcome you to share their customs and cultures.
Allow your tastebuds to be tantalised with delicious foods, locally prepared in picturesque small towns along your trip. Witness the spinning and shearing of sheep in traditions pioneered by Inca ancestors, and finally retrace their steps in the most precious of citadels, Machu Picchu.
Highlights of the Peru Culture tour:
Watch the condors soar above the mountains, feeling the power of this majestic animal in its natural habitat.
Witness the snowcapped mountains in awe as the beauty of nature surrounds you.
Share rich culture and customs as you spend memorable nights with local communities.
Watch as the world's best wool is spun and visit the one-of-a-kind living museum in Ollantaytambo.
Itinerary Overview:
Click through to "Tour Plan" to see the full itinerary for the Peru cultural tour.
Day 1 | Lima:  You will be transferred from the Lima airport to your hotel to explore the neighborhood highlights.
Day 2 | Lima: Explore the best parts of historical Lima and modern culture on a guided city tour.
Day 3 | Lima to Arequipa: Rise early for a flight to Arequipa, a city famed for it's gastronomy, white walls, and supreme architecture. Taste rocoto relleno along with other local specialties.
Day 4 |Arequipa to Yanque: Venture to the Colca Valley where you will join the Collaguan people and have a chance to see local wildlife. Then, travel through Chivay to Yanque where you will learn about local life and stay in a comfortable homestay.
Day 5 | Yanque to Sibayo: After breakfast, watch a traditional dance performance before traveling on to Cruz del Condor for a chance to see the Andean Condor. Tonight, you will stay with a local family in Sibayo where you'll learn about the process of weaving llama wool.
Day 6 | Sibayo to Arequipa: Travel to see alpaca herders and learn about the art of alpaca shearing. From there, you will venture along an Inca Trail for 2 hours to the hot springs of Chivay before returning to Arequipa.
Day 7 | Arequipa to Cusco: Say farewell to Arequipa and travel onto the home of Incan civilization. Take a tour around Cusco to explore the city's most famous archaeological sites – Kenko, Puka Pukara and Sacsayhuamán.
Day 8 | Cusco to the Sacred Valley: Meet the Incan descendants who live in the Sacred Valley and carry on ancient traditions. Then, travel on to Ollantaytambo, a charming town where you will see some of the best preserved ruins in the Sacred Valley.
Day 9 | Sacred Valley to Cusco via Machu Picchu: Embark on an early morning train ride to Aguas Calientes where your adventure through Machu Picchu begins. Explore the park with a guide and hike high above the park to Huayna Picchu if you so choose (advanced notice required). After a full day of wandering, travel back to Cusco for a final night in the historical city.
Day 10 | Cusco to Lima: For the final day of this Peru cultural tour, you'll have the option to return to Lima or continue on with your adventure to the Peruvian Amazon.
Departure

Lima / Lima

Departure Time

Any time

Include

Activities described in the itinerary

Meals

Tour guide

Accommodation

Entries

Transport

Domestic flights

Not Included
1
Day 0ne :Arriving at the colonial city of Lima
Arrive in Lima, the capital of Peru and once the capital of Latin –America's Spanish conquistadors. Its colonial beauty remains scattered around the city. Allow yourself an evening to accustom yourself to its attractive vibrancy. Overnight in Hotel in Lima
2
Day Two:Lima's Centre through the eyes' of a local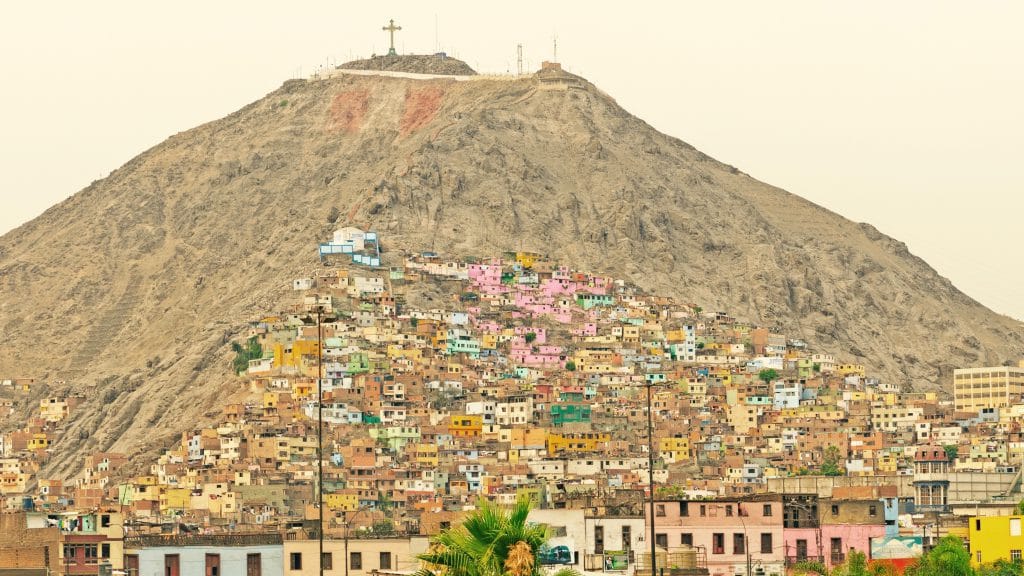 Today's tour will be a mix of traditional highlights and irregular choice activites, as your guide shares fascinating stories and facts about Lima. Touching on contemporary history and tales of years gone by, you will be privately transported to Lima's beautiful colonial centre, where typical wooden balconies are sure to enchant. See life as real Limeno's do as you immerse yourself in Chinatown, an important district due to Lima being home to the largest community of Chinese people in Latin America. You'll walk through Mercado Central, one block in length and one of the most unique shopping trips you'll have this holiday. End in the bustling tourist centre of Miraflores, where you will spend another night before departing for the south of Peru. Overnight in Hotel in Lima
3
Day Three: Small colonial town hidden in a wonderful monastery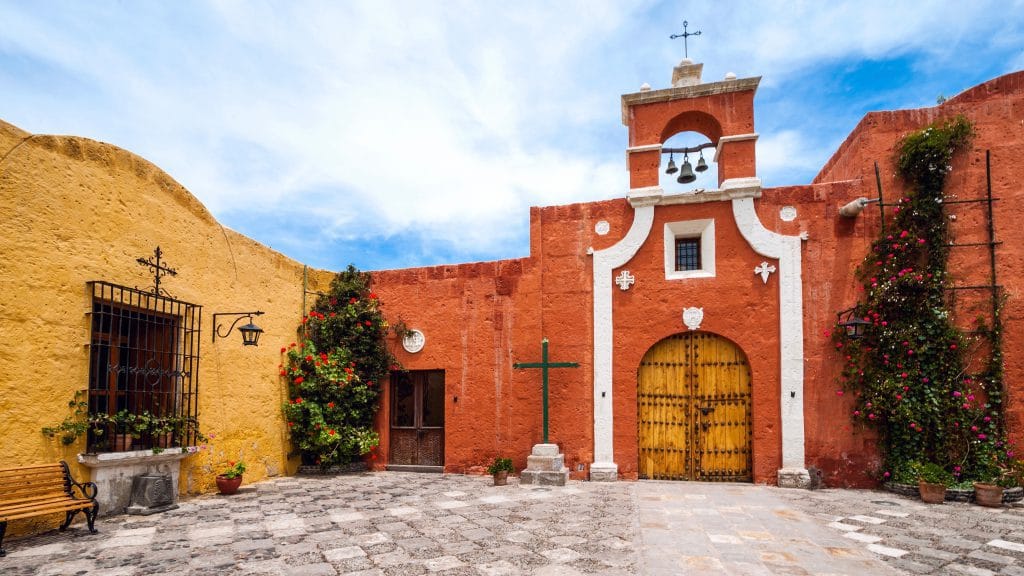 Rise early for your flight to the beautiful city of Arequipa. An enchanting place famous for its delicious gastronomy, and for the beauty of its unique streets of white,
sillar
stone buildings, it's also known for the Colca Canyon, one of the deepest of its kind in the world. You will visit one of Arequipa's finest districts, Yanahuara. Here you will enjoy a delicious lunch in a local picanteria, dining amongst Peruvians and savouring the opportunity to taste the typical rocoto relleno, the famous stuffed pepper of Arequipa. After lunch, you will visit Santa Catalina monastery, a 20,000 square metre residency built in 1579. With walls of vivid colours, there remains 20 nuns living in the northern quarter of the complex. The rest of the monastery is open for your own discovery, where you can explore its enchanting narrow streets classical water fountain before returning for a night in Arequipa. Overnight in Hotel in Arequipa
4
Day Four: Be part of the local family in the Colca Valley Valley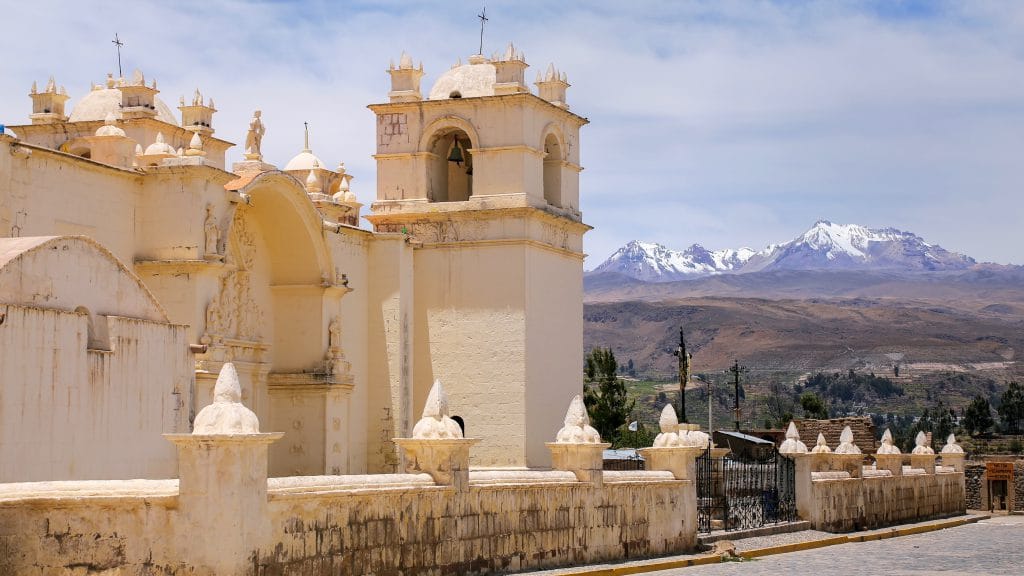 Discover a culture that pre dates the Incas as you join the Collaguan people of the Colca Valley. Your day full of landscapes and wildlife begins as you're picked up from your hotel in Arequipa, journeying to the Colca Valley. Entering the Pampa Cañahuas National Reserve, you can observe wild herds of vicuñas, alpacas, and llamas. Alongside try spotting the variety of birds including flamingoes, ibises, and eagles. This is no mythical landscape: this is Peru at its most untouched. These animals live and flourish in the wild, and seeing them in their natural habitat will astound you. Onward and upwards as you stop to admire the surrounding volcanoes and snowcapped mountains at Patapampa Pass, reaching 4,910 m above sea level. From the pass, travel to the charming village of Chivay, before making the descent into the tranquil town of Yanque. Here you will sleep in one of local family's cosy homes. You'll be able to share in their daily activities, learning skills like candle and mask making, as well as handlooming and agriculture. These are people who earn from the land that surrounds them, and your day will culminate in tasting a meal lovingly made by your new family members. Rest here another night before a day filled with highlights. Overnight in homestay in Yanque
5
Day Five : Soar with the Condors and learn about the town of Sibayo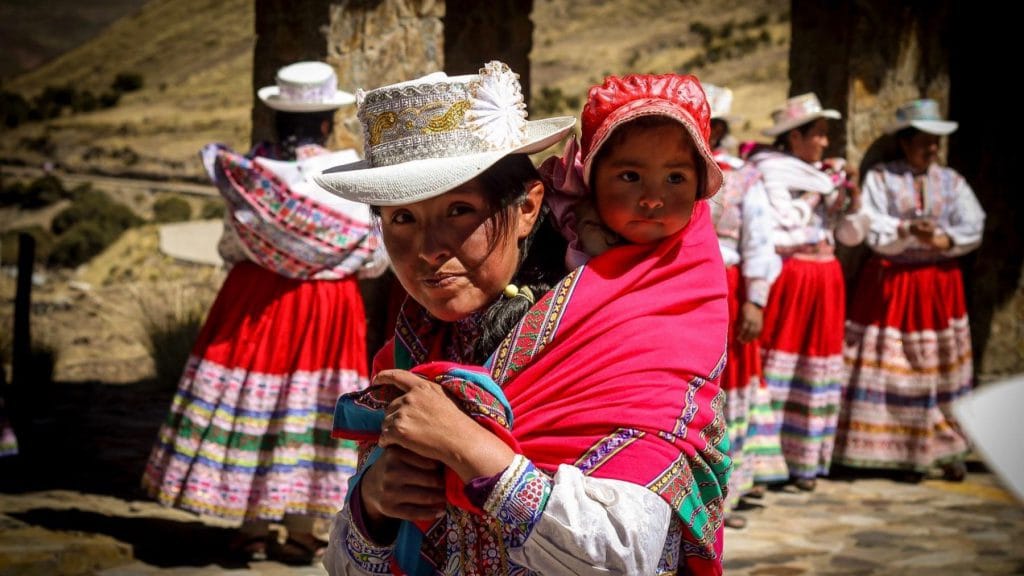 Rising early to get the most out of your day of adventure, you will enjoy a healthy breakfast before watching students perform a traditional Wititi dance at the main plaza in Yanque. Taken from the Quechua 'Witi Witi' meaning 'making love', enter into a state of trance as the skirts of the dancers whirl around in a timeless tribute. The next stop will be a natural lookout point, aptly named the "Cruz del Condor." Admire, if you're lucky, the majestic Andean Condor as it soars high above the canyon, royalty of the sky. These birds are the largest flying bird by weight and wingspan, and here is one of the only places in the world to see them in their natural habitat. Your adventure will take you to the town of Sibayo, or Rumillacta; or 'town of stones' in Quechua. Though the town is famous for its ancient masonry and the rural landscape that surrounds it, it offers many diversions for the passing traveller. You will learn directly from local families the art of spinning alpaca and llama wool, and you can take the opportunity to go trekking with these fine animals down deserted mountain paths. Spend the night with a local family in this fascinating town that rises 3800 metres above sea level. Overnight in homestay in Sibayo
6
Day Six :Shearing alpaca and llamas in Sibayo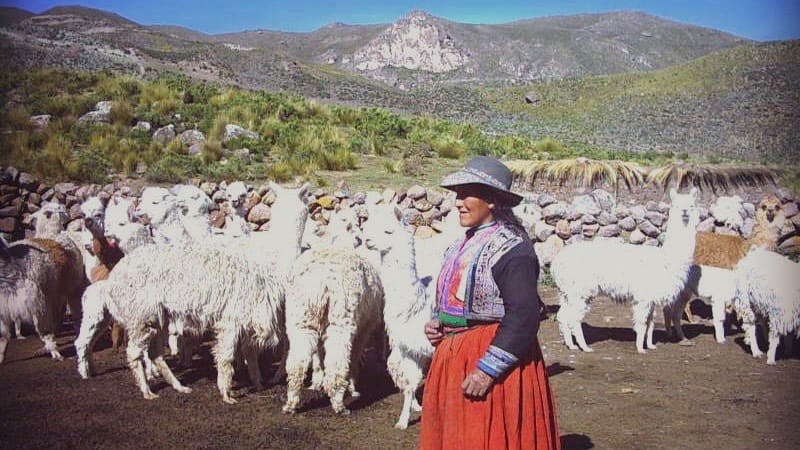 Early in the morning you will travel to see alpaca herders, located 20 minutes from Sibayo. You will learn the art of shearing alpaca and llamas, meeting people from the area, before enjoying a delicious breakfast. A two hour trek along the Inca Trail will take you toward the hot springs of Chivay, where you can unwind in the balmy waters before having lunch and returning to Arequipa, spending the night in the White City. Overnight in Hotel in Arequipa
7
Day Seven :Exploring the heart of Inca civilization
This morning you will fly to the city of Cusco, home to the Inca civilization. Today you'll be visiting Inca palaces, traditional neighborhoods, the fruit market, and Cusco's main square, Plaza de Armas. You'll be walking with your tour guide and having lunch in a local restaurant along the way. After lunch, you'll be driven to the most important archaeological sites near Cusco: Kenko, Puka Pukara and Sacsayhuamán, the former capital of the Incan Empire, constructed from giant boulders intricately cut to fit together without the use of mortar. This fascinating ancient ruin is a UNESCO World Heritage Site, as is the historic city of Cusco. Spend a night in Cusco Overnight in Hotel in Cusco
8
Day Eight : Meet a unique community where tradition and custom is an everyday task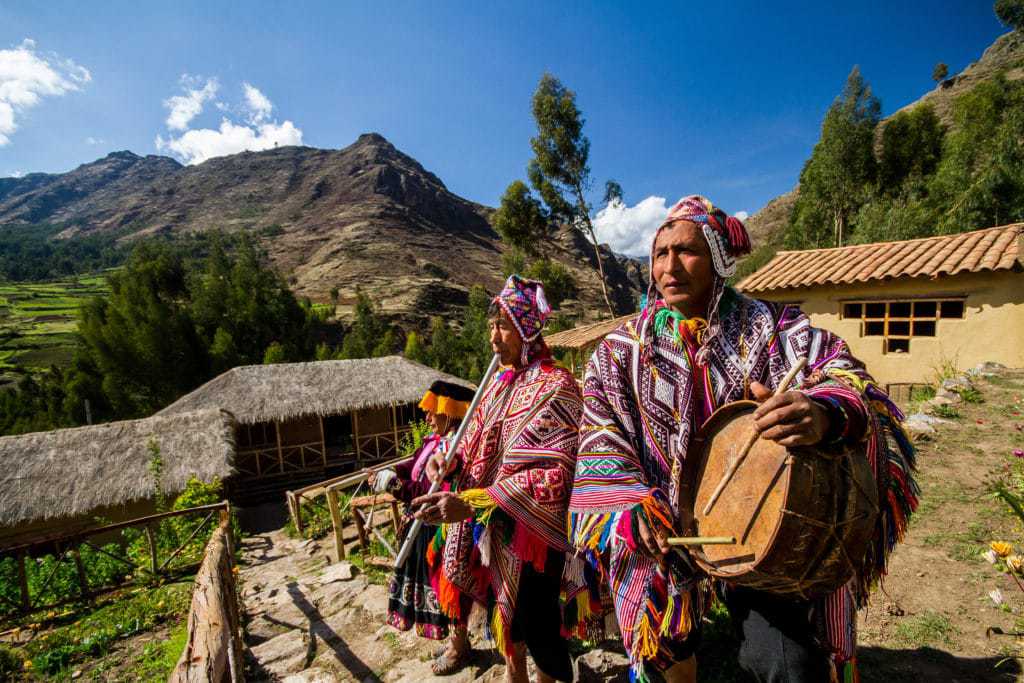 Meet the lineal descendants of the Incas who maintain their traditions and language. Your Quechua and English speaking guide will pick you up from your hotel so you can head to the beautiful sacred valley of the Incas and learn more about their living culture. The lilt of Andean music and a scattering of traditional native flowers will welcome you to yet another amazing landscape. Watch and participate in the offerings and thanks of the people to Pachamama, the ever presiding mother earth who oversees the harvests and fertility of the land surrounding you. Visitors will be introduced to flowers and leaves from the surrounding forests, choosing some to be used to dye the fibres which will become part of the colourful clothes you see worn by the mountain communities. A brief explanation and demonstration of the shearing will be given, and the Amaru people will explain more about the fantastic iconography used. Enjoy the produce of the land around you as a nutritious lunch is prepared, full of fresh and local ingredients are served. After this experience with a Sacred Valley community, you will continue your adventure toward the town of Ollantaytambo. This town has many houses built over Incan ancient ruins where native lives with their ancient costumes. The complexity and beauty of the Inca constructions and the contemporary town, huge agricultural complex, religious and military centres, are considered by many scientists and historians to be one of the most important living museums in the world. Overnight in Hotel in Ollantaytambo
9
Day Nine :Machu Picchu at its maximum splendour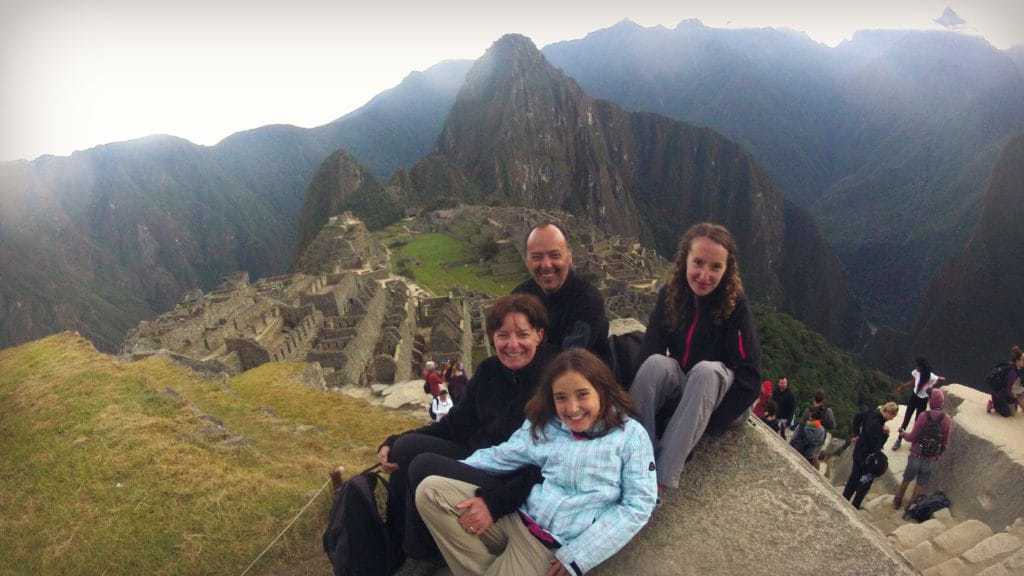 Early in the morning, you will take the train to Aguas Calientes town in order to visit the citadel of Machu Picchu. On arrival you'll start with a complete private guided tour of the Inca citadel, which will take approximately two and a half hours. You will then have free time to walk around, practicing your photography skills and petting the llamas. You might want to take opportunity to climb Huayna Picchu (optional). Known as Machu Picchu's big brother, Wayna Picchu is the mountain in the background of most of the recognisable images of Machu Picchu. From here you can appreciate spectacular views over the Inca citadel Machu Picchu. When you've had your fill of the ruins, you'll return to Aguas Calientes, where your train will take you back to Ollantaytambo and you'll continue by private transport to Cusco, where you'll stay overnight. Overnight in Hotel in Cusco
10
Day Ten: Farewell to the navel of the world
Today you'll be saying goodbye to all the wonderful things you've discovered here in the Andes. You'll be picked up at your hotel and taken to the airport, for your return flight to Lima and back home. If it's more of Peru that you're craving, you can add an extension trip to the jungle of Puerto Maldonado . We hope to see you again in the land of Incas. Have a safe flight home!
Our Gallery
Cultural Immersion trip in Peru