Argentina Wine Tours
Introduction to Argentina Wine Tours
Argentina is a beautiful country with much to offer. How you choose to go about exploring that beauty  is up to you. There are many mountains, a handful of cities, and numerous pueblos that make up the spine and nervous system of the country. If you choose to forego touching the void of icy Andes peaks or hiking national parks, but still desire to see the land of Argentina in a congenial and amicable manner, and you also like a tipple: WHAT ABOUT ARGENTINA WINE TOURS?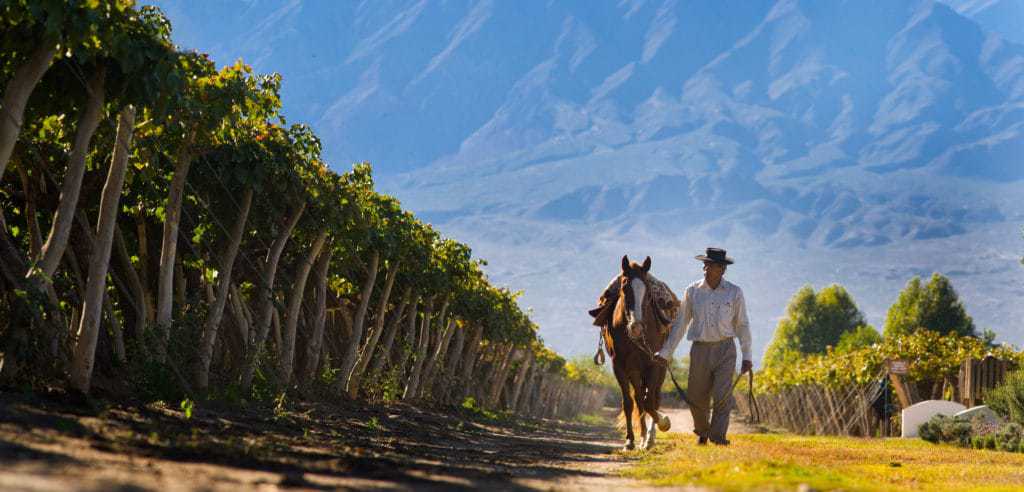 Argentina wine country centres around the towns of Mendoza and Cafayate. Both are located on Argentina's west side, straddling the mountain regions that run from the tip of Tierra del Fuego along the South American continent all the way to within sight of Panama. This is an elongated region which combines indigenous Andean culture with colonial Spanish influences, and you have something of Hispanic culture out in the wild west.
It's a land of plentiful bounty, including local craft produce, unique gastronomy, and a thriving, high-altitude viticulture. It is said that something of this altitude contributes to fortifying Argentinian wine with its unique and bright harmonious boldness. A wine tour is one way to see this rugged and and handsome land, whilst sampling its cultural output.
Mendoza Wine Country
With due respect to Cafayate, Mendoza is pretty universally acknowledged as the wine capital of Argentina. It is home to thousands of wineries at 2,500 feet / 746 metres. Not quite Cusco, but still three-quarters of a kilometre above the level of the sea. The climate is hot and dry, which makes it perfect for growing red grapes. The malbec is the most recognised and popular Argentinian wine in the world.
The town itself is modest, with only one hundred thousand inhabitants. But the surrounding land is vinyard land, dotted and populated as it is with grape vines in all directions. These vinyards are home to a multitude of bodegas. Tourists can visit these and be shown around and sample the wines that they produce.
Cafayate Wine Country
Farther north than Mendoza, in the north western corner of Argentina, lies the wine-producing town of Cafayate. It is found high up in red-rock mountains in the Calchaqui Valley. The surrounding landscape is really beautiful, with Quebrada de Cafayate and Quebrada de las Flechas nearby. These are incredible jagged rock canyons that can easily be explored on on four wheels, two wheels, or feet. It is a small, cosy town that has too developed around its wine industry, yet still retains that old-style, Spanish colonial rancher feel. An excellent place to relax and sample high-quality wines, with good weather, good cuisine and famous wine bars.
The Argentina wine tours in this town excel for many reasons. Firstly, the bodegas and vinyards are very close to the town, which is just convenient. Wine tours here are a little more exclusive than in Mendoza, with small groups and personalised tours from the operators. Premium wines such as Torrontés, malbecs, bonardas and cabernet sauvignons are produced in this region and waiting to be sampled. The tours themselves can be done on foot or with the possibility of going by bike, and seeing a bit more of the region.
Best time of year
The climate in Mendoza is warm and sunny and dry almost all year round. October to April are commonly considered to be the best months to visit, planting season. Spring, which is October and November, are warm and vibrant, as is the autumn, in March and April.
Summer is December to March, when the sun shines strongly. However, the evenings can be chilly, and sudden rain showers or even storms are not uncommon. March to June is autumn and harvest season and so wine-making season. It's a good time to visit. June to September is winter, still dry and sunny but cold at night.
What to Expect from an Argentina Wine Tour
Don't go on an Argentina Wine Tour if you don't like wine. You can expect to be plied with substantial quantities of high quality wine whilst visiting a multitude of wineries in beautiful, rugged Argentine country.
Most of the best wine tours will offer you luxury accommodation on the premises of a winery, quite often elegant adobe villas etched against the mountainous, reddish landscape. The tours themselves will involve inspecting the entire wine-making process; stretching your legs in the crisp, clear vinyards, strolling around the production line and then ducking in to the cellar. Expert winemakers will explain these processes to you and stuff glasses of wine into your hands as they do so. You will spend many enjoyable hours debating the various qualities of the cabernet sauvignons, pinot grigios, sauvingon blancs, and the varying years, and all these things.
Don't go on an Argentina Wine Tour if you don't like wine. You can expect to be plied with substantial quantities of high quality wine whilst visiting a multitude of wineries in beautiful, rugged Argentine country.
No tours match your criteria