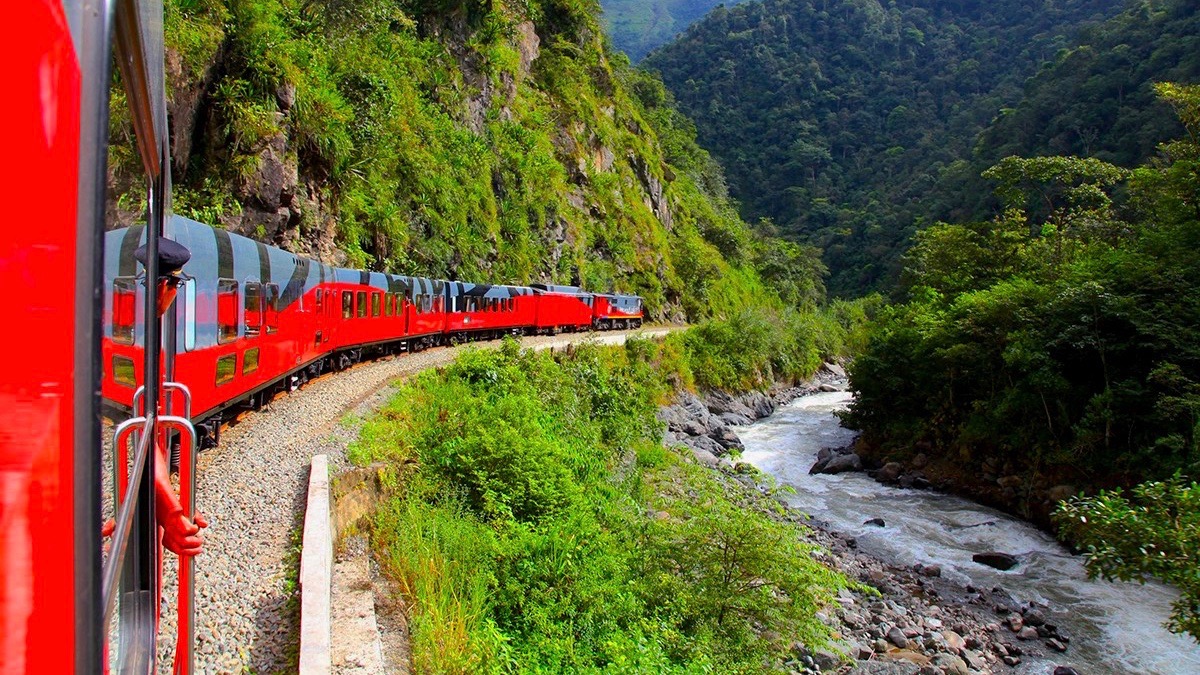 Step aboard Tren Crucero, the Ecuador Cruise Train, and you will discover exactly why it is considered one of the most spectacular rail journeys in the world.
This luxury locomotive showcases the very best of Ecuador, from the dramatic Andean highlands to the tropical Pacific coast.
Travelling between the historic capital of Quito and vibrant city of Guayaquil, you will experience utmost comfort and style aboard the Ecuador Cruise Train.
Not to mention spectacular, jaw-dropping scenery at every turn.
However, what really sets Tren Crucero's Gold Class experience apart is its opulent accommodation that leads you on a journey through the history of Ecuador.
Stay in centuries-old buildings that ooze charm and elegance, knowing that every wall captures a fascinating tale of Ecuador's past.
About the Luxury Ecuador Cruise Train
The Ecuador Cruise Train is a luxury steam engine that follows a scenic 453 kilometre (282 mile) rail line along Ecuador's Andean spine.
Recognised as the Leading Luxury Train in South America in 2014, 2015 and 2016, it offers a journey like no other.
Modern and restored antique steam locomotives pull a convoy of quality carriages.
And, because there are just 50 passengers on board the Ecuador Cruise Train, personalised service is ensured.
Furthermore, there is a bar and gift shop car with two comfortable observation lounges and an open air terrace on this elite boutique train.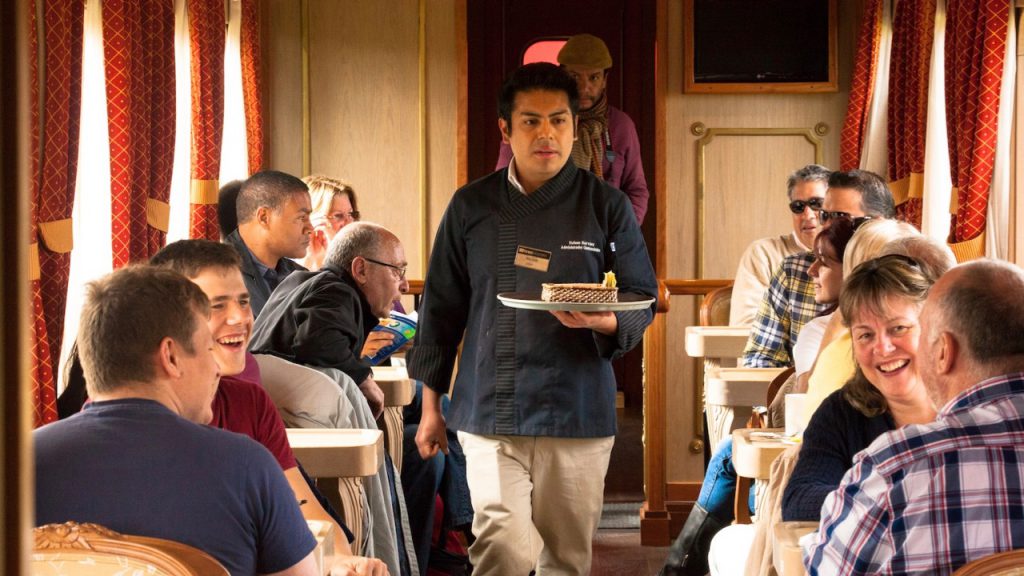 Departing from either Quito or Guayaquil on an exciting four-day journey, you will encounter traditional Andean cultures, be awestruck by volcanoes and marvel at the famous zigzagging rail line known as the Devil's Nose.
You'll stop off at indigenous Andean villages, giving you a real insight into life in the remote and beautiful highlands.
Barter for handicrafts at traditional Andean markets, some of which date back to pre-Inca times, and see skilled woodworkers in action.
Travel through lush green valleys and colourful quinoa fields and visit cacao plantations before departing the train each night to sleep in an exquisite collection of hotels and haciendas.
The Ecuador Cruise Train Itinerary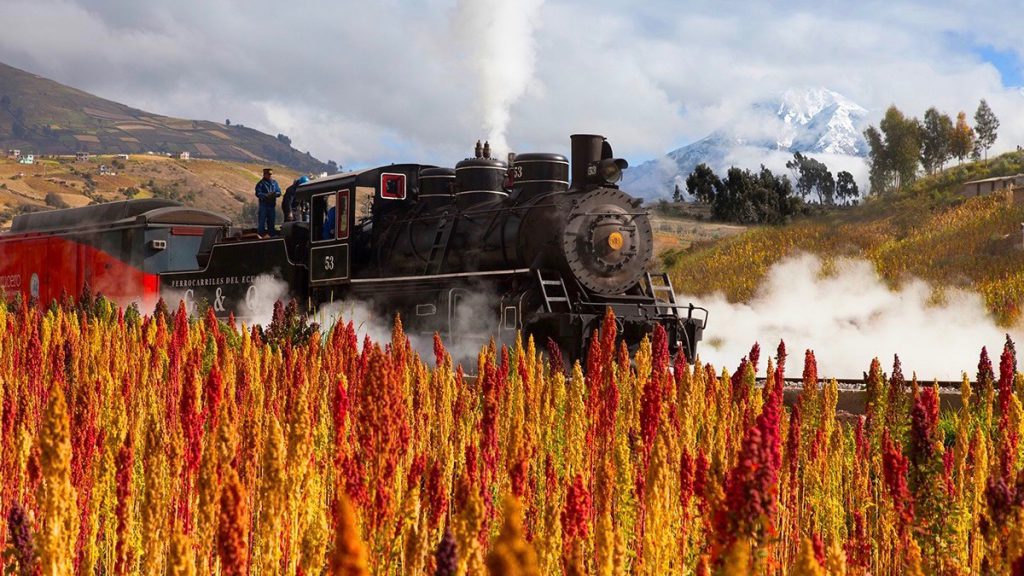 Make your way from capital to coast, Quito to Guayaquil, on the Train of Wonders, or travel the opposite route from Guayaquil to Quito on the Train to the Clouds.
Train of Wonders
Quito – Guayaquil | 4 days – 4 nights | Tuesday to Friday
This 504km rail journey begins in the northern Andes, from the colonial capital of Quito to the valley of Otavalo, with its world-famous market.
The train traverses the Chimborazo volcano moorlands, along the jaw-dropping Avenue of Volcanoes.
In addition, passengers will experience the famous zigzagging track known as the 'Devil's Nose' and journey through cloud forest and tropical plantations.
Finally, the journey concludes in the coastal city of Guayaquil.
Train to the Clouds
Guayaquil – Quito | 4 days – 4 nights | Saturday to Tuesday
The Ecuador Cruise Train climbs 3600 metres over 450 kilometres throughout this journey.
Consequently, passengers get to experience one of the most dramatic changes in scenery in the world.
From the fertile plains of the coast to the impressive highlands of the Andes, guests will also travel the famous zigzagging mountainside track, the Devil's Nose.
Witness the breathtaking Avenue of Volcanoes before reaching the World Heritage listed centre of Quito.
Finally, you will also visit Otavalo, with its traditional indigenous market before returning to Quito.
Ecuador Cruise Train Luxury Accommodation
Following your incredible train journey, rest your head each night in superior accommodation that is steeped in history.
From five-star hotels in Quito's World Heritage-listed main square, to historic haciendas, to restored buildings from Guayaquil's 19th century cacao boom; every property is unique.
Boasting character, attention to detail and excellent service, each accommodation offers a truly special and memorable experience.
Plaza Grande, Quito
Hotel Plaza Grande cuts an elegant, yet dramatic figure in the heart of Quito's old town.
Featuring five centuries of history is this spectacular hotel with 15 luxury suites.
It has also got breathtaking views of Quito's heritage-listed old quarter.
On the corner from the Presidential Palace, this beautiful building sits on a lot originally granted to Francisco Pizarro, Governor of Peru.
Most noteworthy, it was the first colonial house to be developed in the new city of Quito back in the 1500s.
It has since undergone multiple renovations throughout its long history.
In the early 20th century, the property became the city's first luxury hotel.
In 2007, after careful restoration, it reopened its doors and nows offers guests breathtaking views, a renowned restaurant and a spectacular terrace.

Hotel del Parque, Guayaquil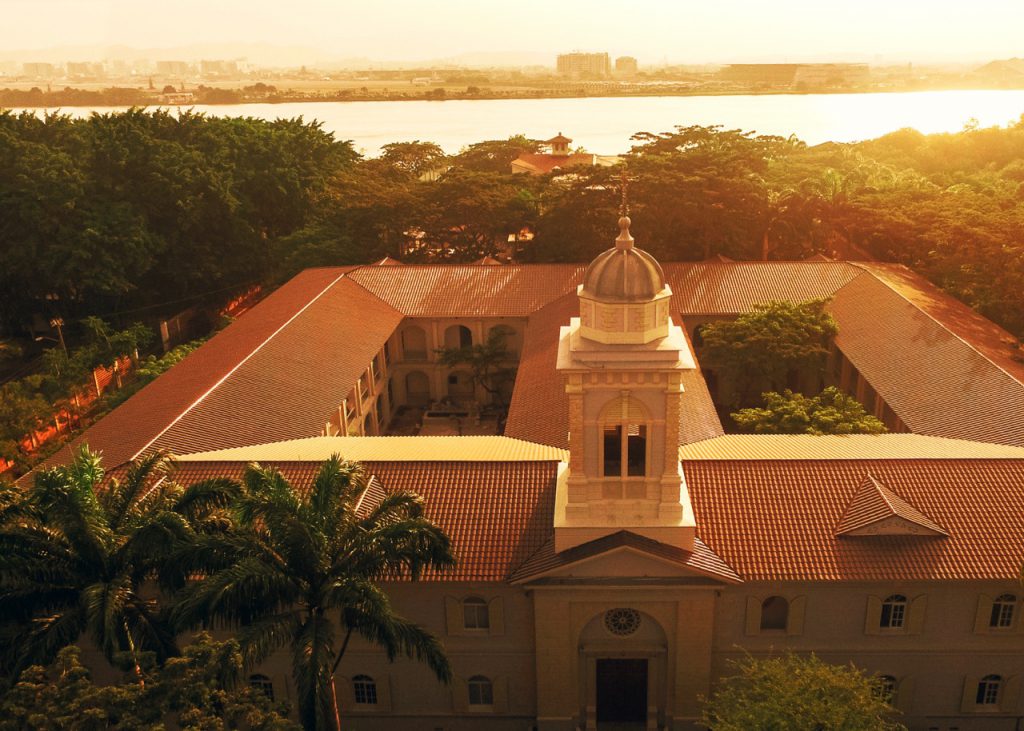 This five-star boutique hotel has 44 exquisite rooms for the perfect ending or beginning to your Tren Crucero Gold Class Experience.
In addition, two inner patios with pretty fountains and historic trees offer quiet and relaxation to guests.
Meanwhile the property itself holds historic significance.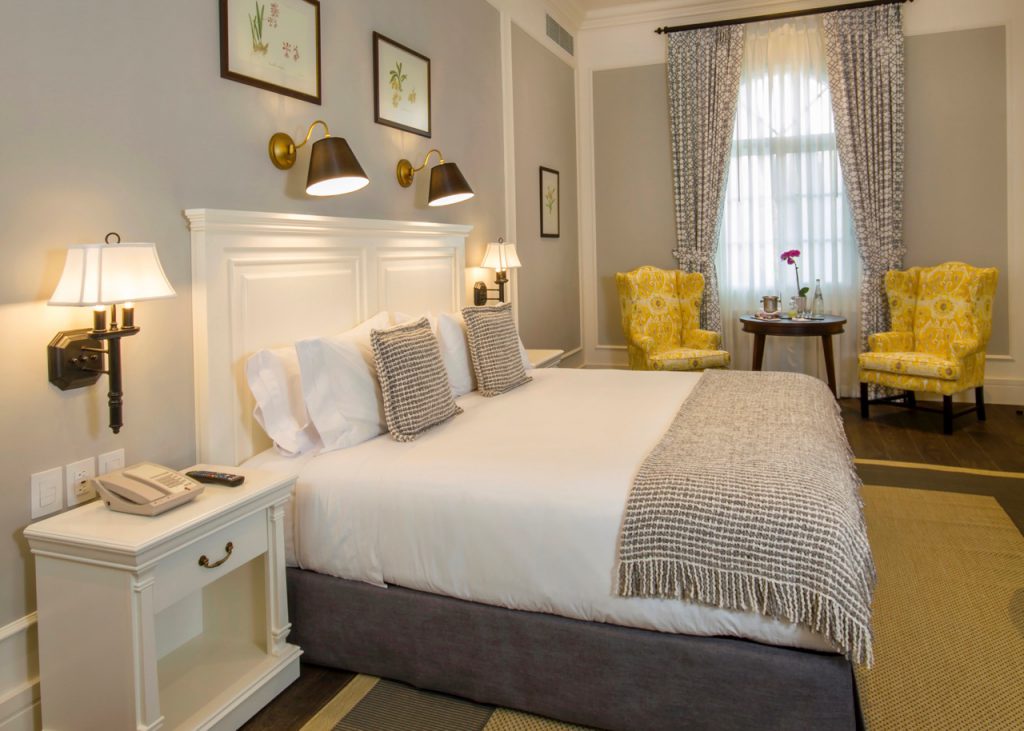 The hotel was originally built in the city centre in 1891 by Guayaquil's oldest charity.
Due to the threat of destruction in the 1980s, it was transported board by board to its current location at Parque Historico.
The Parque Historico is a large urban space that recreates Guayaquil's past.
It is home to restored buildings that once belonged to wealthy families during the prosperous 19th century.
Hacienda la Danesa
This lush family-owned 500 hectare dairy, cocoa and teak wood farm is a rich tourist destination.
Especially relevant, guests will enjoy a unique farm-to-fork experience, along with exclusive accommodation featuring Montubio-style decor.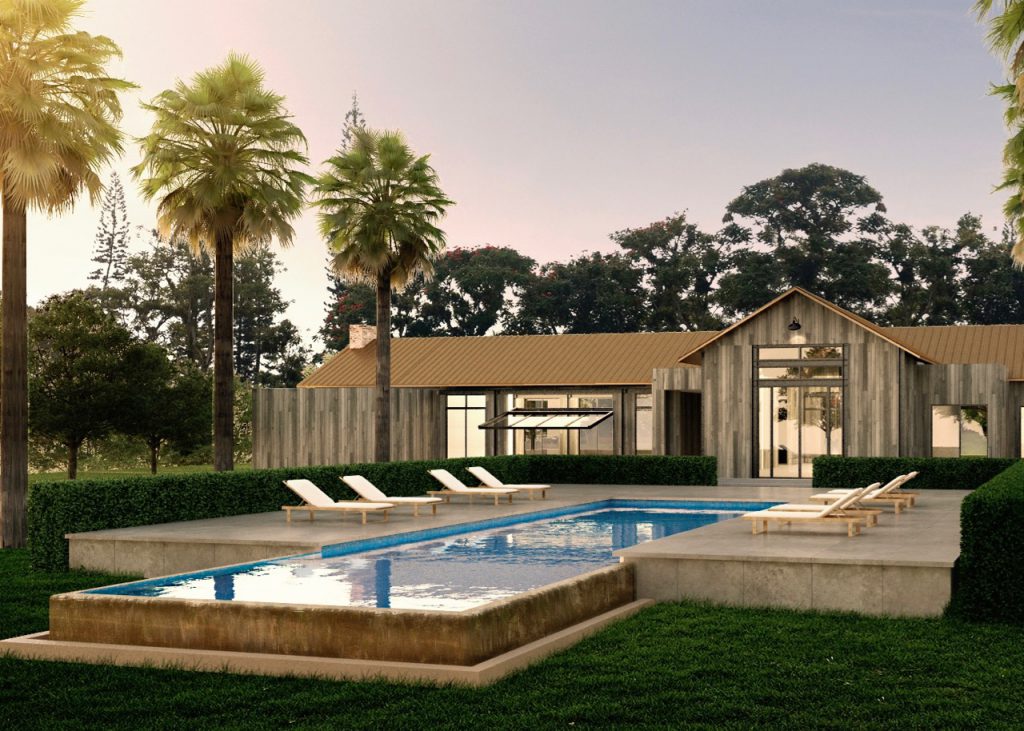 Hacienda La Danesa dates back to the late 19th century and is situated next to the Guayaquil railway line.
Hacienda Andaluza, Riobamba
Hosteria La Andaluza at Hacienda Chuquipogio and its century mansion has been declared an Ecuador Cultural Heritage site of Ecuador.
Dating back to the mid-16th century, this unique site consequently houses a wealth of history.
Due to its location on the outskirts of Riobamba, the elegant rooms have been decorated in a classical style to match this countryside setting.
Especially relevant, guests on the Ecuador Cruise Train Gold Class will enjoy accommodation at the historical ranch house.
The house offers lovely spacious rooms with views to the gardens or the striking Chimborazo volcano.
Cultura Manor, Quito
Hotel Cultura Manor has been lovingly restored in order to maintain the heritage-listed building's unique characteristics.
Consequently, it is now a boutique hotel combining European tradition with contemporary style.
In 1933, this building was home to Quito's most elite club.
This is where the upper class would congregate to discuss business, hunting trips and the future of the country.
Book Your Ecuador Cruise Train Tour
In conclusion, The Ecuador Cruise train is like nothing you will experience elsewhere in the world.
It is exciting and informative adventure through Ecuador's culture and history.
An unrivalled journey into diverse landscapes.
And the very best in luxury accommodation.
Book your tour today on the Ecuador Cruise Train Gold Class Experience.
Get the best of both worlds by combining your luxury train journey with a Galapagos cruise. Find more information here.
At Pie Experiences, we specialise in tailor-made trips – so why not customize your Ecuador experience to include a luxury Ecuador Cruise Train Gold Class journey?
Contact us for further details or to help with your next South America adventure!
Like it? Pin it!