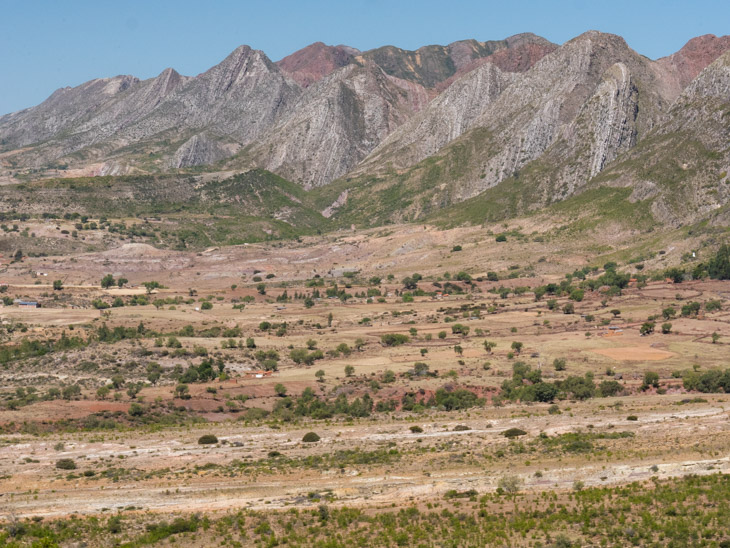 Chances are you haven't heard of Torotoro National Park, and we don't blame you. Bolivia's highlights wall normally features Salar de Uyuni, La Paz and Lago Titicaca among others; for some reason Torotoro, by large, has escaped the tourist limelight. Until now. Due to become a UNESCO World Heritage site by the end of 2019, this incredible national park will finally be getting the attention it deserves. Make sure and visit the phenomenal canyons, dinosaur footprints, astonishing caverns and unique sinclinales before the crowds arrive.
How to Get to Torotoro National Park
Transport to and from Torotoro National Park is probably what has been holding it back all these years. Currently, your main option is a bumpy, back-breaking colectivo which fords rivers and swings around sharp bends for 6 hours. If your luck's out, the van may break down as well.
However with UNESCO's influence, that's all about to change. You can see the colossal new highway being built through the land. This promises to provide a much more comfortable and quicker route to the national park.
From Cochabamba
After arriving in Cochabamba, you'll need to make your way to the corner of Avenida República and Vallegrande. This isn't far from the central Bus Terminal. When you arrive you'll find a group of colectivos and signs for Torotoro National Park. The vans are distinctive in their 'Jurassic Park' decorations.
The colectivos run from 5am, and only leave when full. If you're lucky, your van will fill up quick. If not, expect to wait a couple of hours while passengers arrive. Bs35 per person.
Thankfully, UNESCO have provided enough funding for a new highway from Cochabamba. If you take the colectivo you'll see it being constructed (and probably wish you were on it instead). It's a huge, wide and comfortable looking road, and a much needed change! This should be operational by the beginning of 2020.
Flying
Remarkably, it's also possible to fly from Cochabamba to Torotoro. If the colectivo sounds like it isn't for you, then you have an option to fly as well. From around $150 you can join up to 4 other passengers on the half hour flight. In wet season, this is currently the only way to get there as the existing road becomes impassable.
From Potosí
Although it isn't yet operational, a new highway is also being constructed which will link Potosí with Torotoro National Park. This new road will make a great option for those traveling from Salar de Uyuni to Potosí. In just 6 hours, it will save you a lot of time, avoiding Cochabamba altogether. Due for completion in 2020.
Torotoro National Park: Choosing the Best Circuit
Now we've told you how to get there, let's talk about the best part of Torotoro National Park – the tours! There's an amazing amount of things to do in Torotoro, and we've included some of the best tours you can do here.
El Vergel
If there's one tour you need to do in Torotoro then it's this one. This 4-5 hour half-day tour will absolutely fly by and you won't believe the amount of things you'll see.
You'll begin with the impressive Huellas de Dinosaurio. There are hundreds of incredibly-preserved dinosaur footprints here, and your guide will explain them in amazing detail. After the footprints, you'll trek down the river via an ampitheatre and other unthinkable rock formations.
This is when you reach the highlight: Cañon Torotoro. This gorgeous canyon stretches for 14km, and you get the best views from the miradors above. Keep an eye out for condors, and keep an eye on the vertigo-inducing walkway!


Then you have the pleasure of a 300m descent in to the valley where you'll spot El Vergel waterfall. This beautiful stream of water is visible year-round, and if you've packed your bikini and speedos, you can even jump in for a swim.
Don't relax too much – you have 900 steps to walk back up to the 2nd Mirador, and 2km to walk back to town. Enjoy a well-earned beer back in town, and look back on an incredible day of waterfalls, archaeology and sweeping canyon views. You can read more about a DIY El Vergel tour here.
La Ciudad de Itas
Another great half-day tour sure to interest every visitor to Torotoro National Park is La Ciudad de Itas. After organising your group at the tour office, you'll drive 21km (45-min) north to the extremes of the park. You're 3,800m high here, so make sure to pack your coca leaves!
Your guide will point out rock ancient cave paintings, fossils and unique rock formations (including animal shapes) throughout. It's believed that this was an old settlement and there's certainly evidence of it. Reaching the iglesia you'll be blown away by the dazzling archways and caverns: make sure and take plenty of pictures.


From there you'll continue your trek to some outstanding viewpoints, taking in unparalleled views of the Bolivian country. You can even spot the colossal Cerro Tunari (5,030m) in the distance. For more information on La Ciudad de Itas check out this blog post.
Caverna de Umajalanta
If you've spent the morning at La Ciudad de Itas, then we highly recommend visiting Caverna de Umajalanta the same afternoon. Importantly, you'll also get to sample lunch at the wonderful Cabañas Umajalanta (see below) with glorious views of the Sinclinales.
Nonetheless, here's a word of warning: if you're claustrophobic, or at all uncomfortable with tight spaces, then this one maybe isn't for you. You'll need to wear old long-sleeved clothing because you're going to get muddy!
On your walk from the car park you'll see more dinosaur footprints, fossils and unusual moon-like landscapes. Once you've got your equipment, you're ready to enter the cave! Inside you'll find ropes for the difficult paths, and plenty of stalagmites and stalactites to marvel at. There are bats, an underground river and some fun tunnels to work your way through.
After you've seen the waterfall (and had a look for blindfish), you'll head for the exit. It's a simple tour, but a lot of fun in small spaces. You'll be in caverna for around 90 minutes before reaching the exit and returning to the car park. Read more about Caverna Umajalanta here.
How Long Should You Stay in Torotoro?
This is a difficult one to answer. You can easily spend a week in Torotoro National Park and you wouldn't be bored. That being said, you could see all three of the above tours in a day and a half. If you're on a strict timetable, then two nights in Torotoro will be enough for you. If you have more time and fancy a little more adventure, you could easily stay for 4-5 nights!
Where to Stay in Torotoro
For the time being, accommodation in Torotoro is generally basic. Wifi is non-existent, hot water is intermittent and rooms are simple. In spite of this, we've found a couple of hotels that will keep you very comfortable indeed.
Cabañas Umajalanta
Although it's located 8km outside of Torotoro, Cabañas Umajalanta is one of the best hotels in the area. This boutique hotel only has 3 two-bedroom bungalows on the property, each of which can host up to 6 guests. It has its own fantastic restaurant and a stunning terrace with views of the Torotoro landscape. You won't get a better sight of the sinclinales than this one.
from US$40 
Rumi Kipu Ecohotel
This boutique ecohotel is designed with its majestic surroundings and archaeology in mind. It offers sweeping views of the Torotoro mountains and operates with a self-sufficiency philosophy. There's a focus on community cooperation and social responsibility. The charming rooms come with private bathrooms and they offer healthy, organic food at the restaurant on-site.
from US$ 50
https://www.youtube.com/watch?v=x7cMFp1xAA0
LIKE IT? PIN IT!