Machu Picchu & Vallée Sacrée depuis Cuzco
Au cours de cette excursion de deux jours dans la Vallée Sacrée & Machu Picchu de Cuzco, plongez dans la culture de la Vallée Sacrée. Découvrez les ruines extraordinaires des Incas, les petits villages et le marché de Pisac. Au départ de Cuzco, la première journée, vous irez de ville en ville dans la Vallée Sacrée. Tandis que la deuxième journée, vous explorerez avec un guide les magnifiques ruines du Machu Picchu.
Temps forts du séjour « Machu Picchu et la Vallée Sacrée depuis Cuzco »
Explorez la Vallée Sacrée des Incas lors d'un tour privé.
Découvrez l'artisanat local et les produits frais du marché de Pisac.
Savourez les saveurs de la cuisine traditionnelle péruvienne à Urubamba. Remontez dans le temps en explorant la forteresse d'Ollantaytambo en terrasses.
Promenez-vous dans les ruines du Machu Picchu au lever du soleil. Apprenez  l'histoire inca en visitant le Machu Picchu avec un guide.
Présentaton de l'itinéraire :
Cliquez sur « Programme » pour voir l'itinéraire complet du Machu Picchu et la Vallée Sacrée depuis Cuzco :
Jour 1 | Cuzco à Aguas Calientes : Départ de Cuzco pour commencer votre aventure à travers la Vallée Sacrée. Vous visiterez Pisac pour ses ruines en terrasses et son marché, Urubamba pour un déjeuner riche en saveurs traditionnelles, et Ollantaytambo avant de prendre le train pour Machu Picchu. Passez une nuit paisible dans la ville au milieu des montagnes et vous préparerez pour partir tôt le matin vers Machu Picchu.
Jour 2 | Aguas Calientes à Cuzco : Rendez-vous à Machu Picchu en bus. Vous découvrirez l'histoire extraordinaire du Machu Picchu avec un guide local. Marchez jusqu'au sommet du Waynapichu (optionnel, doit être préréservé) afin d'obtenir une vue spectaculaire sur les ruines et les montagnes environnantes.
Day 2 | Aguas Calientes to Cusco: Venture to Machu Picchu by bus, where you will learn about it's tremendous history with a local guide. Trek high above the ruins to Waynapichu (optional, must be pre-booked) for spectacular views of the park below. In the evening, you will return by train to Ollantaytambo by train, and private transfer to Cusco.
Information importante :
Nous vous recommandons de réserver le tour Machu Picchu et la Vallée Sacrée depuis Cuzco au moins 60 jours avant que le tour débute.
Voucher de voyage & contact :
Vous recevrez un voucher par e-mail dès que votre réservation sera confirmée.
Réservez maintenant, payez plus tard
Payez un acompte de $199 par personne et payez le reste plus tard.
Vous devez payer le solde de votre séjour au moins 45 jours avant la date de départ. Si la réservation est effectuée moins de 45 jours avant le départ, vous devez payer la totalité du montant au moment de la réservation.
Si le paiement complet n'a pas été reçu avant 80 jours avant la date de départ de l'excursion, la réservation sera automatiquement annulée et votre acompte sera annulé.
Ne loupez pas cette offre – Réservez dès maintenant !
Departure

Cuzco / Cuzco

Departure Time

8:30

Return Time

Dépend de l'horaire de votre train

Include

Excursions et visites mentionnées dans le programme

Repas

Guide

Hébergements

Tickets d'entrées

Transport
1
Jour 1 : Découvrir la Vallée Sacrée et Pisac
La visite de la Vallée Sacrée commence dès que votre guide vous recueille à votre logement à Cuzco. Au fur et à mesure de la journée à travers la Vallée Sacrée, vous serez excité à l'idée de vous approcher du Machu Picchu. Laissez – vous surprendre par la beauté des paysages et les routes de campagne de la Vallée. Vous arrivez à Pisac, une ville qui offre une gastronomie biologique somptueuse, un marché artisanal haut en couleur et une vue panoramique sur la vallée. Parcourez le marché avec ses nombreux objets artisanaux et vêtements faits à la main, avant de continuer le long de la rivière Vilcanota. Vous longerez de charmantes petites villes en direction d'Urubamba. Vous remarquerez les champs de maïs blanc géant des Incas, si symboliques et si importants pour les plats péruviens. En vous arrêtant à Urubamba pour déjeuner, vous pourrez peut-être même savourer une portion du maïs frais qui pousse dans les champs autour de vous. Savourez le goût de la cuisine traditionnelle péruvienne avant de remonter le temps pour découvrir les magnifiques ruines en terrasses d'Ollantaytambo. En vous promenant dans les constructions massives en pierre, vous serez émerveillé par la précision de l'artisanat ancestral. Votre journée dans la Vallée Sacrée s'achèvera lorsque votre guide vous conduira à la gare ferroviaire. Vous effectuerez le trajet de 2 heures jusqu' à Aguas Calientes, où vous serez accueillis et conduits à votre nouveau logement. Après un briefing sur votre voyage au Machu Picchu, profitez du dîner avant de vous reposer pour votre journée de magie à venir. Ce qui est inclut :
Repas : déjeuner buffet
Hébergement : 1 nuit en hôtel 3 étoiles à Aguas Calientes
Transport : transport touristique lors de votre visite en groupe dans la vallée sacrée et service de train Ollantaytambo- Aguas Calientes.
Activités : toutes les attractions touristiques seront accompagnées d'un guide touristique.
Non inclus
Billet touristique pour la vallée sacrée US$20.00 (demi-billet)
Dîner à Aguas Calientes
2
Jour 2 : Visite du Machu Picchu
Levez-vous et préparez-vous pour l'incroyable voyage final vers Machu Picchu. Un bus matinal est essentiel pour être sûr de pouvoir assister au lever du soleil sur les ruines, une expérience qui n'arrive qu'une fois dans la vie. Une fois sur le site, vous découvrirez ce qui vous entoure et votre guide expérimenté vous fera partager la riche histoire de l'une des sept nouvelles merveilles du monde. Promenez-vous dans des ruines magnifiquement préservées et mettez-vous à la place de Hiram Bingham lors de la découverte du site. Laissez l'énergie mystique de la vallée sacrée vous envahir alors que vous marchez la tête littéralement dans les nuages. Aucun tour du Machu Picchu n'est complet sans pause photo. Trouvez-vous un bon endroit et absorbez tout ce qui vous entoure, avant de capturer cet important moment avec l'un des lamas du Pérou. Le trekking à Wayna Picchu est quelque chose que vous avez pu voir sur internet. Le pic moins connu qui apparaît derrière Machu Picchu vous récompensera avec un point de vue totalement différent du site. Cette expérience optionnelle peut être organisée avec votre guide avant de réserver le Machu Picchu pour un coût supplémentaire. Pour conclure votre expérience, vous retournerez à Ollantaytambo en train, avant de prendre un transfert privé pour rentrer à Cusco. Retour à la ville au cœur de l'empire Inca, après avoir été témoin du joyau de la couronne de la Vallée Sacrée, le Machu Picchu. Ce qui est inclut :
Repas : petit-déjeuner
Activités : toutes les activités répertoriées (y compris la visite du Machu Picchu) seront accompagnées par un guide professionnel.
Transport : billets d'autobus pour Machu Picchu à partir d'Aguas Calientes et retour en bus, train Aguas Calientes-Ollantaytambo, transport privé d'Ollantaytambo à l'hébergement à Cusco.
Entrée au Machu Picchu
Non inclus
Déjeuner à Aguas Calientes
Pourboire
Tour Location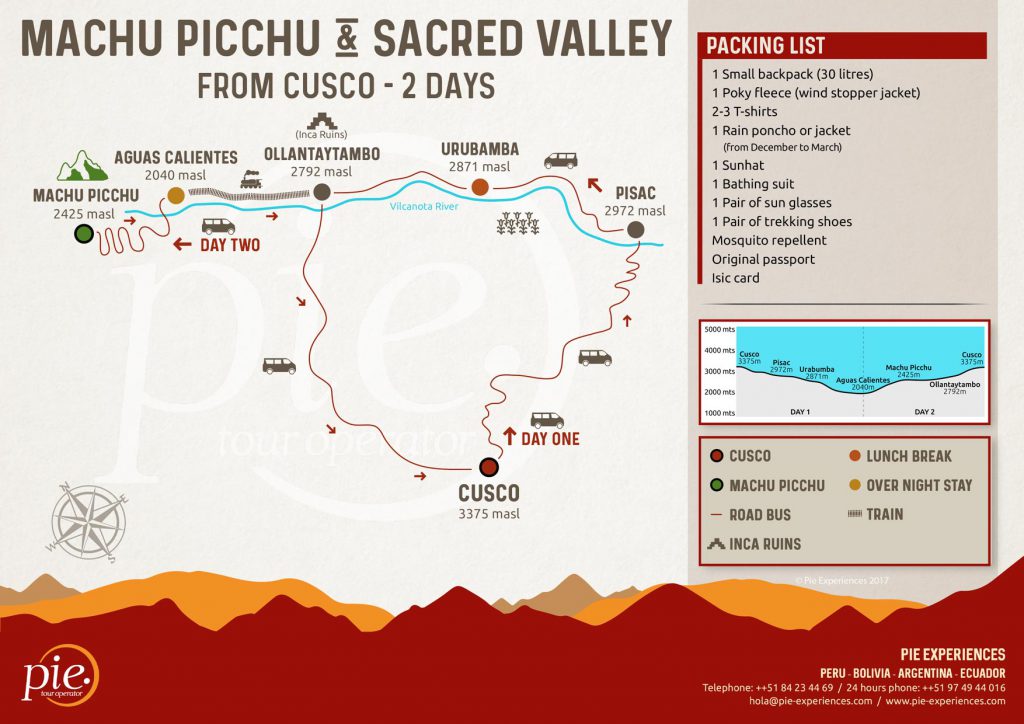 Our Gallery
Machu Picchu & Vallée Sacrée au Pérou