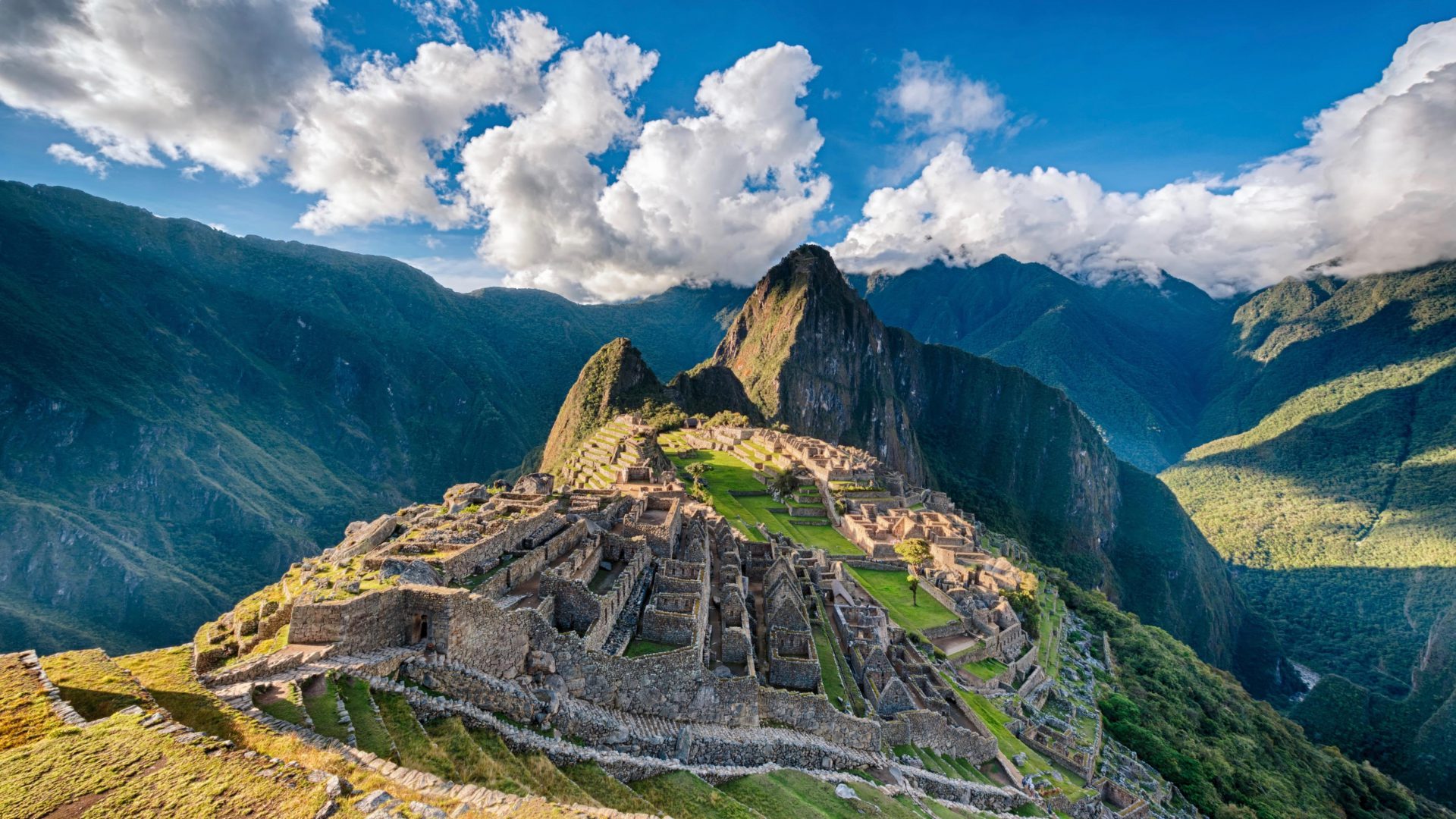 When visiting Peru, it's likely you will be overloaded with all kinds of Machu Picchu information.
Find out more about this mysterious world heritage site, Machu Picchu, which means 'old peak' in Quechua in this detailed blog post.
All you need to know about Machu Picchu and the Sacred Valley
Located in the sacred valley close to Cusco, in this blog we will give you all the Machu Picchu information you need.
We will share with you all kinds of Machu Picchu information about the site itself, as well as the various Machu Picchu tours.
In this blog post, find out more about:
Machu Picchu Information:
One of the seven Wonders of the World
There were seven reputed wonders of the ancient world.
Sadly, one by one, each of the Seven Wonders of the Ancient World were swept away by the tides of history.
Save for one, the first to be built, which lies west of Cairo and can still be visited today.
Three of them were consumed by earthquakes, one by fire, with the Lighthouse of Alexandria the last to succumb.
The Temple of Artemis survived the ravages of the Goths only to perish at the hands of Herostratus, the Greek infamous for burning the temple down just to achieve notoriety.
There still exist today another series of great wonders. Astonishing feats of architecture, engineering and human endeavour that are indeed wondrous to behold.
If you are in India you must visit the Taj Mahal; or China the Great Wall, Europe the Colosseum of Rome.
If you vacation in South America the place to visit it Machu Picchu; the great palace of the Inca, high in the Andes mountain range.
Where is Machu Picchu located?
Peru is a land of desert, jungle and mountains. The Andes mountains run along the spine of the country. Machu Picchu is located centrally in the east, amid a sprawling ocean of peaks and rivers and valleys. Nestled upon a mountain ridge that eluded the Spanish conquistadors and colonisers for centuries with the help of the local campesinos (farmers).
The ridge it sits upon is only 2,429m (7,972ft) above sea level; not the highest peak in the region by any stretch. Even some of the neighbouring towns and settlements are at a higher elevation. Yet the ruins of Machu Picchu remained a mystery not just for their height but their inaccessibility to colonial explorers. The palace sat near the heart of the Incan empire, at the head of the Sacred Valley. Accessed only by Incan trails; precisely laid stone paths that navigated the peaks and troughs of the Andean mountains to which the Inca had called home.
Machu Picchu Information : Trek options
There are a variety of options for taking a vacation in Machu Picchu. There's the one-day trip for those with limited time. There are also multi-day treks through mountains and jungle which culminate in arrival on the final day. If you choose one of the trek options, then the tour operator will book and arrange the entry ticket to Machu Picchu for you.
Machu Picchu Information: Doing It Yourself
It is possible to organise your own trip to travel to Machu Picchu in which case you will need to book your own ticket for the entry. Only 2,500 visitors are permitted a day, between the hours of 06.00 and 16.00 (it closes at 17.00). Fortunately the site is open every day including holidays, so when booking your only concern should be availability. Because tour operators might book up to 40 tickets at a time, it is not uncommon for the day's availability to suddenly fill up. On the other hand, tickets can also be booked very frequently for the following day in low season.
Machu Picchu Information: ticket options
When booking your tickets to Machu Picchu, you will have a range of options.
If you have a problem buying your entrance ticket to Machu Picchu , please contact us.
There is simply the standard Machu Picchu ticket, which will only give you access to the main ruins.
You have the Machu Picchu + Huayna Picchu ticket, which gives you access to climb the foreboding peak that overlooks the Machu Picchu ruins. There are two intakes for this ticket; one between 07.00 – 08.00 hours and another between 10.00 – 11.00 hours, with 200 spaces in each intake a day. Huayna Picchu is a steep and scary climb not without risk, so be warned, although the views are even more spectacular. We recommend to book  this trek three months in advance.
For the slightly more risk-averse hikers, there is Machu Picchu + Mountain ticket, which gives you access to Machu Picchu Mountain, also with spectacular views but easier on the legs and nerves. Only 400 spaces a day, but you will have the famous postcard view of Machu Picchu which is ideal to take those Facebook photos.
And there is also the Machu Picchu + Museum ticket, which will give you access to the Citadel of Machu Picchu, Manuel Chavez Ballon Museum and the Botanical Gardens.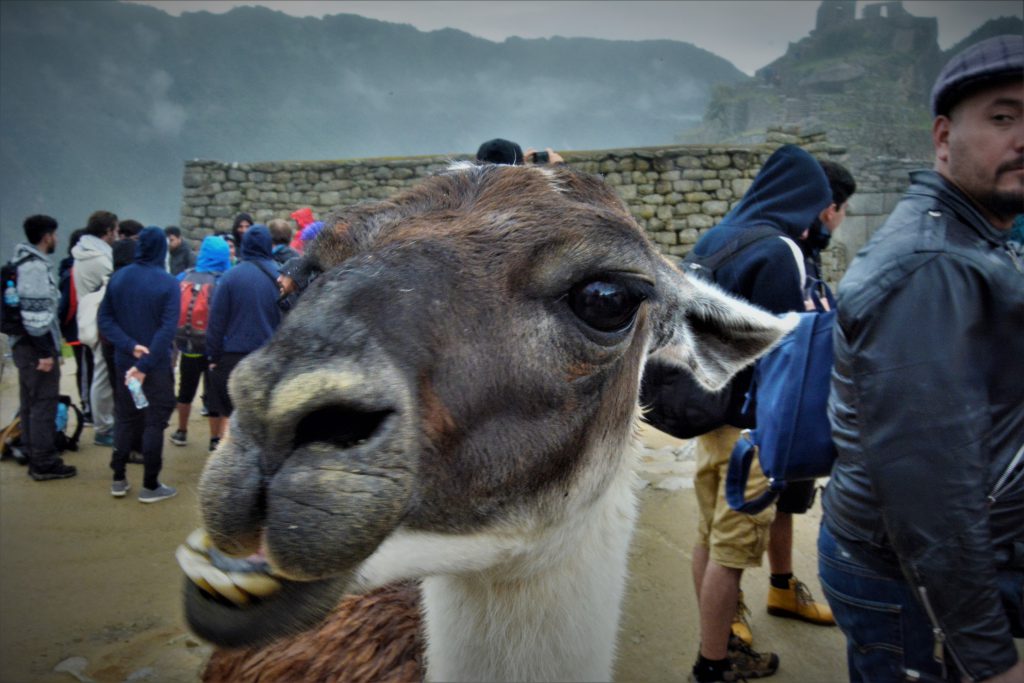 Meet Llamas at Machu Picchu
Machu Pacchu Information: Getting around
Getting There – How to get from Cusco to Machu Picchu
If you decide to do it all yourself, you'll need to take a bus to the Incan town of Ollantaybambo, most likely from Cusco. From Ollantaytambo there is the famous Machu Picchu train which carries you to Aguas Calientes; the gateway to Machu Picchu. And from Aguas Calientes you have the option of a steep 90 minute climb (approximately) to the gates of Machu Picchu, or you can take a bus to the top.
Bus
Alternatively, a bus can be taken to Hidroelectrica, an unobtrusive hydro-electric power plant nestled in a valley through which the Urubamba river runs. This is the end point of the train track, and many people walk along the tracks and approach Aguas Calientes from the rear, so to speak. This walk is about 12km and takes two hours or more. This option they call Machu Picchu by car. Not recommended at all ! The road from Santa Maria to Santa Teresa is considered one of the most dangerous roads in the world.
Train
You can take a train to Aguas Calientes from Ollantaytambo, or Hidroelectrica (near Santa Teresa). There are two train companies which service Aguas Calientes, Inca Rail and Peru Rail. It's definitely worth looking at both to see which is offering the best deal. Tickets must be booked in advance, at least 11 days and ideally much more.
You can check Machu Picchu information and ticket availability at this website and book your tickets online here.
Taking a Trek – Machu Picchu Tours
There are a variety of trek options, offering differing challenge levels, activities and duration. Most of these treks will also be customisable to the desires of the customer. For example you can shorten or extend the duration while taking in ,or skipping, specific sites.
These are some of the best tours we consider in South America:
At 4 days and 3 nights, the Jungle Trek is a little different to the rest as it incorporates a
variety of activities as well as hiking, including biking, rafting and zip-lining. All these activities are great fun and also with very high safety standards.
This trek requires little acclimatisation because it is at low altitudes, and can be undertaken the next day without advance booking.There is no camping, all accommodation is with local families and eco-lodges.At lower, jungle altitudes, the weather is consistently pleasant. Over the course of the 4 days, you will be able to see many Inca ruins. No need for a permit and other restrictions, as with the Inca Trail tour. Furthermore this trail is far less crowded and less 'touristy' than other tours; and at the end you can relax in the natural hot springs at Santa Teresa.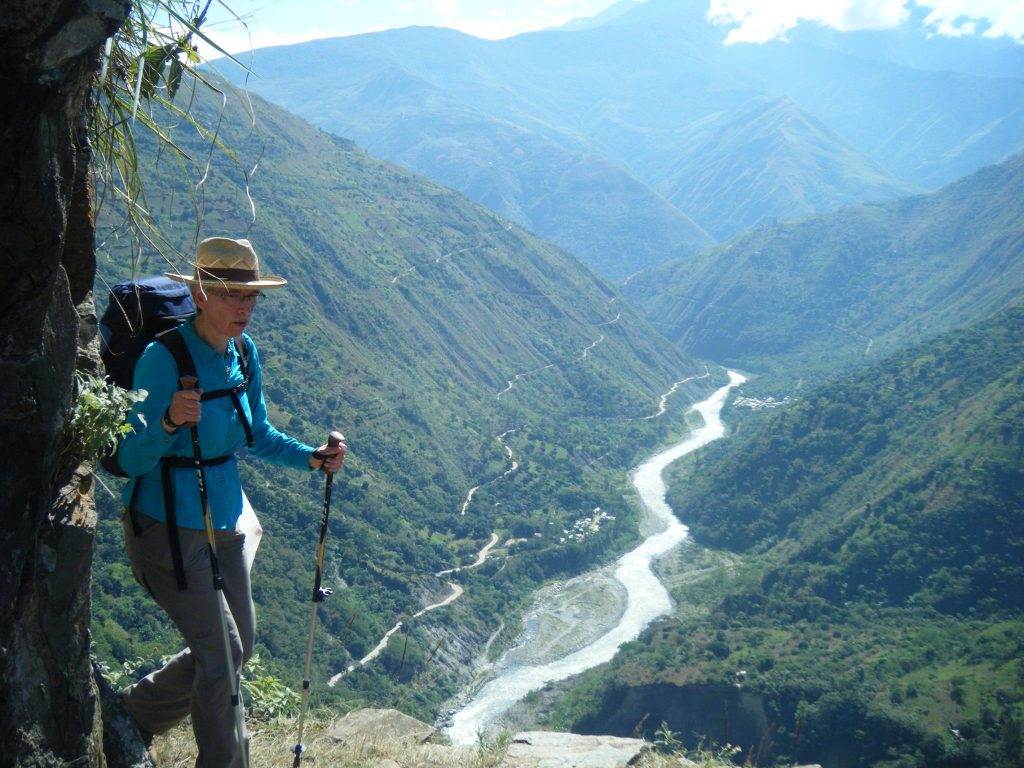 This is a challenging trek, usually done over 5 days and 4 nights, taking you high up into the mountains and through the Salktantay Pass, at 4,600m / 15,200ft.
Hikers will walk between 6 – 8 hours a day at high altitudes, meaning that at least 3 days acclimatising in Cusco is recommended, as well as high levels of fitness.This trek involves camping in tents.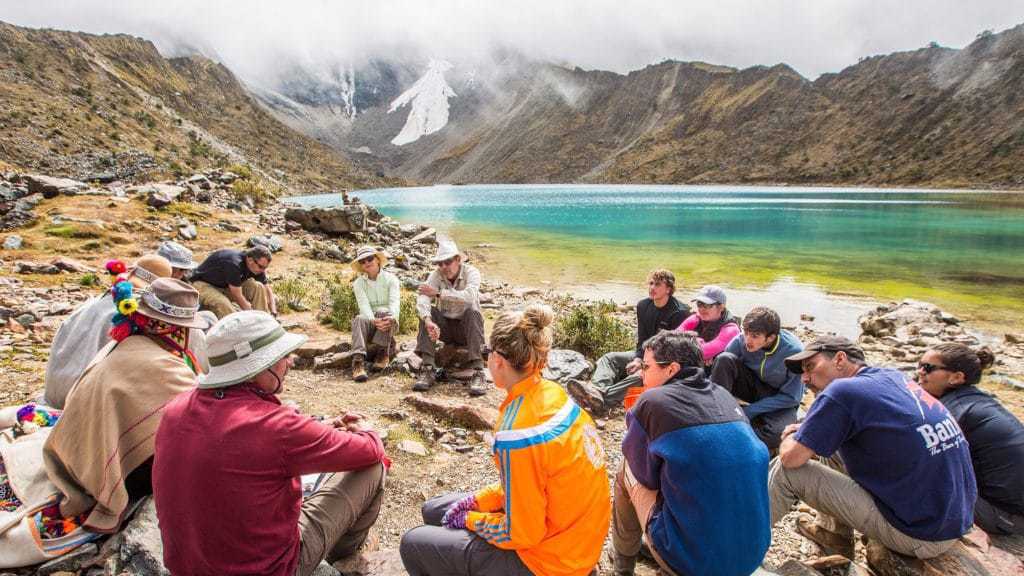 An alternative to the classic Inca Trail trek, less crowded and without the necessity for permits.
It is an easier, gentler trek in which you will get to see authentic Andean communities that have remained unchanged for generations.
At times it touches on high altitudes, so acclimatisation is required.
You can find a good overview of this trek here, the beauty of the trek here, and some more information  here.

Classic Inca Trail – Machu Picchu
This is a strenuous 4 day trek that takes you to some old Inca ruins. You pass through some traditional Quechua villages and to some dizzying altitudes. On Day 4 you arrive to Machu Picchu from the Sun Gate, avoiding the hectic main entrance entirely.
The Classic Inca Trail is hugely popular and demand is sky high all year round This means that it's advisable to book 5 or 6 months in advance.
Machu Picchu Information: History
Machu Picchu was rediscovered by Haram Bingham – the now famous US Anthropologist the train is named after. Today Machu Picchu is a world-renowned tourist attraction with over two million visitors a year.
Something of the History of Machu Picchu to Know before you Go
Unlike the Pyramids, which were built a mind-boggling 4,000 years ago, Machu Picchu is not so ancient in comparison, being a piddling 550 years ago, at best guess. It was the product of a civilisation that did not posses iron or steel, nor gunpowder, nor horses. It was utterly removed from the European civilisation that is (and was) well known to us. This mysterious, otherworldly character bestows upon the ruins an air of timeless unknowability.
While the ancient Egyptians are so far removed from us that we can have little hope of understanding their ways, their concerns and their lives, Machu Picchu was built half a millennium ago, less than ten lifetimes ago, by a people whose descendants still live today. Even the Egyptians had hieroglyphics and were referenced in ancient books, not least the Old Testament (Torah). There are no written records of what the Inca thought, or got up to day-to-day. We just have the accounts of the Spanish and the remnants of their incredible stonework and architecture.
Machu Picchu Information: Spanish Invasion
The Spanish Conquest
The history of the Spanish conquest of the Incan Empire is brutal. The conquest was treacherous and savage and merciless towards all expressions of the heathen Incan culture and belief system. All Incan religious symbols were defaced and temples partially or completely demolished for churches.
Machu Picchu would surely have been in for similar treatment had it been discovered by the Spanish.
The Incan Empire stretched from present-day northern Chile to south Ecuador and touching on territory now belonging to Colombia and Brazil. Machu Pichu was constructed in 1450, a mere 42 years before the arrival of Colombus. It was abandoned in 1572, as the time of the Inca was coming to a close.
However, the Inca, despite seeming simple and primitive to their Spanish conquerors, were far from stupid. Foreseeing the fate that would befall their grand citadel should it be discovered, they destroyed their immaculate trails that led there. They removed all indication that the place existed to the conquistadors. 
They Kept the Secret
Even as nature reclaimed the mountain ridge upon which Machu Picchu sits, the local inhabitants were aware of the existence of such fabulous ruins, but did not share this knowledge with their Spanish overlords. Despite rumours of its existence and maps appearing with vague references to something known as 'Machu Picchu', three hundred and fifty years would pass before a member of the outside world would lay eyes on the grand, leave-choked ruins, and bring knowledge of its existence out of the Andean mountains.
The Rediscovery
This member of the outside world was named Hiram Bingham, a Yale University lecturer from the United States. Something of an Indiana Jones figure, he led an expedition into the Andes in 1911 in search of the fabled lost capital of the Inca. Through enlisting the help of local farmers, they discovered a number of Inca ruins, but none fit the description of the Incan city of Vitcos (at the time thought to be the capital of the Incan Empire.)
The Journey
Bingham journeyed down the Urubamba river and came to the foot of Huayna Picchu. A local farmer told him of excellent ruins atop the steep peak, and led him up there. Little did he realise that he was already venturing upon the outskirts of Machu Picchu. Atop Huayna Picchu, where today such magnificent views of Machu Picchu prevail, he just saw vegetation. But a young 11 year old boy led them down the ridge to the ruins proper, and Bingham began to dimly perceive that he had made a find. But even then it wasn't clear that he had found the fabled ruins of Machu Picchu, due to the extensive vegetation and undergrowth which had taken over what was left of the citadel.
Uniquely different
Ultimately it was the incredible stonework which set Machu Picchu apart from other Inca ruins. Bingham returned in the following years to lead excavations and restorations of the site, and its fame and merit as a tourist attraction grew from then. Nonetheless, even in 2000 only 400,000 visitors made it to explore the site each year. Since then tourist developments and commercial forces have developed the site, sometimes at the expense of authentic historicity.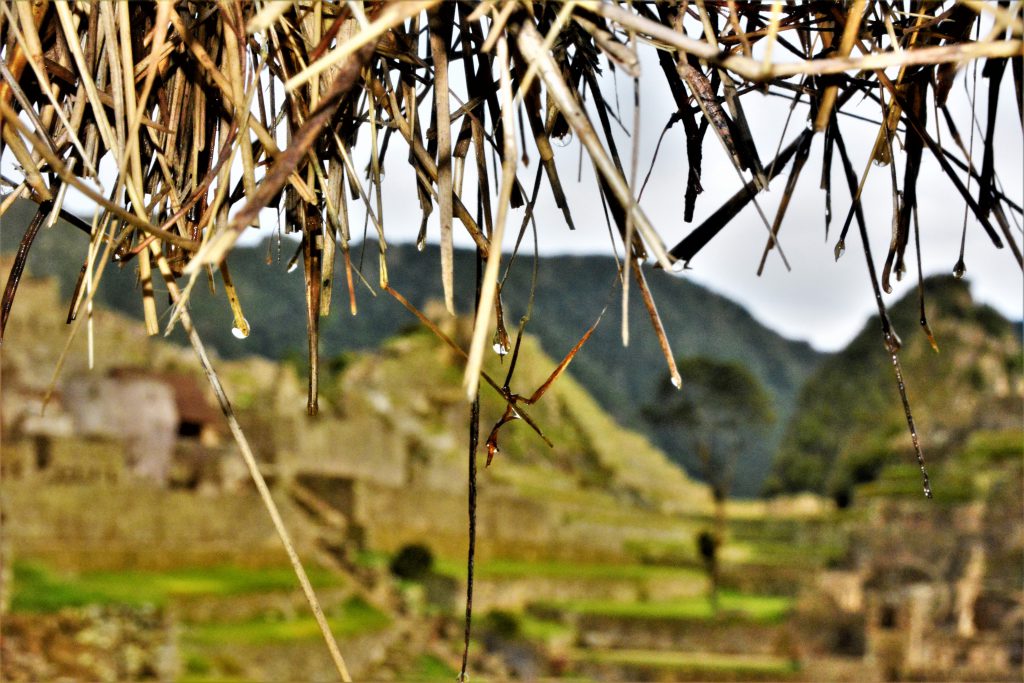 More important Machu Picchu Information:
There are three mountain peaks: Huayna Picchu, Machu Picchu Mountain (and Putucusi Mountain)
As detailed above, there are two mountain peaks that you can explore as part of a day trip to Machu Picchu. It is typical to arrive at the gates either at 06.00 when they open, and be part of the first wave, or to arrive a little later, at a more leisurely time by bus. Because of these two waves, there are generally two time slots in which you can hike one of these two mountains, depending on what time you arrive at the site. Note that it is not possible to climb them both (in the same day) and each one requires a ticket purchased with your Machu Picchu ticket.
What can you do at the top of Machu Picchu?
Huayna Picchu
This is the peak which overlooks Machu Picchu. The peak of Huayna Picchu is 2,693 metres (8,835 ft) above sea level, or about 260 metres (850 ft) higher than Machu Picchu. The Inca built a trail leading to a temple at the top. The gate opens at 07.00 and 10.00 (pre-bought ticket required! Only 200 for each time slot). You will ascend on the original Inca trail, which let's not forget the Inca built over 500 years ago and without modern health and safety concerns in mind.
The Inca who climbed this trail were climbing similar trails all their lives. At points the path is so steep and narrow that hikers must pull themselves along on a steel cable attached to the rock. It is tough going and not without risk so common sense is needed. Anyone with reasonable physical fitness will be able to tackle this peak. And the rewards at the top are well worth it.
At the peak was the residence of the lucky high priest and the local virgins, whose purpose is unclear. The Temple of the Moon, found by following the lower trail, is the main archaeological attraction of Huayna Picchu.
Machu Picchu Information: Mountain (Montaña)
Actually higher than Huayna Picchu, at 3,050m (10,007ft), it is something of the ugly step-child to its more illustrious counterpart. While Huayna Picchu is included towering over Machu Picchu in most postcard pictures, Machu Picchu Mountain is less spectacularly visible from Machu Picchu and thus more overlooked. But the views are just as incredible and the trail is generally less busy. It is fairly leisurely at first, but it does get more challenging as you approach the summit. Less terrifying than Huayna Picchu, but not necessarily easier.
Machu Picchu Information: Putucusi Mountain
This is a little known secret peak around Machu Picchu that does not require a ticket, pre-booking or even queueing. The trail head is not located without the Machu Picchu site, but is found at the foot of the mountain near Aguas Calientes. It is not clearly marked, starting near the train tracks behind the Sumaq hotel, with a sign "zone in process of conservation – restricted area". The hike itself is challenging, with many questionable wooden ladders throughout the hike. It will take approximately 90 minutes to the top and is not suitable for your grandmother or even your mother.
Why Machu Picchu Mountain (Montaña ) is better than Huayna Picchu ?
This is a common debate between travellers. Macchu Picchu is the more 'famous' of the two mountains; Huayna Picchu is essentially the little sister of Macchu Picchu – where people might climb to get a better view of Macchu Picchu.
Huayna Picchu is the little mountain you see behind the ruins in all the classic shots of Machu Picchu.  With two options a day available (one from 7 – 8 am and the other is 10 – 11 am) there is a limit of 200 people per day. Huayna Picchu is about 1000 ft to the summit – and can be reached in 30 minutes or less if you are fit /acclimatized although it is more challenging than Macchu Picchu. It does get more challenging the closer you get to the top – you may have to use ropes built into the rocks to help you make it to the top. There is a loop at the top that includes a walk through a tiny cave which then reunites with the original path for the descent back to checkpoint. The average time take to climb Huanya Picchu is approximately 1.5 – 2 hours.
More Machu Picchu Information:
Things to do in Machu Picchu Town/ Machu Picchu Pubelo (A.K.A. Aguas Calientes)
So what can you do in Machu Picchu Pueblo?
Anyone heading to Machu Picchu, whether on a Machu Picchu tour or just off their own back, will pass through Aguas Calientes. This is a mountain town sprung up before Hiram Bingham's discovery. However, it exists mostly to service visitors to Machu Picchu. As you can imagine, it is mostly a collection of hotels and restaurants. The prices are largely divorced from the reality of the Peruvian economy. It sits astride a tumbling creek that feeds into the Urubamba river and is the central transit point for an impressive and romantic mountain train line. Although most use it merely as a place to sleep (and only spend one night in Aguas Calientes before ascending Machu Picchu) it does in fact have some charms of its own.
This museum delivers some incredible Machu Picchu information. We highly recommend that you visit it before visiting the ruins themselves. Here you will find exhibits for all variety of treasures and artefacts relating to Machu Picchu and find even more Machu Picchu information about the Incas and their civilisation. It is quite a grave mistake to go all the way to Machu Picchu and not study up on your homework about it beforehand. Next door is a botanical gardens, too, very nice.
There are 8 species of butterfly that live around Machu Picchu. Here you can see them and learn all about their life cycles. Really quite a nice and pleasant experience, but perhaps not for those pressed for time.
The Orchid Garden
Another flora-based attraction. This one is even farther off the beaten track and rarely visited by many of the 2 million annual visitors. The gardens take you on a self-guided tour which takes about 30-40 minutes. It is a very peaceful and enjoyable way to pass some time away from the crowd.
The phrase 'aguas calientes' in Spanish directly translates as 'hot waters', but a better translation would indeed be 'hot springs'. These are the thermal baths for which they named the town for. For that reason alone they merit a visit, time permitting. Plus the view is incredible. Floods destroyed the original baths in the not too distant past. But they have rebuilt them, and they can be found at the uppermost end of the town. Just keep walking uphill. It is open 06.00 – 20.00 and the admittance is $6.10 US.
Zip-lining in Santa Teresa
A little cheaty this one, since it's not in Aguas Calientes and not an activity easy to do if based in Aguas Calientes. But it's such a rip-roaring adventure that it's worth mentioning here. You can spend your morning careering across a valley attached to steel cables and traversing extremely unstable wire bridges with a raging river below. Ideally you do this the day before ascending to Machu Picchu. This is because getting between Aguas Calientes and Santa Teresa involves either a train or a 2 hour hike. Best done as part of the Inca Jungle tour.
---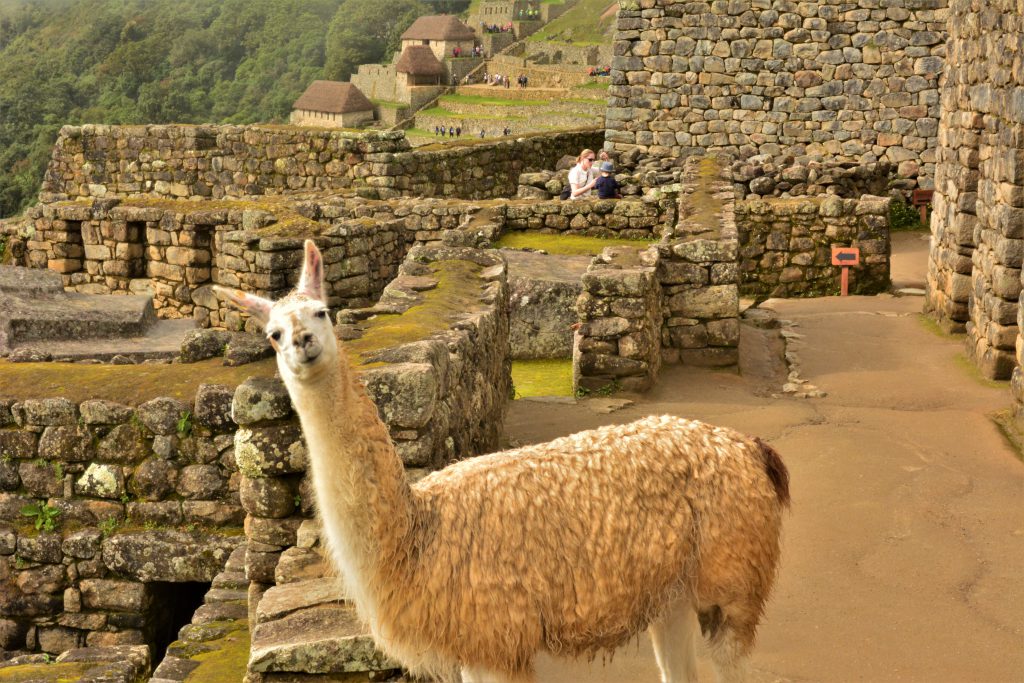 Machu Picchu Information overload
So know you have all the Machu Picchu information you need about Machu Picchu, Machu Picchu Pueblo (Aguas Calientes) tours. There is now nothing you do not know. Okay, that might not be true. There is more to find out than in this blog post. But it's a very good and helpful start. There are so many options for getting there, so many optional activities, so many hikes and treks and routes. We hope that this article begins the process of demystifying some of it for you. And also, as well as the practical Machu Picchu information, make sure you read up on the history and factual Machu Pichu information to make the most of your trip.
Pin this post!