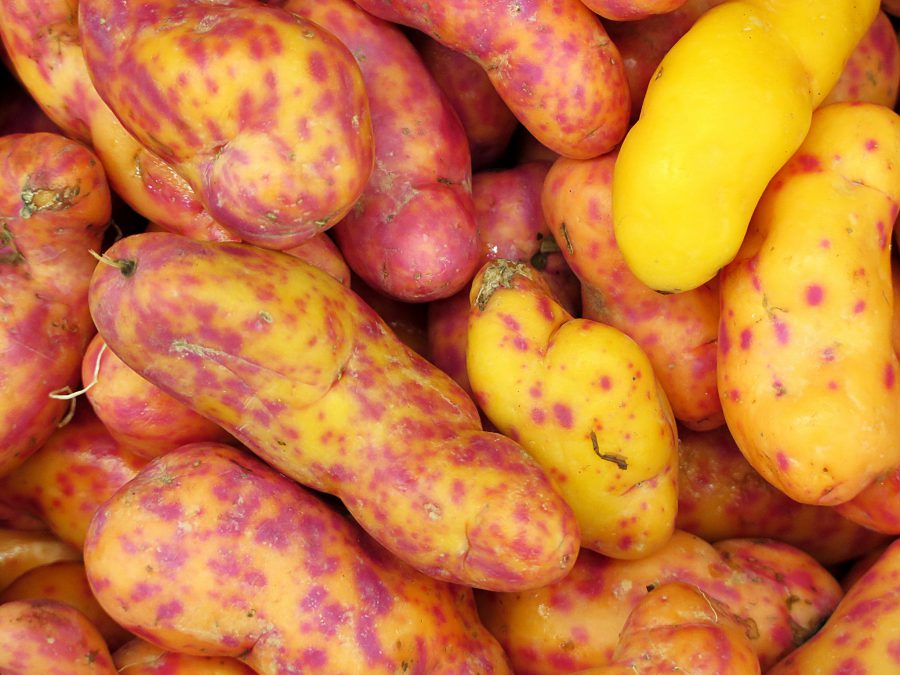 Peruvian cuisine is as fun, colourful and vibrant as the rainbow flag of Cusco.
With national dishes ranging from cuy al palo (guinea pig roasted over a spit) to the delicious alpaca lomo saltado, Peruvian Cuisine is not only gaining a reputation for incredible quality, but also for its flair and unrivalled freshness.
However, with so many options to choose from, it can be hard to know where to start.
Peru food tours are becoming more and more popular every year with increasing numbers of options for tourists to engage in cooking classes, pisco sour cocktail classes, gastronomic/culinary adventures and more.
Luckily for you, we have done the hard work by testing plenty of amazing Peruvian cuisine.
As a result, we have compiled this extensive list of our favourite restaurants and dishes to try across Peru.
Although we haven't exclusively covered vegetarian or vegan restaurants in this list, there are lots of incredible vegan and vegetarian restaurants across Peru we have sampled for our exclusive tours.
Peruvian Cuisine: Our top 10 (infamous) dishes to try
 1) Cuy al Horno/ Cuy al Palo (roasted guinea pig)
Peruvian cuisine can be a lot of fun.
Without a doubt one of the most (infamous) Peruvian dishes to try while you are in Peru, cuy, as it is known here, is also one of the most controversial.
Since Westerners often own guinea pigs as pets, it can be a little confronting for some.
However, do not let this stop you from trying this dish which is considered a delicacy here in Peru.
Cuy comes deep fried and roasted – usually cooked whole with various herbs and spices (specifically presented for photograph purposes before it is delicately prepared for consumption).
You might even see it prepared as street food on certain days of the year; 'National Cuy Day' is a real thing.
Prices for cuy vary – on the streets you may be able to purchase a whole guinea pig for as little as 25 soles whereas in top restaurants prices usually start from 60 soles upwards.
It is found everywhere across the country, as well as in quality restaurants across Lima, Cusco and everywhere else.
I (reluctantly) tried this at
Kusikuy
, Cusco, when my sister found out the dish was only available for two people not one.
It was a great experience; although personally if I am going to eat meat, I would usually prefer a little more!
However, I would have to say even though it's not my favourite dish, it was definitely worth the experience and one I will remember fondly (plus the photographs are very amusing).
Not negotiable if you insist on trying the national dish everywhere you go!
2) Alpaca – in any form (llama)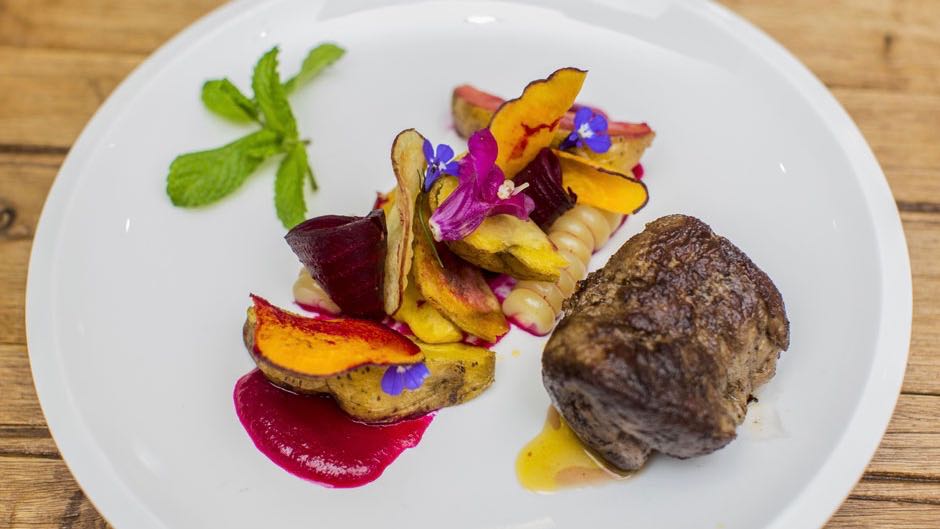 One of the coolest things (I think) about visiting Peru is seeing beautiful llamas everywhere.
You'll find them in the highlands, in the cities, dressed up for photographs, etc.
Yet, as well as being incredibly photogenic, these animals are surprisingly delicious to eat and one of the staple food groups here.
Furthermore, alpaca meat comes in many forms; dressed well in the form of ceviche, as a hearty burger or even as a delicious stew.
While it is available to purchase everywhere, the quality of dishes varies greatly.
Especially relevant is my personal recommendation for the best alpaca I have tried – this would have to be between Organika (Cusco) and Tunupa Valle Sagrado (Urubamba).
At Tunupa, not only can you eat alpaca but you can also get your photo taken with them – obviously ones that are still alive on the beautiful property overlooking the river!
 3) Ceviche
 This dish is probably one of the most well-known of Peruvian cuisine and it can come with a variety of different meats.
Initially only thinking it came with white fish (pescado is the word for fish in Spanish), it actually also comes with octopus, prawns or any other type of protein that can be marinated.
You can also get alpaca ceviche, which I found delicious.
The fish, or other protein, is gently marinated in lime juice, then usually mixed with red onions, chives , bell peppers and cilantro added although recipes can vary depending on where you go.
Fresh, delicious and healthy, ceviche can be found in most places across Peru however my tip would have to be to eat it in Miraflores, or somewhere beachside if possible.
4) Lomo Saltado
While this is a dish served everywhere and perhaps not one of the most decadent, in Peru it is definitely one of the heartiest and most reliable when you are hungry.
A stirfry meat dish that combines marinated beef, chicken or pork with bell peppers, onions and tomatoes, it is often accompanied by rice or french fries and is easy to find.
Peru is popular with tourists for its fusion of Peruvian Chinese food – otherwise known as Chifa.
Because it is common and easy to make, cooking classes usually feature this classic dish.
5) Pollo a la Brasa (classic fried chicken)
Another classic meal here in Peru, you simply can't go past a good pollo a la brasa.
Although this is number five on the list, popularity-wise it should be number one.
Deep-fried chicken with herbs and served with the traditional french fries, prices for this start at just eight soles upwards to 40 soles.

6) Papas a la Huancaina (potatoes with Andean sauce)
You will see this dish everywhere and wonder what exactly it is.
A very simple dish (essentially it's just boiled potatoes with a secret Andean sauce), but you have to try it to believe how good it really is.
Initially heralding from Lima, this delicious spicy creamy sauce is seriously addictive.
In fact you will see the 'Huancaina' sauce served with everything from quail eggs, to corn or simply used as a dip – the Peruvians love it.
7) Aji de Gallina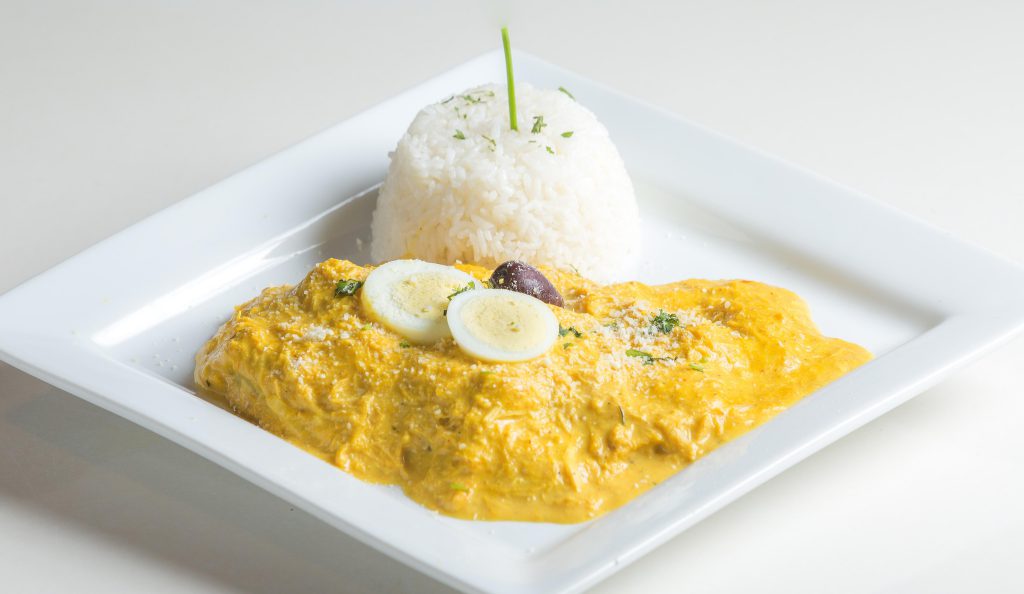 This is an unusual shredded chicken stew flavoured with cheese, garlic, nuts and Peruvian chilli peppers.
Characterised by its colour – bright yellow from the aji chilli peppers – its origins go back to the French revolution.
Hundreds of French chefs were reputed to have lost their jobs.
Then, Peruvian creole families hired the chefs and this famous dish was born.
Great to eat on cold Peruvian winter days!
8) Arroz con pollo/arroz chaufa (Chifa)
A simple rice and chicken dish, again very common across Peru, this is a staple found everywhere in suburbia and in the cities.
Since the origins of this dish come from Spain and Latin America, you might say it's very similar to paella.
However, the recipe changes depending upon which part of Peru you are in.
9) Pachamanca

Taken from the Quechua words pacha meaning 'earth' and manka, meaning 'pot', a Pachamanca is the Inca tradition of burying and baking foods found in the fields that surround a community.
In order to try this dining experience yourself, you will need to venture into the hills of the Sacred Valley, leaving Cusco to join a Quechua speaking local community who will welcome you with their wealth of knowledge.
A pachamanca is a labour of love, because preparing the foods and the construction of the earth oven can take up to two hours.
It is an experience reserved for celebrations like weddings and is held only two or three times a year so it's considered special to be able to join one.
10) Escabeche
Another speciality dish said to have it's origins in Spain, escabeche recipes vary from suburb to suburb here in Peru.
Marinated fish, chicken or pork come with pickled vegetables coloured by bright saffron or paprika.
Often made in the night to let the flavours sink in and then served the next day, it is popular in nearly all restaurants.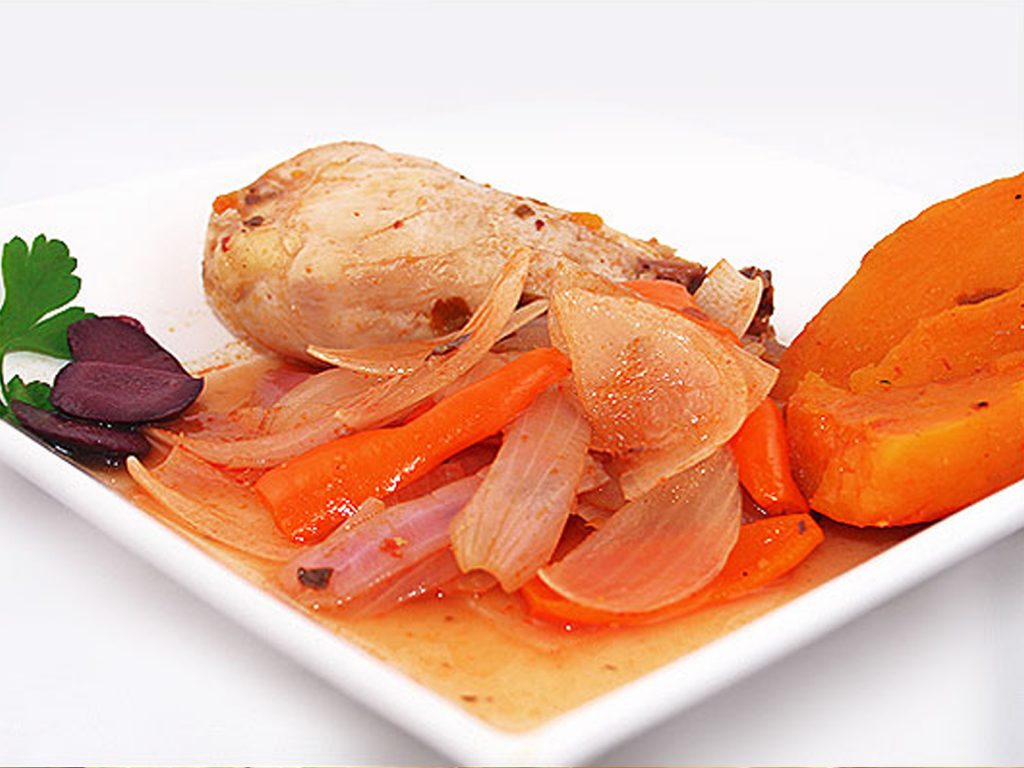 BONUS*** Technically not a dish, but it's Peruvian standard to try
11) Pisco Sour
Finally, no Peru food tour would be complete without sampling the traditional pisco sour.
This classic drink contains egg whites, Peruvian pisco (distilled alcohol), bitters and lime juice.
A Peruvian staple served everywhere in bars and restaurants, you cannot escape trying it once.
Most of the cooking classes offer this recipe variation and there are also numerous cocktail making classes available to teach you how to make your very own version of this traditional drink.
Not for the faint-hearted, it has a bit of a kick but after the second or third it becomes much easier to enjoy!
The best of Peruvian cuisine: Our recommendations
Peruvian cuisine is unrivalled in it's quality and freshness.
The climate and varied landscapes deliver top-shelf produce and the influx of French, Chinese and Spanish chefs consequently means the menu here is rich and varied.
Hence you can try out fabulous Peruvian cuisine nearly everywhere you go – the standard here is impeccable.
We consider it our job to search out the best Peru has to offer.
Please
contact us
if you have any suggestions for culinary tours or gastronomic adventures we should review or if you would like to experience any of our featured
food experiences
!
Finally, here is a list of some of our favourite/top-rated restaurants here in Peru.
Lima :
Gaston and Astrid – Latin America's  50 Best Restaurants 2016
Av. Paz Soldan 290, San Isidro 15073
Phone:(01) 4422777
Central– Latin America's  50 Best Restaurants 2016
Santa Isabel 376. Miraflores, Lima, Perú
Phone: +5112416721 / 2428575 / 2428515
Calle San Martin 399, Miraflores 15074
Phone:(01) 4462512
 Larcomar, Malecón de la Reserva 610, Miraflores, Lima 15074
Phone:(01) 2428110
Arequipa:
Picanteria La Nueva Palomino
Address: Leoncio Prado 122, Arequipa
Phone: (054) 252393
Address: Calle Zela 210, Arequipa
Phone: (054) 206020
 Santa Catalina 210, Arequipa
Phone: (054) 287360
Campo Redondo Square, Pasaje Violin 102, San Lázaro.
Phone: +51 958798514

Cusco:
 Portal de Carnes 236, Cusco
Phone: (084) 240668
2nd Floor, Triunfo 393, Cusco
Phone: (084) 239510
Plazoleta Nazarenas, Museum of Pre-Columbian Art
Phone: +51 084 242476
Amargura, Cusco
Phone: (084) 262870
Like it? Pin it!