2-Day Inca Trail to Machu Picchu – Private Service
Our 2-Day Inca trail itinerary is perfect for those who are short on time. This 2-day hike to Machu Picchu includes a full day of trekking along the classic route, a guided tour of the citadel; plus accommodation in a hotel, instead of a tent! Your trek will take you through the Cloud Forest, past fascinating archaeological sites, and finishes at the Sun Gate with the much-anticipated first glimpse of Machu Picchu.
You can start from Cusco or any other town in the Sacred Valley. It will be the same price.
2 Day Inca Trail Itinerary Overview:
Download our  pdf itinerary  to see the full itinerary 
Day 1 | Cusco to  Km 104 – Aguas Calientes : 
Your 2 day Inca trail begins with a private transfer to  Ollantaytambo, followed by a nice train journey through the beautiful Sacred Valley to the starting point of your short Machu Picchu hike at Km 104.
From here, you truly begin your Inca trail to Machu Picchu! You will hike through the cloud forest and visit the fascinating Inca sites of  Chachabamba and Wiñaywayna. You will approach Machu Picchu through the Sun Gate for that classic first glimpse, and then continue to Aguas Calientes for dinner and a well-earned night's rest!
Day 2 | Machu – Picchu – Ollantaytambo – Cusco:
You'll begin the day bright and early so that you can beat the crowds to the city and enjoy the culminating point of your 2 day Inca trail: the majestic  Machu Picchu! Your expert guide will take you around the key points of the site and explain their history, before allowing you to spend some free time exploring the city at your own pace.
In the afternoon, you will travel by bus and train to Ollantaytambo and then by private transfer back to Cusco, full of the wonderful memories of your once in a lifetime tour!
Important information:
We recommend you book this tour at least 3 weeks in advance.
If you have any extra question about this tour please contact us or send us a message by WhatsApp 0051 974 94 40 16.
Are you looking to join a group? Check out our  2 day Inca trail in group service
Travel voucher & contact details:
You will receive an electronic voucher via e-mail once your booking is confirmed.
Book Now Pay Later
Simply pay an initial deposit per person and pay the rest later.
You don't need to miss out – JUST BOOK NOW, PAY LATER!
1
Day One : CUSCO - KM 104 - INCA TRAIL - AGUAS CALIENTES
Your adventure begins bright and early at
4:30 am
. A private transfer will bring you to the town of Ollantaytambo, the gateway to the Inca trail. From here, hop on the
6:40 am
train to KM 104, the trek's starting point. (If you are already in Ollantaytambo, your pickup time will be 6:00 am.) Riding this beautiful old-fashioned locomotive is quite a treat in itself. Gaze out your wide windows as you journey through the Sacred Valley towards the "Ceja de Selva" (edge of the jungle) and the Urubamba river, going past spectacular views of snow-capped mountains and traditional Andean villages. Upon arriving at Km 104, check-in at the trail control point and set off on your hike! Shortly after crossing the Urubamba river, you'll arrive at your first archaeological site. These fascinating ruins of Chachabamba is located at 2050m above sea level. The fine architectural style of the site suggests that Chachabamba was once a sacred centre, possibly dedicated to water. Next, slowly ascend through the Cloud Forest for about three hours until you reach your next archaeological site. Enjoy your lunch at the beautiful ruins of Wiñaywayna, located 2650m above sea level. This ancient design is structured around steep terraces laid out in graceful curves, and commands one of the most spectacular views in the Sacred Valley. After lunch, continue your hike to the Intipuku (Sun Gate), officially ending your Inca trail. Take in every moment as this path leads you to your first glimpse of the awe-inspiring citadel of Machu Picchu. The setting of this valley is magical in itself as you're surrounded by forested mountains clothed in wispy clouds. From here, descend for another thirty minutes towards the city. Use this opportunity to take all the photos you like. The next bus brings you to the town of Aguas Calientes, where you'll check into your hotel, have a hearty dinner; and if you wish, take a relaxing and recuperating dip in the town's eponymous hot springs.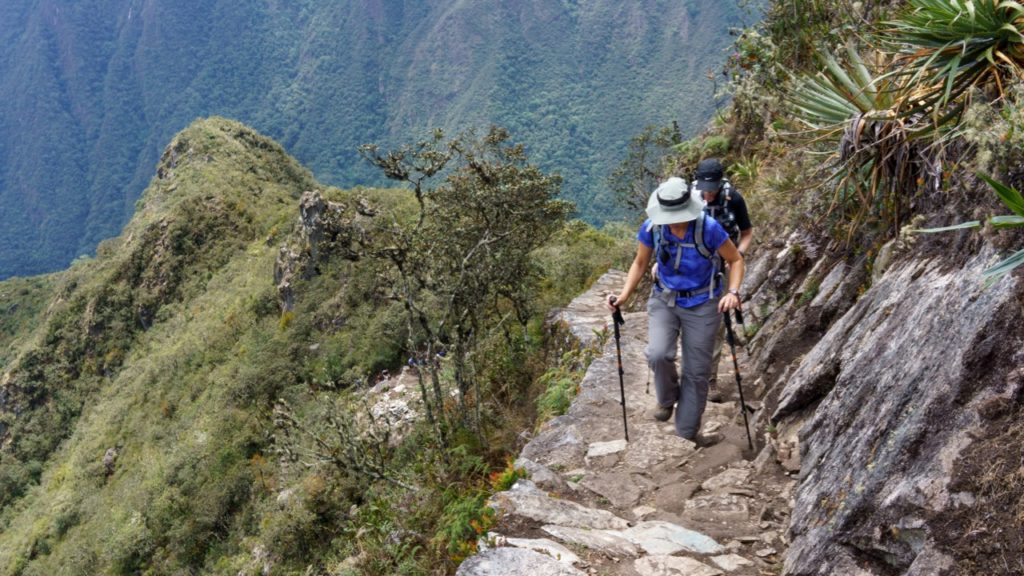 Inclusions:
Transfer from Cusco to Ollantaytambo.
Train service from Ollantaytambo to KM 104. (45 minutes approximately)
Entry to Inca Trail
Gourmet & Ecologic box lunch
Bus from Machu Picchu to Aguas Calientes
Private English-speaking tour guide
2
Day Two : MACHU PICCHU – OLLANTAYTAMBO – CUSCO
Start your day with an early breakfast, then catch the first bus to Machu Picchu. Beat the crowds to enjoy the mysterious, ruined city at its best. Wander through the magnificently-preserved ruins, and discover the city with your expert guide. Get to know how it was lost for centuries, only to be rediscovered by Hiram Bingham; how the buildings were constructed in perfect harmony with the surrounding mountains; how the beautiful architecture blends aesthetic and utility. Once the tour is complete, you'll have some time to visit the city at your own pace, muse over the magnificent, ruined buildings, and admire the breathtaking views of Sacred Valley. Lastly, with your cameras full of photos, and heads filled with the wonder of Machu Picchu, return on the bus to Aguas Calientes and catch the train to Ollantaytambo. From Ollantaytambo, your private transportation will take you back to your hotel in Cusco.
Inclusions:
Bus up and down to Machu Picchu
Entry to Machu Picchu
Private English speaking Tour guide
Train service from Aguas Calientes to Ollantaytambo . Time schedule can be 2:30 pm or 7:30 pm depending on availability
Private transfer from Ollantaytambo to your accommodation in Cusco or in the Sacred Valley.
Tour Location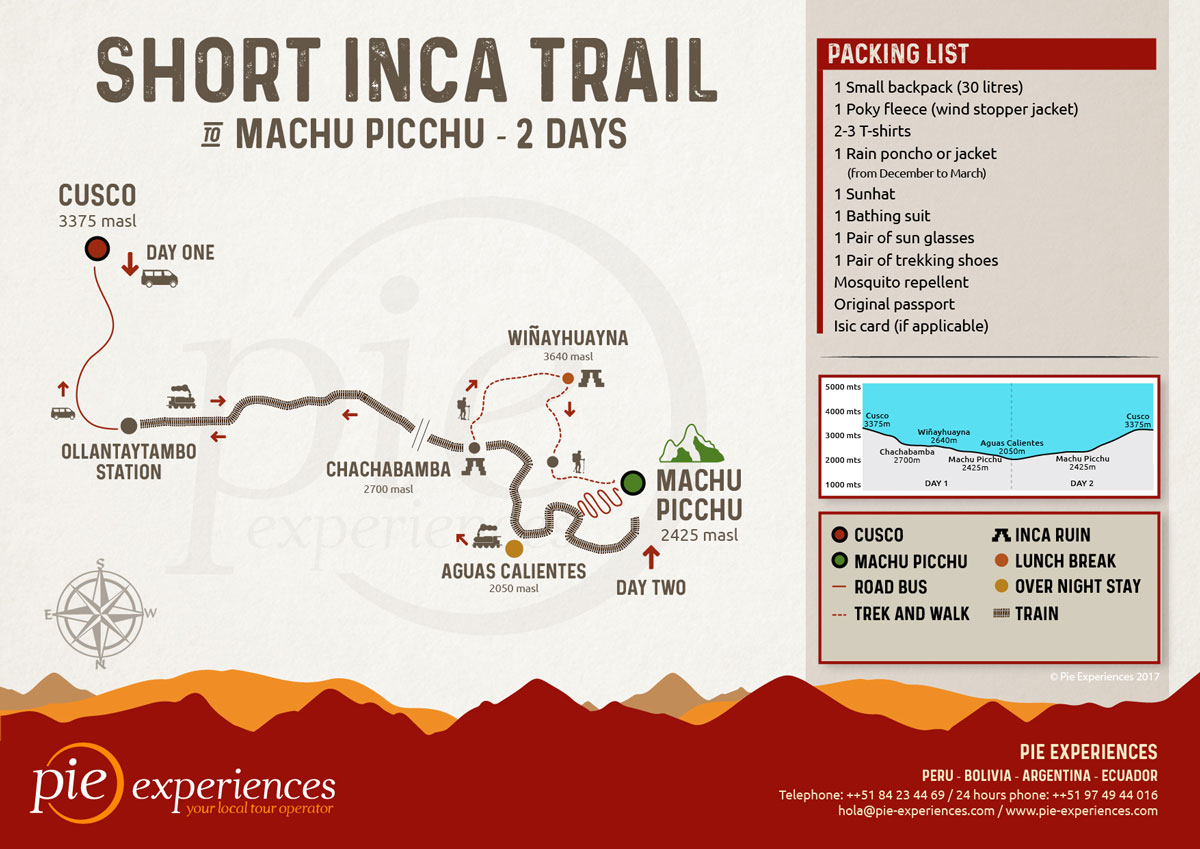 Pie experiences reviews and Score Breakdown
Your opinion is important to us! Here at pie experiences we greatly value your feedback, because thanks to your comments we can create more fascinating itineraries and confirm that we are doing an excellent job. Many of our clients also choose to post handy tips and advice about their travels. It's great to know what to expect on a pie experiences tour before you go, so thank you for sharing your experience!