Discover Bolivia Salt Flats – From La Paz to Uyuni
If you're looking for the most convenient and authentic way to experience Bolivia's natural wonders, this 4-day adventure starting in La Paz fits the bill perfectly. Bubbling geysers, natural hot springs, snow-capped volcanoes, vast deserts and thousands of square kilometers of salt plains make traveling in this non-touristy region an otherworldly experience.
HIGHLIGHTS OF BOLIVIA SALT FLATS – LA PAZ TO UYUNI TOUR:

Bolivia Salt Flats – La Paz to Uyuni Itinerary Overview
Click through to "Tour Plan" to see the full itinerary for the Bolivia Salt Flats – La Paz to Uyuni tour.
Day 1 | Sajama National Park  
In the morning, you depart La Paz to explore the natural wonders of Sajama National Park. Here you will see a bubbling geyser field, vast wetlands, natural hot springs and traditional villages – all without the crowds. In addition, witness Bolivia's highest peak, Mt Sajama, towering above the region at 6542 metres before overnighting at Ecolodge Tomarapi.
Day 2 | Deserts, Lagoons, & Andean Wildlife
Today, enjoy the scenery as you go driving across vast deserts, moorlands and rivers shadowed by snow-capped volcanoes. Furthermore, stop marvel at secluded lagoons filled with Andean flamingos and other wildlife. See sand dunes, archaeological pre-Inca remains, traditional villages and panoramic views of the Bolivian Altiplano (high plateau).
Day 3 | Bolivia Salt Flats, Pre-Inca Ruins & Mummies
Today you reach the famous Bolivia salt flats, Salar de Uyuni (Uyuni Salt Flats), stopping en route at the lesser known Salar de Coipasa (Coipasa Salt Flats). Next, you will visit a lost pre-Inca citadel housing tombs and mummified corpses. Thereafter, you will do an overnight stay at one of Uyuni's famous salt hotels, which is made entirely from salt and provide a truly unique accommodation experience.
Day 4| Salar de Uyuni, Thunupa Volcano & Playa Blanca 
Today you get to explore Salar de Uyuni and its incredible natural attractions. First, witness the expansive Bolivia salt flats at the base of Thunupa Volcano and also enjoy a mild hike to Inkahuasi Island for 360-degree panoramic views of this 'white sea'. Afterwards, exit the salt flats at sunset via Playa Blanca, with its famous multinational flag stand and Dakar memorial before completion of the tour in the town of Uyuni.
INCLUDED
NOT INLCUDED
For more information on the Bolivia salt flats, red our Uyuni Salt Flats Travel Guide.
You can also read our blog post 10 Reasons to Visit Bolivia.
We recommend you book this tour at least 3 weeks  in advance.If you have any extra question about this tour please contact us or chat with us via what's app 00 51 974 944 016
Why book with us
Travel voucher & contact details:
You will receive an electronic voucher via e-mail once your booking is confirmed.
Book Now Pay Later
Simply pay an initial deposit per person and pay the rest later.
Zero Change Fees Policy:
If after your booking has been confirmed , you wish reschedule your trip to an alternate departure date , you may do so subject to availability.If the change is requested 30 days or more prior to the original trip departure , no change fees will be charged. Zero change fees also do not apply for Classic Inca trail 4 days or  Inca Trail 2 days.
You don't need to miss out – JUST BOOK NOW PAY LATER!
Departure

La Paz - Bolivia

Include

Transport

Entries

Accommodation

Tour guide

Meals

Activities described in the itinerary

Not Included

Domestic flights

Travel Insurance
Tour Location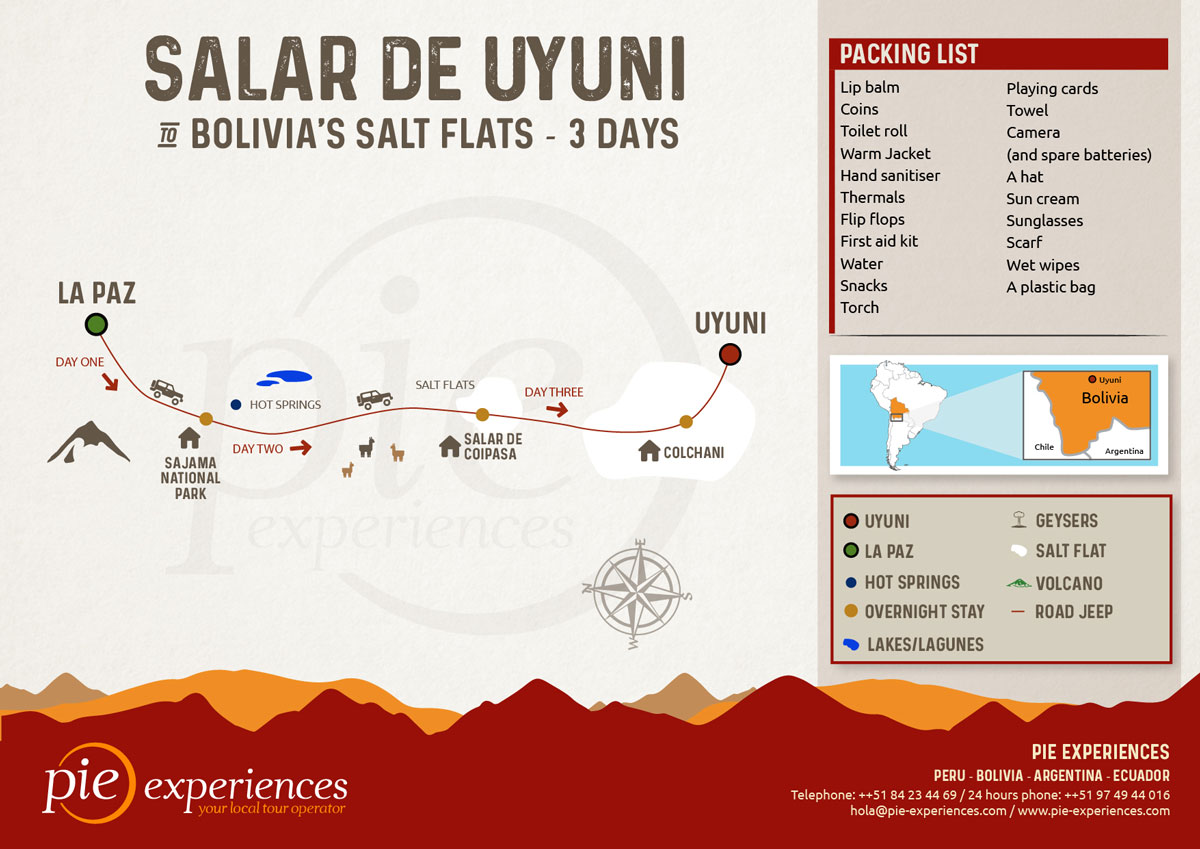 Our Gallery
Amazing trip from La Paz to Uyuni Salt Flats