2 Day Inca Trail to Machu Picchu | Group Service
Machu Picchu is the stuff of dreams. And bucket lists! No wonder it was named World's Leading Tourist Attraction for 2017 by the World Travel Awards. There are many ways to visit this fascinating destination that has been capturing the imagination of visitors for year. One way is by doing the incredible Inca Trail trek. But how do you find the right Inca trail booking, especially if you are limited on time
Inca Trail Booking – Short Inca Trail – 2 days
If you are short on time but still want to experience the Inca Trail, this itinerary is perfect for you!  This Inca Trail booking is for a 2-day hike to Machu Picchu.  It features a full day of trekking along the iconic Inca Trail route, hotel accommodation (rather than staying in a tent) and a guided tour of the Machu Picchu ruins.
During your trek, you will hike through the cloud forest and see the beautiful archaeological ruins of Chachabamba and Wiñaywayna as you make your way to Machu Picchu.
Inca Trail Booking – Highlights

*Click through to "Tour Plan" to see the full itinerary and  what else in included  for the  Short 2 Day  Inca Trail
On your 2-day tour, you will hike the famous Inca trail trek, passing through some of the most spectacular scenery and landscapes in the Sacred Valley.
You will also see the Inca ruins of Chachabamba and Wiñaywinya (site of your delicious lunch).  Then continue on through the Sun Gate to the world-famous Machu Picchu.
On day 2, you will explore Machu Picchu with an experienced guide before getting time to tour the ruins on your own.
Day 1 | Cusco to  Km 104 – Aguas Calientes: 
Your tour begins with a tourist transfer to Ollantaytambo where you will take the train to KM 104.  Here you will begin your Inca Trail trek to Machu Picchu.  During this hike you will pass through the cloud forest and  see the Inca ruins of Chachabamba and Wiñaywayna. You will have lunch in Wiñaywayna surrounded by the beautiful ruin and one of the most spectacular views in the Sacred Valley.  Continuing on, you will pass through the famous Sun Gate before making your way down to the Machu Picchu citadel.  From there you will head by bus to Aguas Clientes.  Here you will have dinner and prepare for your Machu Picchu tour the next day.
Day 2 | Machu – Picchu – Ollantaytambo – Cusco:
You'll have an early start in order to the beat the crowds going to Machu Picchu.  Your day will start with breakfast before you head off to catch one of the first buses up the hill.  At Machu Picchu, an expert and knowledge guide will show you the highlights of the ruins.  Following the tour, you will have some free time to explore on your own.
In the afternoon, you will return to Aquas Calientes by bus and then take the train back to Ollantaytambo.  Your Inca Trail booking ends with a tourist transfer back to your hotel in Cusco.
And for more information about visiting Machu Picchu, check out our blog post with facts and things to know about the magic mountain.
This is an amazing tour, so don't miss out.  Contact us now to secure your spot.
Are you looking 2 day Inca trail in private & sustainable service? Click here
Important Information:
We recommend you book this tour at least 3 weeks in advance.If you have any extra question about this tour please contact us or chat with us via what's app 00 51 974 944 016
Why  book with us ?
*In-depth local expertise
*No middleman commissions
*Friendly booking platform
*Secure payment system
*Comprehensive customer support
*Sustainable Travel Operator
Travel voucher & contact details:
You will receive an electronic voucher via e-mail once your booking is confirmed.
Don't Miss Out: Book Now, Pay Later!
Simply pay an initial deposit and pay the rest later.
You don't need to miss out – JUST BOOK, NOW PAY LATER!
Departure Time

5:00 am

Include

Transport

Entries

Accommodation

Tour guide

Meals

Activities described in the itinerary

Not Included

Domestic flights

Travel Insurance

Tips
1
Day One :CUSCO - KM 104 - INCA TRAIL - AGUAS CALIENTES
Your day will begin early in the morning with a tourist transfer to the town of Ollantaytambo.  From here, you will depart via train to the starting point for your trek where you will check in and set off on your hike!   After crossing the Urubamba river, you'll arrive at the first Inca site: the Chachabamba ruin.  After a three hour climb through the cloud forest, you will reach the next site: the beautiful ruin of Wiñaywayna.   After a delicious lunch, you will continue to the Sun Gate, which is the official end to the Inca trail.  Stepping through the Sun Gate, you'll get your first glimpse of the amazing Machu Picchu ruins.  Descending for another thirty minutes towards the city, you will get a chance to take those iconic photos.  Finally you will take the bus to the town of Aguas Calientes.  Check into your hotel, have a hearty dinner and maybe visit the hot springs for some rest and relaxation.
Walking distance: 11 km.
Walking hours: 6 - 7 hours
Low point: 2'030 m./6'658 ft.
High point: 2'650 m./8'692 ft.
Accommodation altitude: 2'030 m./6'658 ft.
Included

Tourist Transfer from Cusco to Ollantaytambo
Train from Ollantaytambo to km. 104
Professional english-speaking guide from km104
Box Lunch :Meals prepared for this trek comply with all nutritional standards so our passengers can recover the energy used during the trekking.
Entrance to Inca Trail
Entrance to Machu Picchu citadel
Bus from Machu Picchu to Aguas Calientes
Delicious dinner
Basic Accommodation in Aguas Calientes :  (based in double bedroom or twin ) , hot water and breakfast.
2
Day Two : MACHU PICCHU – OLLANTAYTAMBO – CUSCO
Your day will be off to an early start so you can enjoy the beauty of Machu Picchu without the crowds.  You will have breakfast and then take one of the first buses up to the ruins.  Exploring the ruins with your knowledgable guide you will learn more about its history - how for centuries it remained known only to a few locals, escaping the attention of the conquistadors and rediscovery by Hiram Bingham.  You will also discover more about the way the building were built to be both beautiful and functional and the harmonious construction of the buildings with the mountains.  Once your tour is over you can explore the site on your own, marveling at the ingenuity of the Incas as you revisit the buildings and take in the breathtaking views of the surrounding mountains.  You'll board a bus to Aguas Calientes in the afternoon and depart on the train back to Ollantaytambo.  During your ride, you'll have time to reflect on your journey along the Inca Trail to the majestic ruins of Machu Picchu.  In Ollantaytambo, your tourist transfer will return you to your Cusco hotel.
Included

Breakfast
Bus to and from Machu Picchu and Aguas Calientes
Entrance to Machu Picchu
Profesional English-speaking guide
Train Peru Rail -EXPEDITION or similar  from Aguas Calientes to Ollantaytambo
 Transfer from Ollantaytambo to your hotel in Cusco

Not Included

Lunch in Aguas Calientes
Tips
travel Insurance
Hiking poles
Tour Location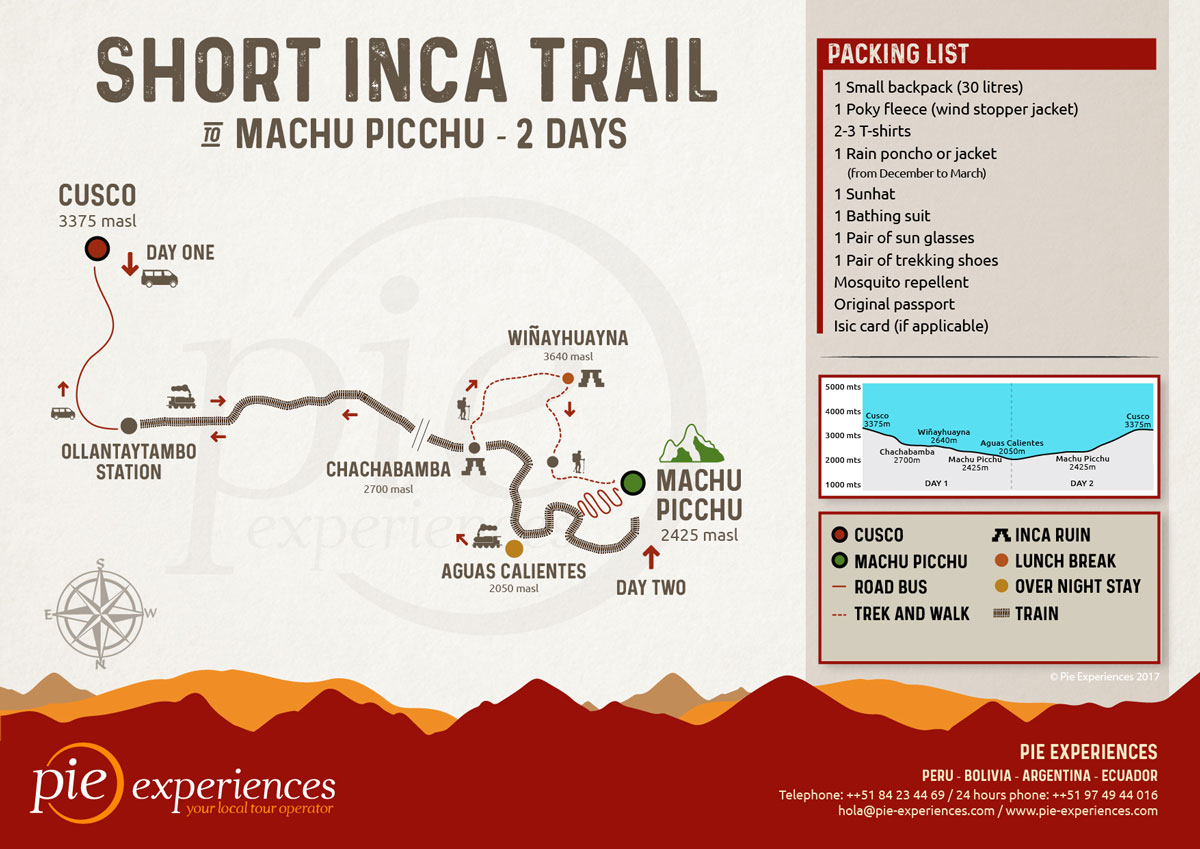 Our Gallery
Inca trail 2 Days in Group Service