Jungle Trek to Machu Picchu – Our best budget version
Discover our best budget version of the jungle trek to Machu Picchu. This 4 day tour is for the adrenaline junkies and thrill seekers. Cycle in a breathtaking downhill route through the sacred valley, glide through the sky in one of Peru's highest ziplines and wander through newly discovered Inca trails. Once you arrive at Machu Picchu you will learn about its ancient history and its rediscovery by Hiram Bingham in 1911. A true once in a lifetime trip to be remembered forever.
Jungle Trek to Machu Picchu and Inca Trail Highlights:
Jungle Trek to Machu Picchu – Itinerary Overview:
Click through to "Tour Plan" to see the full itinerary for the Jungle trek to Machu Picchu.
Day 1 | Cusco to Santa Rosa: Leave your hotel in Cusco and arrive at Abra Malaga where you will enjoy an exhilarating downhill bike ride to the archeological site of Huamanmarca. After discovering this amazing ancient site, arrive at Santa Rosa where you will stay for the night.Overnight in Ecoterra Lodge
Day 2 | Santa Rosa to  Santa Teresa: Trek along your first Incan Trail that leads to the highest zip line in Peru. Relax in the Cocalmayo hot springs overlooking the valley, before resting up for the night in a comfortable hostel. Overnight Yacumama Hostel
Day 3 | Santa Teresa to Aguas Calientes via Llactapacta Pass: Wander a remote Inca Trail towards Llactapacta Pass where you will see Macchu Picchu for the first time from above. Enjoy lunch with this once in a lifetime view, then take the train to Aguas Calientes to rest up for tomorrow's main event – the site itself! Overnight Tayta Hostel
Day 4 | Aguas Calientes to Cusco via Machu Picchu: Wake up early for the short bus ride to Machu Picchu. Explore the ancient ruins with our 2 hour guided tour. After some free time to wander and take photos, you will then bus down to Aguas Calientes, where you will have free time there to relax in the hot springs or wander the town. Later in the evening, our last day comes to an end as we take the train to Ollantaytambo and then transfer to return to Cusco.
Are you looking for a Jungle trek to Machu Picchu in Private Service ? Click here
Important Information:
We recommend you book this tour at least 2 weeks in advance.
If you have any extra question about this tour please contact us or chat with us via what's app 00 51 974 944 016
Why book with us
Travel voucher & contact details:
You will receive an electronic voucher via e-mail once your booking is confirmed.
Zero Change Fees Policy: If after your booking has been confirmed, you wish to reschedule your trip to an alternate departure date, you may do so subject to availability. If the change is requested 30 days or more prior to the original trip departure, no change fees will be charged. Zero change fees also do not apply for Classic Inca trail 4 days or  Inca Trail 2 days.
Don't Miss Out: Book Now, Pay Later!
Simply pay an initial deposit and pay the rest later.
Departure

Cusco - Peru

Departure Time

7:00 am

Return Time

8:00 pm

Include

Transport

Entries

Accommodation

Tour guide

Meals

Activities described in the itinerary

Not Included

Domestic flights

Travel Insurance
1
Day One: CUSCO - OLLANTAYTAMBO - ABRA MALAGA - HUAMANMARCA - SANTA ROSA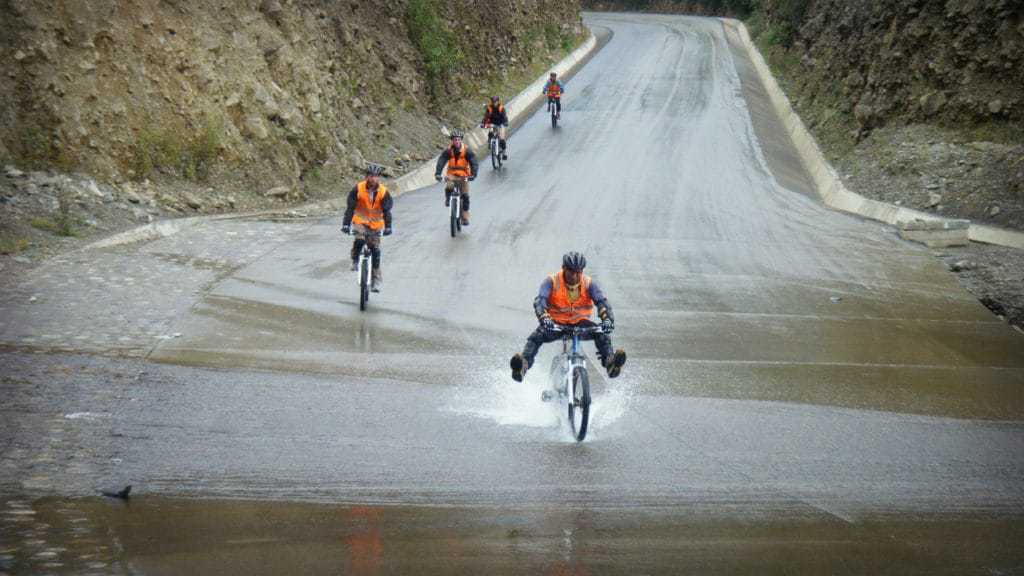 You will be collected from your hotel bright and early in the morning. You will then be driven through the amazing sacred valley where you will catch your first glimpse of the unbelievable landscape you will see throughout your journey. You will then be driven up to 4,316m on Abra Malaga. The guide will give a safety briefing and hand out all necessary safety equipment. You will then begin your invigorating downhill bike ride down the winding roads of the mountain. These roads are very quiet and pass some amazing snowy peaks, a truly unique and exhilarating experience. This journey brings you down to 1196m where you will discover Huamanmarca. Your tour guide will then take you around this newly discovered archaeological site and teach you all about its interesting history. Lunch will also be eaten in this fascinating site before getting back on your bikes and descending down to 1500m . Here you will be taken to your accommodation for the night, the peaceful Ecoterra Lodge, surrounded by striking nature and green mountains. You will have the rest of the afternoon to relax or even take an optional rafting tour before being served dinner and resting up for the night.
Biking Time: Approximately 3-4 hours 
Biking Level: Easy
Option: Guests who do not wish to bike may be transported to Santa Rosa by vehicle
 Meals:  L, D
Accommodation: Ecoterra Lodge
Transport: Private tourist transport
Activities: All the ones described in the itinerary accompanied by a professional tour guide
2
Day Two: SANTA ROSA - SANTA TERESA - COCALMAYO HOT SPRINGS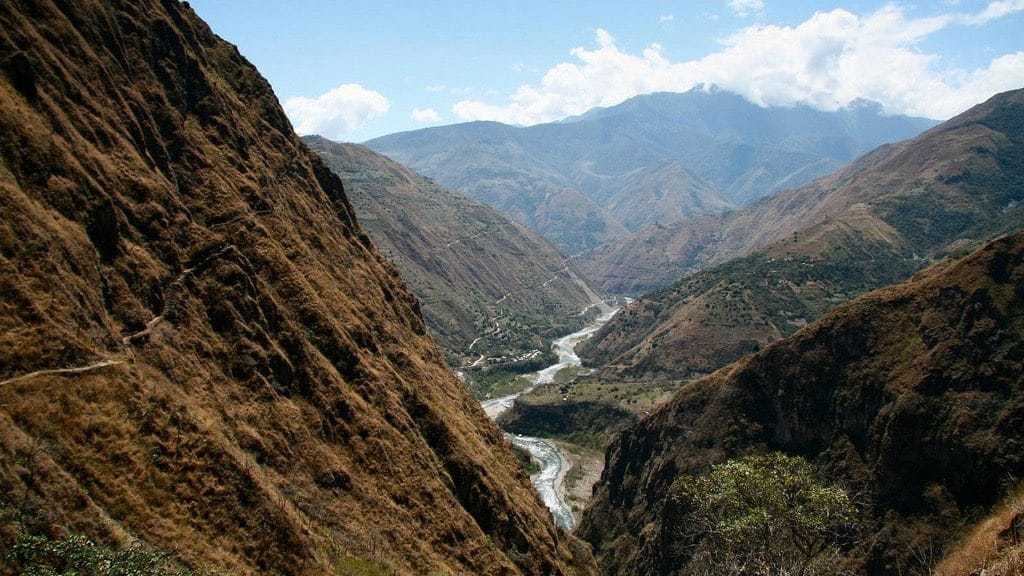 On day 2 you will rise nice and early before the sun and enjoy a nutritious breakfast. You will then hike  to Santa Rosa where you will begin the first Inca trail. This newly discovered Inca Trail takes you along windy sloped cliff edges for around half a mile. This is not the faint-hearted or those suffering from vertigo or other such conditions. You will then continue descending for around 2 hours to reach Quellomayo. From here you will continue to Santa Teresa, where you will arrive at your accommodation in the afternoon. After finishing lunch you will then have the option to complete one of the highest zip lines in Peru for an extra of US$40.00.  You will then head back to Santa Teresa to enjoy Cocalmayo hot springs in a beautiful remote area overlooking the valley. Then you will be served a delicious dinner and are free to rest for the night.
Trekking time: Approximately 7 hours
Trekking level: Moderate to strenuous
Option: zip-lining is optional US$40.00
 Meals: B, L, D
Accommodation: Hostel with private bathroom, hot water and wifi.
Activities: All the ones described in the itinerary accompanied by a professional tour guide
3
Day Three: SANTA TERESA - LUCMABAMBA - INCA TRAIL - TRAIN TO AGUAS CALIENTES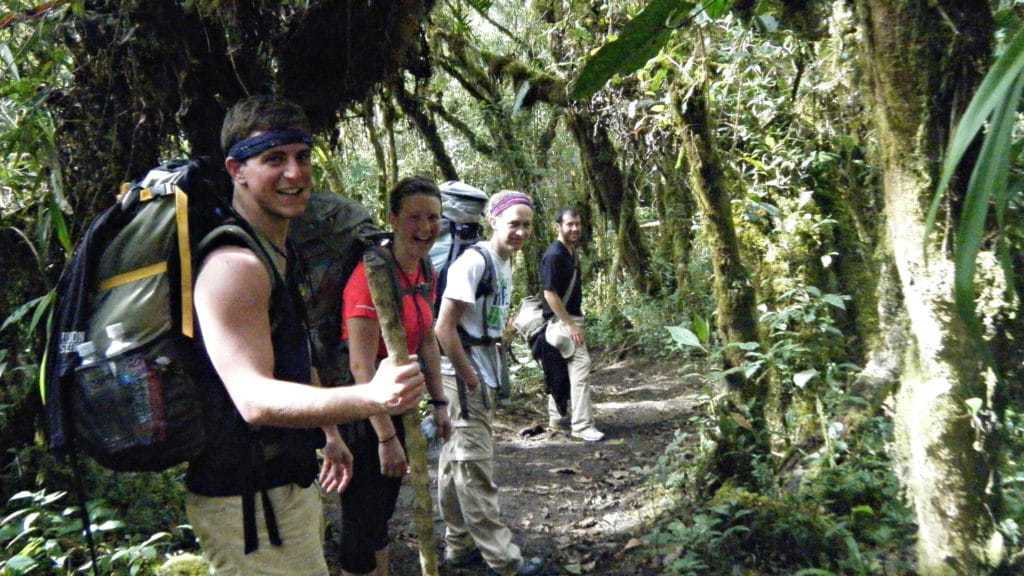 After an early breakfast, you will take private transport to Lucmabamba. After you arrive you will begin trekking another newly discovered Inca Trail. We are one of the only companies to offer this trek, making it incredibly peaceful. You will see an abundance of nature whilst walking through this amazing jungle terrain including parrots and other beautiful birds. This trek can be quite strenuous, but you will be rewarded for the effort you have been putting in by a view of Machu Picchu from the top of Llactapata. Here you will enjoy a picnic lunch with one of the new 7 wonders of the world as your scenery! You will then complete your walk with a 2 hour downhill trek to the train station. You will board the train where you will depart to Aguas Calientes. Upon arrival to Aguas Calientes, you will enjoy a traditional Andes dinner in a local restaurant. Then you will be taken to your accommodation, where you can retire to your rooms with ensuites and hot water.
Trekking time: Approximately 5 hours
Trekking level: Moderate to Difficult
 Meals: B, L, D
Accommodation: Hostel with private bathroom and hot water.
Activities: All the ones described in the itinerary accompanied by a professional tour guide
4
Day Four: AGUAS CALIENTES - MACHU PICCHU - CUSCO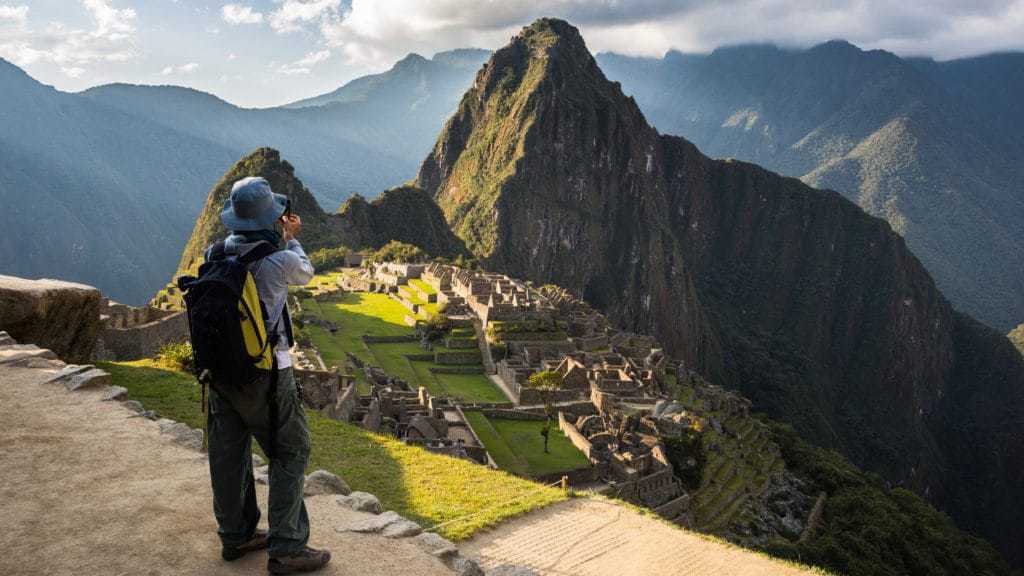 You will wake to take the first bus to Machu Picchu at 5.30am. This will drop you off at Machu Picchu just before dawn, making for the most unbelievable sunrise you will ever see. As the sun rises over the mountains and the valley you can take in this ancient wonder of the world, and snap some unforgettable scenes with your cameras. Afterwards you will be guided around the site for around 2 hours learning everything there is to know about Machu Picchu, not missing a single stone! You will then have some free time to hang out with the local llamas and take as many photos as you like. Following the end of your tour you will then catch the bus back down to Aguas Calientes, where you will have free time to wander the town, experience the hot springs or just sit at a local cafe or bar and remark on a wonderful experience. In the evening, you will depart Aguas Calientes by train back to Ollantaytambo followed by a tourist transfer to Cusco.
 Meals: B
Entrances to Machu Picchu
Activities: All the ones described in the itinerary accompanied by a professional tour guide
Bus up and down to Machu Picchu.
Train from Aguas Calientes to Ollantaytambo 
Transfer from Ollantaytambo to Cusco accommodation
Tour Location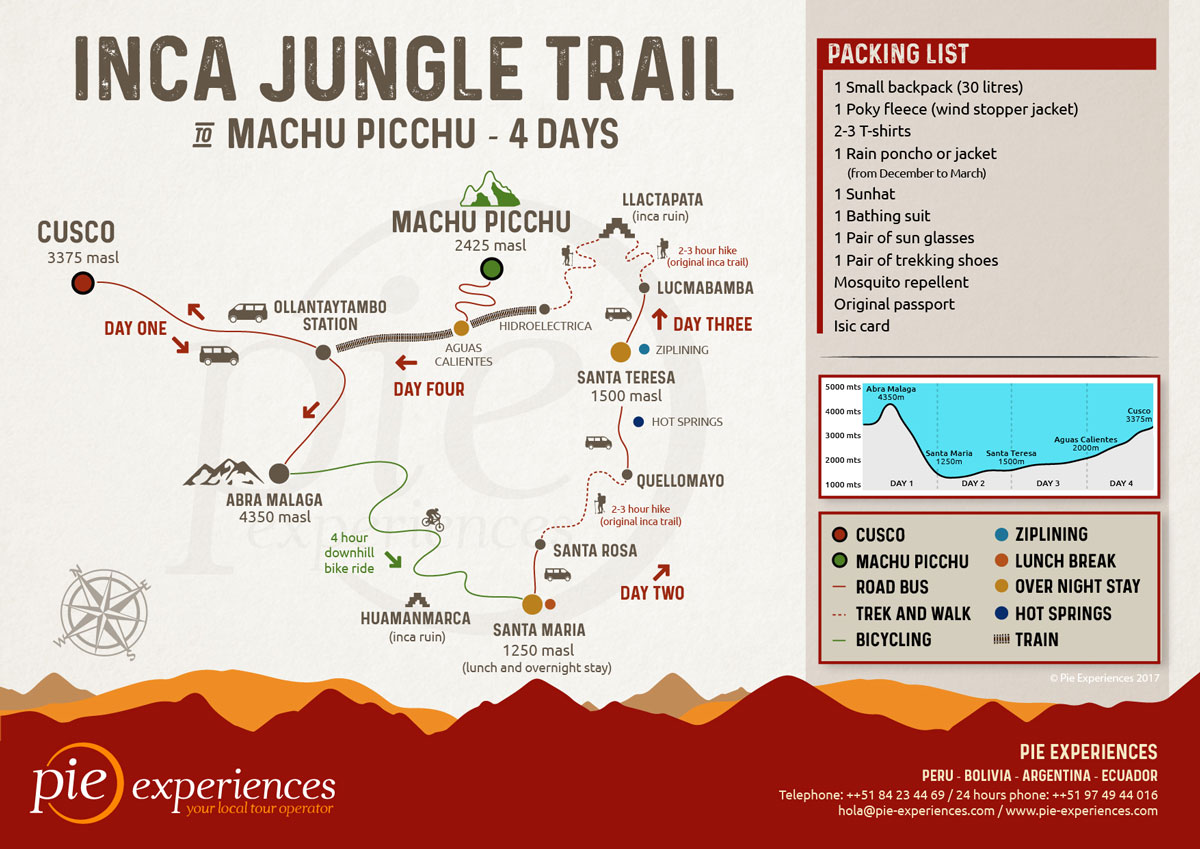 Our Gallery
Inca jungle trail to Machu Picchu