Machu Picchu & Sacred Valley Tour from Cusco
On this two day Sacred Valley tour from Cusco and Machu Picchu experience you get to immerse yourself in the culture of the Sacred Valley. Explore the extraordinary Incan ruins, tiny villages, Pisac Market and so much more! Departing from Cusco, you will hop from town to town in the Sacred Valley on your first day, then spend the second day exploring the majestic wonder of the world with a Machu Picchu tour.
Highlights of the Sacred Valley Tour from Cusco and Machu Picchu Experience:
Itinerary Overview: Machu Picchu & Sacred Valley tour from Cusco
Click through to "Tour Plan" to see the full itinerary for the Machu Picchu & Sacred Valley Tour from Cusco.
Day 1 | Cusco to Aguas Calientes: Depart Cusco for an adventure through the Sacred Valley. You will visit the Pisac for the terraced ruins and Pisac Market, Urubamba for a lunch rich with traditional flavors, and Ollantaytambo before taking the train to Machu Picchu. Spend a restful night in the town amongst mountains as you rest up for an early morning departure to Machu Picchu. Overnight in Tierra Viva or similar.

Day 2 | Aguas Calientes to Cusco: Venture to Machu Picchu by bus, where you will learn about its tremendous history with a local guide. Trek high above the ruins to Waynapichu (optional, must be pre-booked) for spectacular views of the park below. In the evening, you will return by train to Ollantaytambo by train, and private transfer to Cusco.
INCLUDES
NOT INCLUDED
Important Information:
We recommend you book your Machu Picchu & Sacred Valley Tour from Cusco at least 30 days in advance.
If you have any extra question about this tour please contact us or chat with us via what's app 00 51 974 944 016
Why book with us
Travel voucher & contact details:
You will receive an electronic voucher via e-mail once your booking is confirmed.
Zero Change Fees Policy:
If after your booking has been confirmed , you wish reschedule your trip to an alternate departure date , you may do so subject to availability.If the change is requested 30 days or more prior to the original trip departure , no change fees will be charged. Zero change fees also do not apply for Classic Inca trail 4 days or  Inca Trail 2 days.
Are you looking for an immersion experience ? click here
Book Now Pay Later
Simply pay an initial deposit  per person and pay the rest later.
You don't need to miss out – JUST BOOK NOW PAY LATER!
Departure

Cusco / Cusco

Departure Time

8:30 am

Return Time

Depending on your train schedule
1
Day One: Wander the Sacred Valley and Pisac
The Sacred Valley tour begins as you're collected by your guide at your accommodation in Cusco. Let the excitement build as you journey into the Sacred Valley of the Incas, winding through mountains that form one of the most spiritual landscapes on the planet. Be thrilled by the twists and turns of the country roads as you approach Pisac, a town that boasts sumptuous organic food, a colourful artisan market and some of the finest panoramic views of the valley. Peruse the market with its abundance of hand made crafts and clothes, before continuing along the winding Vilcanota River, passing by charming small towns en route to Urubamba. You will notice the fields of giant white Inca corn, so symbolic and important for dishes throughout Peru. Stopping in Urubamba for lunch, you may even be able to savour some of the fresh corn growing in the fields around you. Enjoy the taste of traditional Peruvian cuisine before stepping back in time to discover the stunning terraced ruins of Ollantaytambo. As you walk around the massive stone constructions, find yourself marvelling at the precision of the ancient craftsmanship. The town's significance to the Inca Empire is vastly important, its rich culture seeps in from the walls that surround it. Your day in the Sacred Valley will come to an end as your guide directs you to the train station. Here you will ride the 2 hour journey to Aguas Calientes, where you will be met and escorted to your new accomodation. After a briefing on your journey to Machu Picchu, enjoy dinner before resting up for your day of magic ahead.
INCLUDED
Meals: Buffet  lunch
Accommodation: 1 night in 3 star Hotel in Aguas Calientes
Transport: Tourist transport during your visit in Group at the sacred valley & train service Ollantaytambo- Aguas Calientes
Activities: All the tourist attractions  will be accompanied by a tour guide
Tourist ticket to Sacred Valley US$20.00
NOT INCLUDED
Dinner in Aguas Calientes 
2
Day Two: Exploring Machu Picchu
Rise and prepare for the incredible final journey to Machu Picchu. An early bus is essential to make sure you're able to witness the sunrise over the ancient ruins, an experience that truly holds once in a lifetime status. Once at the site, you'll discover more about what surrounds you as your expert guide will share the rich history of one of the new seven wonders of the world. Wander through magnificently preserved ruins and contemplate the thoughts of Hiram Bingham upon first discovering the site. Let the mystical energy of the sacred valley fill you as you walk with your head literally in the clouds. No tour of Machu Picchu is complete without the Kodak moments. Find yourself a good spot and absorb everything around you, before capturing that important snap with one of Peru's national llamas. Trekking to Wayna Picchu is something you may have your sights on. The lesser known peak that appears behind Machu Picchu will reward you with an entirely different viewpoint of the site. This optional experience can be arranged with your guide before booking Machu Picchu for an extra cost. Wrapping up your experience, you'll return to catch the train back to Ollantaytambo, before riding a private transfer back to Cusco. Return to the city at the heart of the Inca Empire, having witnessed the jewel in the crown of the Sacred Valley, Machu Picchu.
INCLUDED
Meals: B
Activities: All activities listed (including the Machu Picchu tour) will be accompanied by a  professional tour guide
Transport:  Bus tickets to Machu Picchu from Aguas Calientes and return , Train back Aguas Calientes- Ollantaytambo , private transport from Ollantaytambo to accommodation in Cusco.
 Entrances to Machu Picchu 
NOT INCLUDED
 Lunch in Aguas Calientes
Tips
Tour Location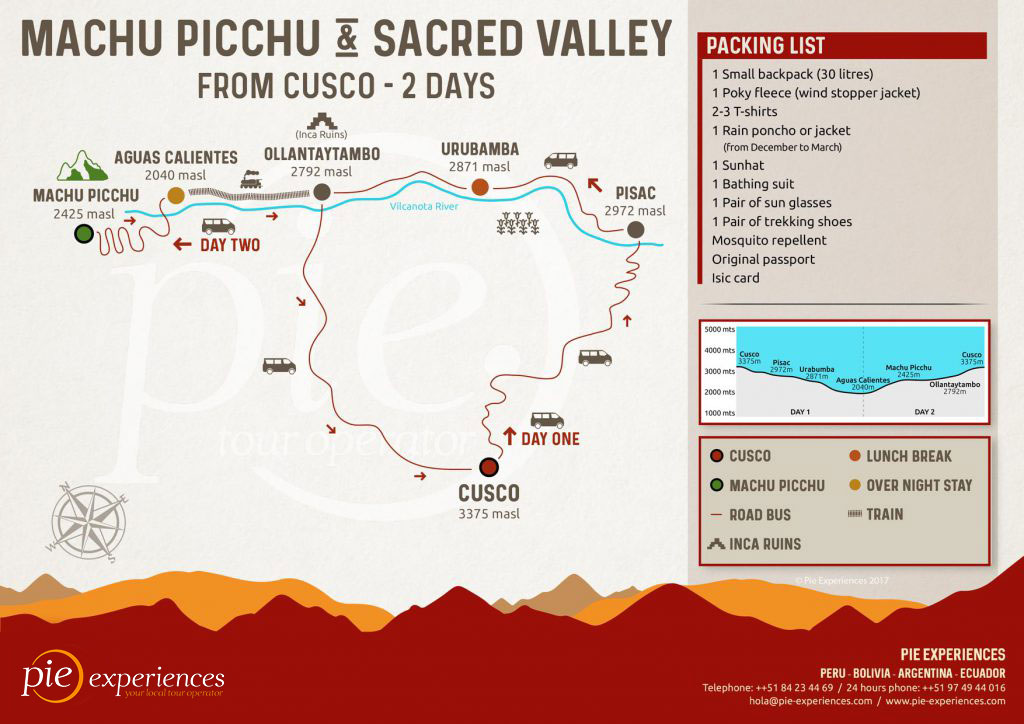 Our Gallery
Machu Picchu & Sacred valley trip in Peru
Pie experiences reviews and Score Breakdown
Your opinion is important to us! Here at pie experiences we greatly value your feedback, because thanks to your comments we can create more fascinating itineraries and confirm that we are doing an excellent job. Many of our clients also choose to post handy tips and advice about their travels. It's great to know what to expect on a pie experiences tour before you go, so thank you for sharing your experience!