Rainbow Mountain Tour in Cusco | Group Tour
The Rainbow Mountain tour is a breathtaking, natural wonder. Our one-day trek to the peak, known to the locals as Vinicunca, begins and ends in Cusco. Throughout the day, you'll encounter glaciers, snowcapped mountains, pristine rivers and lakes. Your trip culminates in the literal high point of your trek, the summit of mystical Rainbow Mountain. Indulge in a tasty Peruvian lunch amidst the spectacular scenery, with herds of alpaca roaming this magnificent landscape, dotted with quaint villages. Book a group tour online now to conquer one of Cusco's most challenging yet highly rewarding hikes.
Rainbow Mountain Tour Highlights
Rainbow Mountain Tour – Itinerary Overview 
The Rainbow Mountain tour starts with a 3 AM pick up from your accommodation. From there, we begin the three-hour drive to the starting point. Prior to commencing the trek, we'll enjoy a light, nutritious breakfast in a local community. Afterwards, we set off, walking for around three-hours. Depending on your level, our highly knowledgeable tour guides allow you to set your own pace. Along the route, we'll pass through lust green valleys, encountering quaint adobe houses, and bountiful local wildlife.
Once you reach the summit of stunning Rainbow Mountain, you'll have ample time to take in the stunning landscape, relax, and capture beautiful photos of this natural wonder. Thereupon, we start the descent, navigating through the safest yet most scenic routes. Along the way, your guide will find a perfect spot to enjoy your richly deserved, delicious gourmet boxed-lunch. We employ local chefs to create all our meals, using only quality products.  Finally, we will drive back to Cusco, returning you, invigorated, back to your accommodation around 5 PM.
We invite to read our  article about Rainbow Mountain 
IMPORTANT INFORMATION ABOUT THE RAINBOW MOUNTAIN TOUR
*This tour involves at least 3 hours of trekking, so you should be reasonably fit to partake.
*Rainbow Mountain sits at 5,200 meters. It is essential that you spend some time in Cusco getting acclimated, before going on this trek.
*If the altitude gets the better of you, horses are available to rent for 80 Soles to reach the top of Rainbow Mountain.
*We supply oxygen tanks (if needed) as well as blankets. However, it's important to bring along the essentials such as extra water, hiking boots, and warm, rain-proof trekking apparel. Coca leaves or medication, to ward off the altitude impact, is also advisable.
INCLUDES
Important information:
We recommend you book this tour at least 1 week in advance.
If you have any extra question about this tour please contact us or send us a message by WhatsApp 0051 974 94 40 16.
Travel voucher & contact details:
You will receive an electronic voucher via e-mail once your booking is confirmed.
Book Now, Pay Later
Simply pay an initial deposit per person and pay the rest later.
You don't need to miss out – JUST BOOK NOW, PAY LATER!
Departure Time

3:00 am

Return Time

5:00 pm
1
Cusco - Hanchipacha - Vinicunca or Rainbow Mountain
The Vinicunca, otherwise known as the Rainbow Mountain is by now the worst kept secret in the Andes. We have all seen the incredible, multicoloured photos and thought to ourselves that it can't be real. But, it is indeed real, and even better in person. However, be forewarned, the trek is tough and you will be against the elements. But we can assure you that it's definitely worth the early rise and difficult conditions. So the following itinerary is how your day would pan out once you have booked yourself in to the rainbow mountain tour. First and foremost, make sure you get to bed early the night before as you will be picked up from your accommodation at 3
 AM
for a three-hour drive to the start of the trek. Before beginning our trek, we'll enjoy a light yet very nutritious breakfast in a local community. Make sure to take on lots of fluids as the altitude can have an effect on even the most hardened trekker. Shortly thereafter, we will then begin the trek up the rainbow mountain. We will be walking for about two hours through lush green valleys, quaint adobe houses, and local wildlife to reach the top of Rainbow Mountain. It's a challenging hike but your guide will look after you, even providing oxygen if needed (in extreme circumstance). You'll have plenty of time to catch your breath as well as enjoy the stunning landscape, relax, and take beautiful photos of this natural wonder before hiking back to our starting point. Here, your guide will find the perfect spot to enjoy a delicious lunch. So make sure you savor the moment before the descent. Once down, you will drive back to Cusco, where you'll return to your accommodation at around 5 PM. The overall hiking time is around 2-3 hours, depending on the pace. You will set the pace so don't worry about your tour guide, it's his/her job to look after you! The level of the hike will be moderate up to strenuous because of the altitude. So it's always recommended that you acclimatize for a few days before in the city Cusco. Also to reiterate, the meals are breakfast and lunch, which are  lunch prepared by local chefs. You mode of transport will be a  tourist transport van, which is very safe and comfortable. Your tour guide is a professional trekker who is also fluent in English and it's their job to look after you (as previously stated ). We also provide first aid kits and oxygen tanks (if needed). Other than that, just bring yourself and a good attitude along to enjoy the challenging but incredible adventure to see the amazing Rainbow Mountain.
Hiking Time: Approximately 3 hours
Hiking Level: Moderate to strenuous
 Inclusions
Meals: B, L
Transport:  Tourist transport
Activities: all the ones described in the itinerary accompanied by a professional tour guide
Entrance fees
Oxigen
Tour Location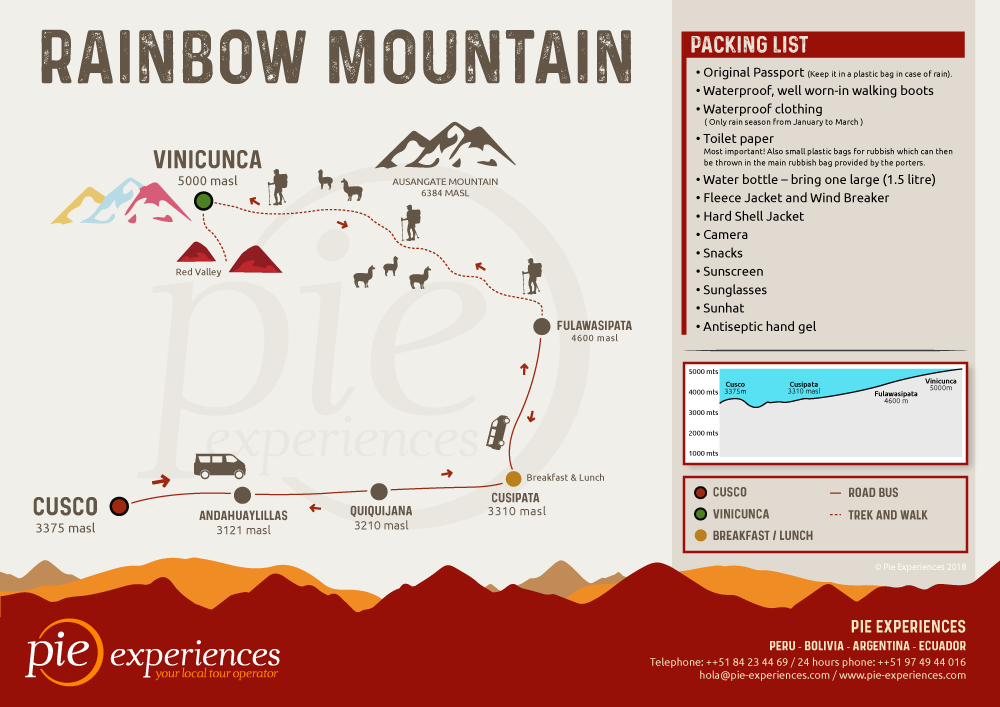 Our Gallery
Rainbow mountain tour from Cusco