3 Day Salar de Uyuni Tour with Tayka Hotels- Shared Service
Bolivia's barren landscapes will have you questioning your existence on earth in no time at all. The Salar de Uyuni tour starts at the Uyuni Salt Flats. You'll query the difference between the earth and the sky, touching one and the other on this privately guided luxury tour. Delve deep into the Siloili Desert, with its lakes of astounding, oil palette colours, as magnificent flamingos hold court in a natural habitat straight from a Salvador Dali painting.
DEPARTURES : WEDNESDAYS – THRUSDAYS – SATURDAYS
Highlights of the Salar de Uyuni tour with Tayka Hotels:
Itinerary Overview
Click through to "Tour Plan" to see the full itinerary for the Salar de Uyuni tour with Siloli Desert.
Day 1 | Uyuni: Your salt flats 3 day tour begins in Uyuni as you venture by private vehicle towards the Uyuni Salt Flats. Make your first stop at the Train Cemetery, a site of broken down trains. Travel on to the Museo de Sal and Incahuasi Island, before spending a comfortable night in Tayka del Sal – a salt hotel located at the foot of foot of Thunupa Volcano.In case there is no availability in Tayka we will use Palacio de Sal in Colchani.
Day 2 | Uyuni: Depart the Salt Flat and venture on to the Siloli desert. Here you will experience huge colonies of flamingos, volcanic views, and vast desert. Overnight in Tayka Desierto
Day 3 | Uyuni: Rise early to explore the hot springs and geysers of Eduardo Avaroa National Reserve. Today's highlights include the Dali Desert, Laguna Verde, and Laguna Colorada. You will return back to Uyuni for an afternoon departure.
INCLUDES
NOT INCLUDED
Are you looking to travel from La Paz to Uyuni ? Check out our 5 day trip to Uyuni
Important Information:
We recommend you book this tour at least 3 weeks  in advance.If you have any extra question about this tour please contact us or chat with us via what's app 00 51 974 944 016
Why book with us
Travel voucher & contact details:
You will receive an electronic voucher via e-mail once your booking is confirmed.
Zero Change Fees Policy:
If after your booking has been confirmed , you wish reschedule your trip to an alternate departure date , you may do so subject to availability.If the change is requested 30 days or more prior to the original trip departure , no change fees will be charged. Zero change fees also do not apply for Classic Inca trail 4 days or  Inca Trail 2 days.
Book Now Pay Later
Simply pay an initial deposit per person and pay the rest later.
You don't need to miss out – JUST BOOK NOW PAY LATER!
1
Day One: Touch the sky at the Uyuni Salt Flat
Your adventure will start as you journey toward the city of Uyuni, visiting the biggest Salt Flat in the world. Your first stop will be the Train Cemetery, where you can see abandoned engines and hollowed out rail cars that have been stripped back to their skeleton frames. Once making up part of the railway lines that connected Uyuni and Antofagasta (now Chilean territory), the trains transported minerals like tin, silver and gold. When Bolivia lost its coastline to Chile in 1904, access to the Pacific Ocean was lost, meaning that its railway line was affected enormously. A visit to the 'train cemetery' is one of the most interesting options for the passionate traveler who enjoys seeing the remains of recent historical changes. You will be visiting the small town of Colchani, where you can learn more about Uyuni's mining past and its current artisanal salt production. Entering the amazing Uyuni Salt Flat, you will visit the Museo de Sal and if the season is right (December to March) you will be able to see fantastic optical illusions, visiting the "Ojos de Agua" (eyes of water), salt eruptions, learning about the development of this huge salt lake. At noon, you will reach Incahuasi Island in the middle of the Salt Flat. Take in calcareous rocks, large populations of cactus, local fauna and spectacular 360-degree panoramic views of the Salt Flat from the summit of this outcrop of land. Continuing north of the Salt Flat, we'll visit a local museum, a home to pre-Columbian mummies. Spend a night sleeping in the Salt Hotel called Tayka De Sal. This unique hotel, the very best of its kind in the Salt Flats, is located at 3,700m.a.s.l, at the foot of the Thunupa Volcano. With every possible facility needed for a luxurious night's rest, enjoy heating, a private bathroom and hot water to ensure that your stay enables maximum comfort in this otherwise barren landscape.
INCLUDED
Meals: Lunch , Dinner ,bottle water for meals 
Accommodation: 1 night in Tayka Salt Hotel
Transport:  4 WD vehicle
Activities: All the tourist attractions  will be accompanied by a tour guide
NOT INCLUDED
Entrance to National Park Avaroa US$30.00 or 210 Bolivianos.
2
Day Two:Drive into the wilderness of the Siloli Desert
Leaving the Salt Flat behind, you will travel along an eternally snowy volcanic mountain en route to Lípez. Observe from a distance the Chilean Ollagüe Volcano, noting the constant plume of steam that arises from its summit. Your eyes will be delighted by the great richness offered by the Eduardo Avaroa National Reserve, distinguishing itself with vast, cold deserts and salty lakes that come from the reserve's glaciers, wetlands and bogs. One special tourist attraction are the huge flamingo nesting colonies, graceful and serene in their huge numbers. Watch these animals in their natural habitat before taking your rest at the Tayka Hotel Desert, located in the magnificent landscapes of the Siloli desert.
INCLUDED
Meals: Breakfast , Lunch , Dinner , bottle water for meals
Accommodation: 1 night in  Tayka Hotel del Desierto  or similar
Transport:  4 WD vehicle
Activities: All the tourist attractions  will be accompanied by a tour guide
3
Day Three: Feel out of this world with a touch of Salvador Dali surroundings
Today you'll rise early, starting the tour at approximately 5:30. You'll be exploring the Eduardo Avaroa National Reserve, arriving at the smoky and noisy geysers of "Sol de Mañana". Bathe in the hot springs before continuing our trip through the reserve. Take in the panoramic view of the Dali Desert, where columns of stones sculpted by the wind resemble the work of this famous painter. You'll be taking time to visit out of this world, salt filled Laguna Verde (Green Lake), at the foot of Licancabur volcano. With its convention beating temperatures, prepare to be taken aback by the deep colours of the lake. Taking the road back, you will visit the Laguna Colorada (The Red Lake), given brown and intense red colors by the algae and plankton in the water. Another main flamingo-nesting site, it's possible to observe three kinds of flamingos from the region: James, Andino and Chileno. In the afternoon you will be walking around Rocks Valley, where giant volcanic rocks tower between 8 to 15 meters high. Our last stop will be San Cristóbal village, moved from its original site to its current location to accommodate one the biggest mines in Bolivia. You'll be arriving back at the Uyuni City  approximately at 4pm, so you can take your flight back to La Paz or take your night train to Oruro.
*At this point, you may choose to be dropped off at the border post to board a previously arranged bus transfer to San Pedro de Atacama, Chile. Please choose this option at the time of booking if desired
Meals included today: Breakfast, Lunch (lunch is not available if you choose to transfer to San Pedro de Atacama at 9-10 am)
End of services
INCLUDED
Meals: Breakfast , Lunch , bottle water for meals
Transport:  4 WD vehicle
Activities: All the tourist attractions  will be accompanied by a tour guide
Tour Location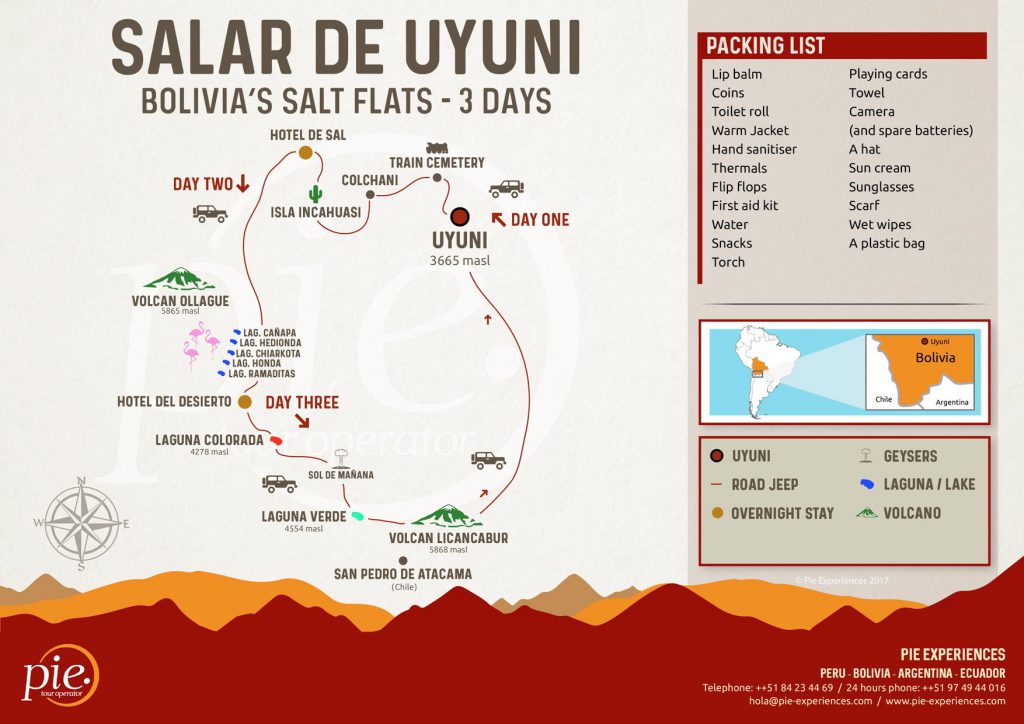 Our Gallery
Salar de Uyuni trip in Bolivia