Let us take you to Machu Picchu
Interested in experiencing Machu Picchu? Excellent. You've come to the right place!
The ancient Incan citadel of Machu Picchu is one of the Seven Wonder's of the World, naturally making it a world famous attraction that many dream of gazing upon some day. Set high in the Andes mountains, this sky-grazing journey is possibly the most popular tour in Peru. There is a vast amount of vacation packages which have Machu Picchu as the highlight; however, it is important to choose a tour you can trust.
For your ease and comfort, Pie Experiences offers a variety of tour packages to suit your time requirements and personal interests. From short excursions to an all-inclusive several-day hike up Machu Picchu, our well-experienced tour bookers will organize a smooth journey for you. Whether you're starting from Cusco, Lima, or other locations around Peru, we got you covered.
Choose from our list of tours below or  Contact Us  to discuss your interests. Pie Experiences is your go-to travel expert for vacations across South America. We guarantee quality vacations that will exceed your expectations.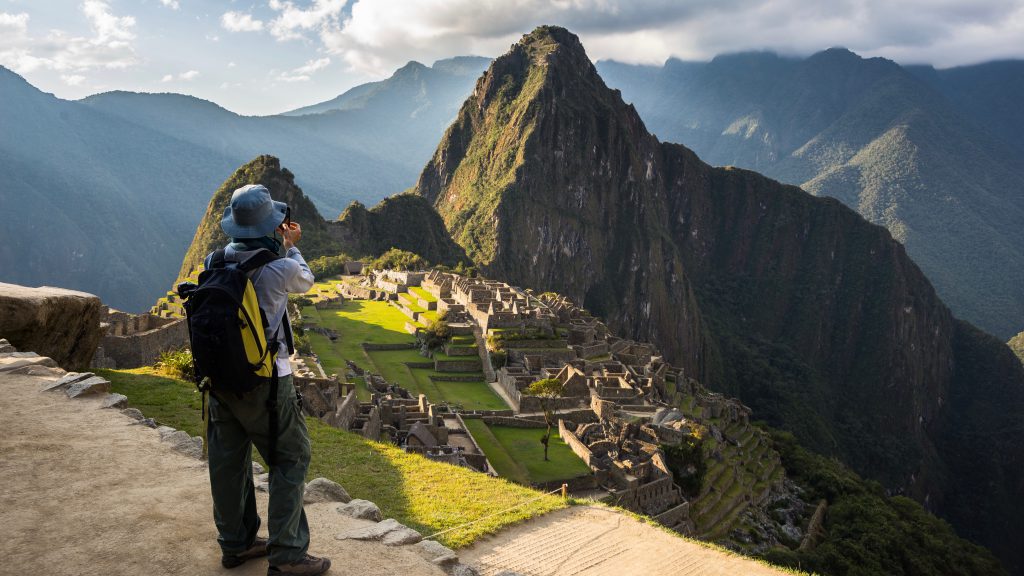 Capture amazing shots of Machu Picchu as it is illuminated by scenic skies made of sun rays bursting through the clouds.
Choose a Machu Picchu Tour which suits you best
Shoestring budget tours are possible; however, if you wish to visit the heart of the Inca Empire in comfort, we are able to arrange a smooth-running Machu Picchu tour in order to show you the best of what Peru has to offer. With Pie Experiences, we can offer comfort packages, which include accommodation, train rides, entry to Machu Picchu, everything you need, so you won't face the hassle of having to make further arrangements on your own. Contact us now for full details of this once in a lifetime experience.
While you're here, check out our post: Everything you need to know about Machu Picchu.
Many travel packages include different Inca trails to Machu Picchu, but it's important to select a package which matches your time available, starting point (Lima, Cusco, or others), and personal preference for a challenging or easy hike.
Many international flights fly into Lima. If that is your route, we can organise picking you up from Lima; bringing you Peru's modern capital, Cusco; then guiding you to the ancient mountain heartland of Machu Picchu. Starting from Cusco itself if also of course possible.
Located in between Cusco and Machu Picchu is the Sacred Valley. It is home to preserved towns like Pisac and Ollantaytambo, where you're able to be immersed in the ancient cultures of the Incas. These eye-opening settlements are a true highlight for they have preserved the traditions of their ancestors for hundreds of years.
When it comes to booking your Machu Picchu Tours, let Pie Experiences take care of your journey. We're professional and personable, with years of practice and plenty of our own travel stories to share. If you're looking for insider knowledge and complete trust in your travel booker, then we have a holiday waiting for you.
OUR MACHU PICCHU TOURS 2023-2024
On this two day Sacred Valley tour from Cusco and Machu Picchu experience you get to immerse yourself in the culture of the Sacred Valley. Explore the extraordinary Incan ruins,…
$419
Delve into life as it was lived by the Incas as you leave their capital and enter the Sacred Valley. Starting at the town of Pisac, you'll enjoy an introduction…
$569
Our 2-Day Inca trail itinerary is perfect for those who are short on time. This 2-day hike to Machu Picchu includes a full day of trekking along the classic route,…
$559
Want to explore the ancient ruins on this amazing full day Machu Picchu tour without the crowds? Or taken an epic llama selfie without a group of people in the…
$329
The one day Inca Trail hiking tour gives you the chance to experience all of the breathtaking beauty of Machu Picchu in a fraction of the time. Your day begins…
$369