Highlights
*Experience the historic and renowned Cusco pottery culture with a living legend, Julio Guiterrez
*Learn to create beautiful, hand crafted pottery as well as the mystical fables surrounding them
*Get your hands dirty, craft and paint your own gorgeous piece of Peruvian pottery
Why is Peruvian Pottery so famous?
Peru has a rich and extensive history when it comes to pottery. Cusco pottery, in particular, has garnered a reputation as bastion of traditional ceramics. Peru, in ancient times was a hotbed of prominent Andean civilisations. The Incas were the most renowned of the bunch. They, along with their hordes of pottery based treasures, were captured by the Spanish conquistadors in 1533.
Throughout the Inca's civilisations, pottery production was an art form that was highly developed. Pottery was already thousands of years old by the time the Incas came around. Unlike other pottering cultures, the Incas didn't focus on the human form, rather on geometric designs as well as animal forms. Previous civilisations such as the Moche and Nazca, were fans of incorporating dramatic artistry, whereas the Inca's lacked this flair.
There were 2 main purposes of pottery during the Inca reign. These were utilitarian and ceremonial. Ceremonial, were naturally used for ceremonies and they are known as huaco. The Incas used the best materials and the pottery was often very flamboyant. The pottery would often contain food and drink that were offered either to the Incan gods such as Inti or Sun. Or they were offer to the dead for their journey into the next life. Utilitarian was for more for everyday use and considered less decorative
Cusco Pottery – the historical home to Peru's ceramics legends
 Cusco today is a gorgeous and quaint city welcoming travelers from all around the world. The city's got a bohemian vibe and many passersby end up staying to indulge in their creative side. Gorgeous, organic cafes, vegan restaurants and art galleries dot the old historic center. Particularly San Blas, with its cosy cobble stones, entices many with its allure. Among the many activities, Pottery and Ceramic hold a particular place in the hearts of many. History, techniques and the many fables are all part of Cusco's pottery mystic.
One such legend is Tater Vera. He is a Cusco native whose family has a deep involvement with the city's artistic side. The family shop is located in San Blas on Suyt'uqhatu Street and is an absolute must to a visit if you enjoy and appreciate top quality ceramics.Tater is a specialist in a glazed ceramic technique that was popular in Cusco just after the arrival of the Spanish. After a number of turbulent years, Tater became intrigued with glazed ceramics in an attempt to bring back an archaic art form.
After years of training, perfecting his craft, Tater has evolved the ancient traditions with modern twists. He has won a number of awards, including UNESCO Excellence Award for Handicrafts in 2014. Despite all this, Tater remains a grounded, lovely human who loves to teach all about his trade. His workshop should definitely be a one to visit and pick up an original art piece from a legend!
Ceramics Seminaro
Pablo Seminaro and his ceramics have been 35 years in the making. Pablo and Marilú Behar have studiously examined ancient Peruvian techniques. They have added their own style which more suited to modern art, called the Seminario Style. Their workshop in the quaint town of Urubamba, deep in the Sacred Valley, is the stuff of dreams. This gorgeous location only adds to the charm of the amazing workshop.  It's really a beautiful spot to visit and well worth your time.
The original maestro
Julio Guiterrez, is a chemical Engineer and writer. However, he is also famed within the ceramics community in his native Cusco. Cusco pottery is his life and he is the Godfather of Cusco's ceramics revival. He was, in fact, the teacher of Tater Vera. Also he is also famed around the world for rejuvenating forgotten styles and techniques of ceramics from Cusco's colonial times. He has conducted a number of workshops and written deeply on the subject. Julio 'the alchemist' is not just a world class ceramist but a gentleman and a pleasure to learn with.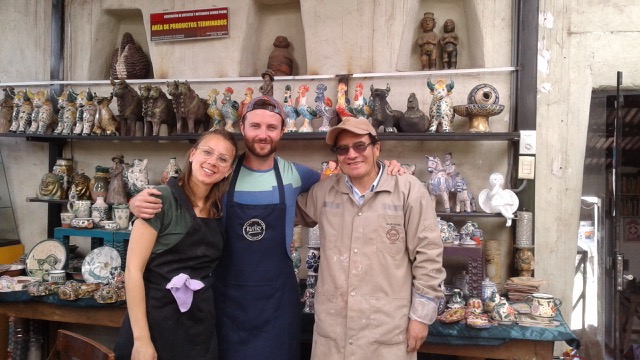 The course itself
The Cusco pottery course begins in the workshop of Julio Gutierrez. It's a large plot of land, close to the city centre. Surround by a lovely garden, the large workshop is full of beautiful pieces as well as some rustic tools. You begin the course by meeting the team. Then you learn all about the clay, how to cut, mould and prepare it for the pottery wheel.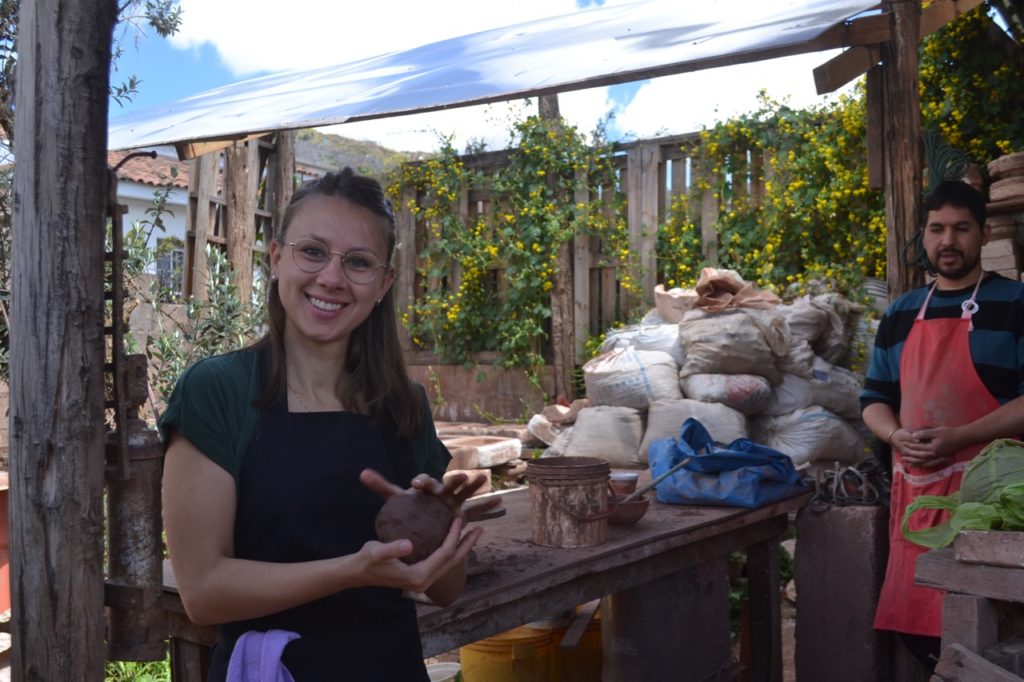 Once you throw the clay on the spinning wheel, the real fun begins. You will learn it's physical and needs a steady pair of cultured hands. There is an immense pleasure once you have successful crafted a decent shape (mine was a teacup J ).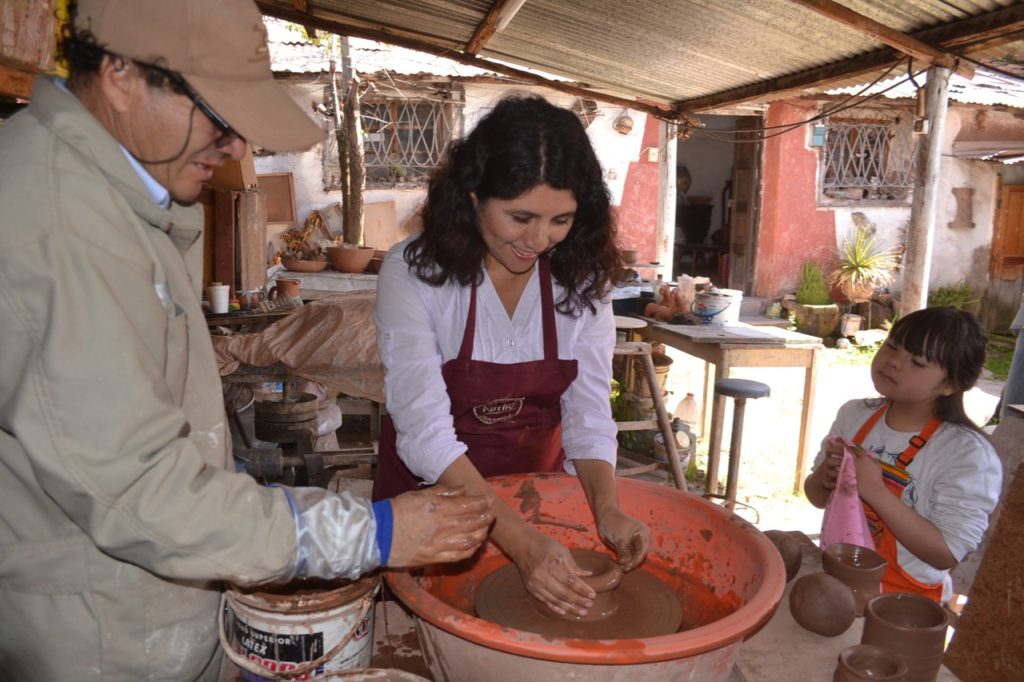 You then get a chance to participate in the following steps, including glazing. It was a week for your piece to be ready for painting. So in the meantime you can practice with some traditional, pre-prepared horse and bull figurines. Each session lasts for around 2 hours and will leave you wanting more!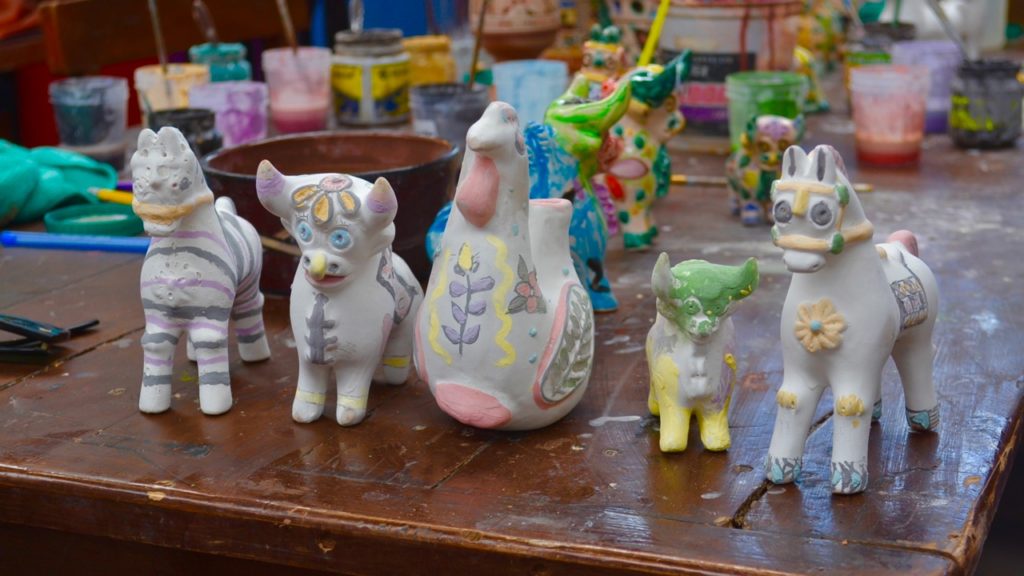 Post written by: Neil Smyth
Instagram: @toucanwander