Welcome to the Peruvian Amazon!
The Amazon is the world's largest tropical rainforest (48 times bigger than the United States!), spanning across Brazil, Bolivia, Peru, Ecuador, Colombia, Venezuela, Guyana, Suriname, and French Guiana. The Amazonian ecosystem is unbelievably rich and diverse, unparalleled to any other, with tens of thousands of plants, birds, fish, mammals, and millions of insect species.
The Peruvian Amazon offers some of the best experiences as it extends along the Andes mountain range and into open jungle territory. Some of the more commonly spotted wildlife are pumas, jaguars, pink dolphins, anteaters, weasels, sloths, coatis, and a wide variety of monkeys.
We're excited that the Amazon jungle has sparked your interest, and we're happy to offer you several spectacular options. If you're curious but would prefer some comfort, not to worry! Our routes are reasonably accessible to civilization. There would be towns and settlements where you can conveniently stop by and take a break from roughing it out.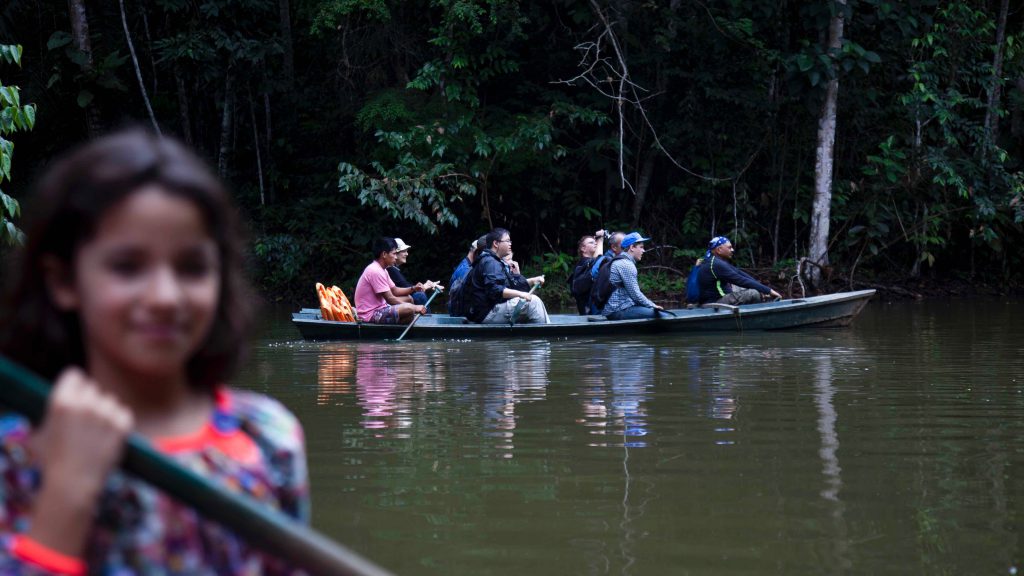 Where is the Amazon in Peru?
There are three main hotspots for visiting the Amazonian jungle in Peru:
1. Iquitos. A real unique city with a colourful history, located deep in the jungle. Found in the north of Peru.
2. Manu National Park. An enormous preserve home to a great diversity of exotic animal life, in the Southeast of Peru.
3. Tambopata Nature Reserve. Also in the Southeast of Peru, accessible from the town of Puerto Maldonado.
What is Iquitos all about?
Iquitos is more just a starting point into the Amazon; it's a destination in itself. You could arrive by plane from Lima, or choose the more adventurous route involving a day's long river journey. This is the largest city in the world inaccessible by road. As it is cut off from typical man-made infrastructures, all of Iquitos' inhabitants are true jungle dwellers.
This is a city that found its niche in the late 1800s, when capitalists discovered that rubber tapped from the Amazonian trees could be sold to meet the sudden demand for tyres from the new industrial economies of North America and Europe. These 'rubber barons' pressed the local Amazonian populations into a form of slavery, and used their profits to build grand mansions deep in the jungles of Iquitos. Eventually, the rubber extraction industry shifted to Indonesia, and the party was over. This story was captured in Werner Herzog's 1982 movie Fitzcarraldo, which is worth a watch for a quick history lesson before visiting.
Due to the relatively large nature of Iquitos (population: half a million), the true jungle starts farther from the city's perimeter, and many of the lodges are up to three hours distance. But once you're out there, you're in the world of monkeys, sloths, caimans, and capybaras. Iquitos is also along the Amazon river, where you can easily spot pink river dolphins.
Visit the Matsé Tribe
Iquitos is home to native tribes that have had very little contact with modern civilisation. They grow and hunt their own food, living the same way their ancestors did. Whilst on your jungle tour, you might catch a glimpse of the Matsé tribe watching you from a river bank.
Sadly, their way of life is constantly under threat from the exploitations of oil companies, loggers, and various kinds of extractors. Their population currently stands around 2,200.
If you would like to visit the Matsé tribe, we offer solidarity treks into the jungle. These treks allow you to see their way of life, understand their situation, and learn what you can do to aid them and their situation.
Manu National Park
The Manu National Park a World Cultural Heritage Site, and is the largest national park in the country. It is the only park in Latin America to span from warm, tropical jungle to cold, high grasslands in the Andes.
One of the main attractions here would be the clay licks, which are regularly visited by flocks of macaws and other wildlife looking for food. Over 200 species of mammal can be found in Manu, including the otorongo (jaguar), black panther, tapir, collared peccary, deer, capybara, and spider monkey. Additionally, if you get to the Tres Cruces lookout point, you'll get to witness the contrasting landscapes of the Andes and the rainforest.
The park is reachable from Cusco by bus and river boat along the Manu and Madre de Dios rivers. It is also possible to fly from Cusco to Boca Manu in a small plane (40 minutes).
So come stay in a lodge within the Manu National Park and enjoy having the wild jungles right at your doorstep!
Tambopata Nature Reserve
Downstream from Manu, sitting within the Madre de Dios region, is the Tambopata Nature Reserve. Tucked deeper in the jungle, and is home to many diverse habitats, including the lowland Amazon rainforest, riverine forest, and oxbow lakes. Despite being further inland, lodges in the Tambopata region are still easily accessible from Puerto Maldonado.
Tambopata contains the highest concentration of clay licks in the world, attracting up to 17 different parrot species and 6 macaw species. Wildlife here include even endangered species such as the Tapir, Giant Anteater, Giant Armadillo, Giant River Otter, Maned Wolf, and many others.
If you're looking for a good balance of accessibility, comfort in high quality lodges, and exotic wildlife in the true jungle, then Tambopata is for you.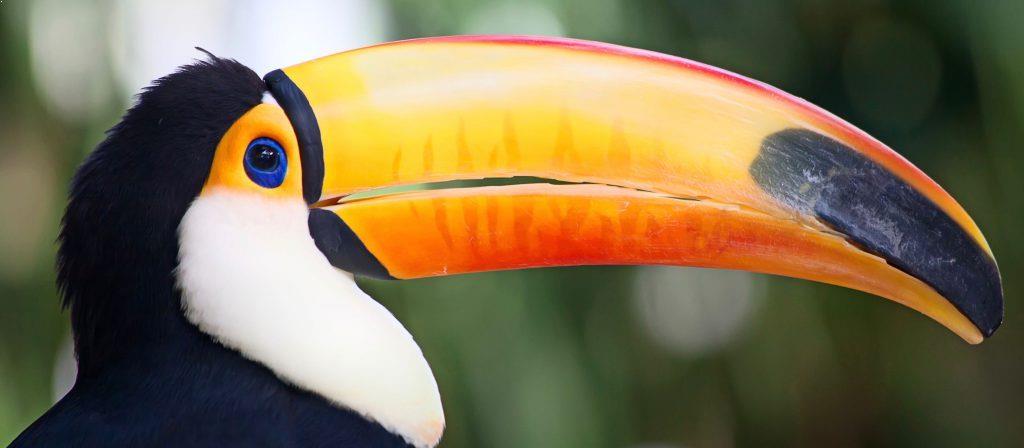 Always be Prepared for the Rainy Amazonas
The year has two seasons, although there is not much difference between the two. Both seasons rain a lot. The temperatures vary minimally, from the low 30s to the high 30 degrees Celsius (around 100 degrees Fahrenheit), with high humidity being a constant.
These hot and humid conditions can be extra taxing on your body, and so a decent fitness level is definitely recommended before venturing into the jungle.
Here's what you can expect in these months:
November to April – Heavier Rains, Hotter Temperatures
With higher temperatures and heavier rains, this season is definitely more dramatic; however, it is also associated with greater wildlife activity and more luscious flowering.
80% of the annual rainfall will fall within these six months, so have all of your water resistant gear ready.
May to October – Less Rain, Lower Temperatures
You may still face rainy days, but not as frequent or heavy. Temperatures will be a little cooler. Although jungle activity is said to be slightly quieter too.

How to Get There
Manu National Park
From Cusco by bus and boat – This is the most common route, and it gives travellers a good view of the region and range of habitats whilst gazing out the window. You will pass through some high elevations and luscious forests. At Atalaya, a motorised canoe will take you along the Alto Madre de Dios river for another 6-7 hours. This adventurous journey would take up an entire day.
By air from Cusco – This is the quickest and easiest option. Just a 40 minute flight to the town of Boca Manu. Then it's a 30-minute boat ride along the Manu River to the camps and lodges.
From Puerto Maldonado – If you're already here and decided to do Manu National Park before Tambopata, you can first take a car to Puerto Carlos; and from there, a boat for 6-7 hours to Boca Manu.
Iquitos
By boat – You can take a boat to Iquitos from any navigable port along the Amazon river. Depending on your distance, some journeys can take days. Should you choose this option, it would make most sense to take the  Amazon river cruise.
By air – Iquitos can be reached by air from Lima and Cusco. Flights are daily, ranging from $55 to $200, and will take a couple of hours. Airlines that fly these routes are: Star Peru, LATAM, Peruvian Airlines, LA Peru.
Tambopata (via Puerto Maldonado)
By bus from Cusco – For an economical and beautiful journey, simply set aside 12 hours for this bus ride.
By plane from Cusco or Lima – For those with time constraints, flights are under two hours.
Amazon Jungle Packing List
Most tours are just a few days, and you will not need to bring all your luggage with you. Normally this can be kept in storage arranged by your tour operator.
These are some of our recommended essentials whilst in the jungle:
Essentials
A sturdy backpack
A light daypack for day trips
Hiking / walking boots
Sandals / flip-flops
First-aid kit
Clothing
Light jacket for rainy and cooler temperatures
Rain poncho
Fleece or wool jumper
Hiking trousers
Normal trousers
Two pairs of shorts
Swimwear
One long-sleeve shirt and two or three short-sleeve t-shirts
Lots of socks
Underwear
Useful Items
Sun cream
Insect repellant with DEET
Soap
Torch / flashlight / headlight
Toiletries
Sunglasses
Swiss army knife
Sun hat
Zip-lock plastic bags
Re-useable water bottle
Activities on Amazon Jungle Tours
You'll be going on a number of jungle excursions, many of which include these activities:
Learn how to recognize herbs and plants with special medicinal or other properties.
Visit local indigenous villages to meet the natives, see how they live, participate in their way of life.
Day hikes to spot exotic birds, mammals, reptiles, and other wildlife.
Night expeditions in search of nocturnal creatures.
Venture across rivers and lakes to possibly witness what swims beneath the surface, including piranhas.
Canopy tours – Get different perspectives of the jungle as you ascend and glide through the Amazonian tree tops on zip-lines and rope bridges.
Early morning bird watching across the waters of the Amazon.
Swim in the Amazon river with pink dolphins at the Pacaya Samiria National Reserve
It's a whole other world out there. So if you're ready, let's plan a wild trip into the Amazon jungle!
Pin it!