Welcome to everything you need to know about the exciting, adrenaline-pumping Inca Jungle Trail to Machu Picchu!
Explore the fascinating landscapes of the Sacred Valley on the Inca Jungle Trail to Machu Picchu.
On this adventure, you will bike, hike, and zipline your way from the high mountains to the green valleys and jungle below.
Follow ancient Incan paths, as you discover ruins and the colorful culture that surrounds Machu Picchu.
This hike to Machu Picchu is an adventure you won't soon forget!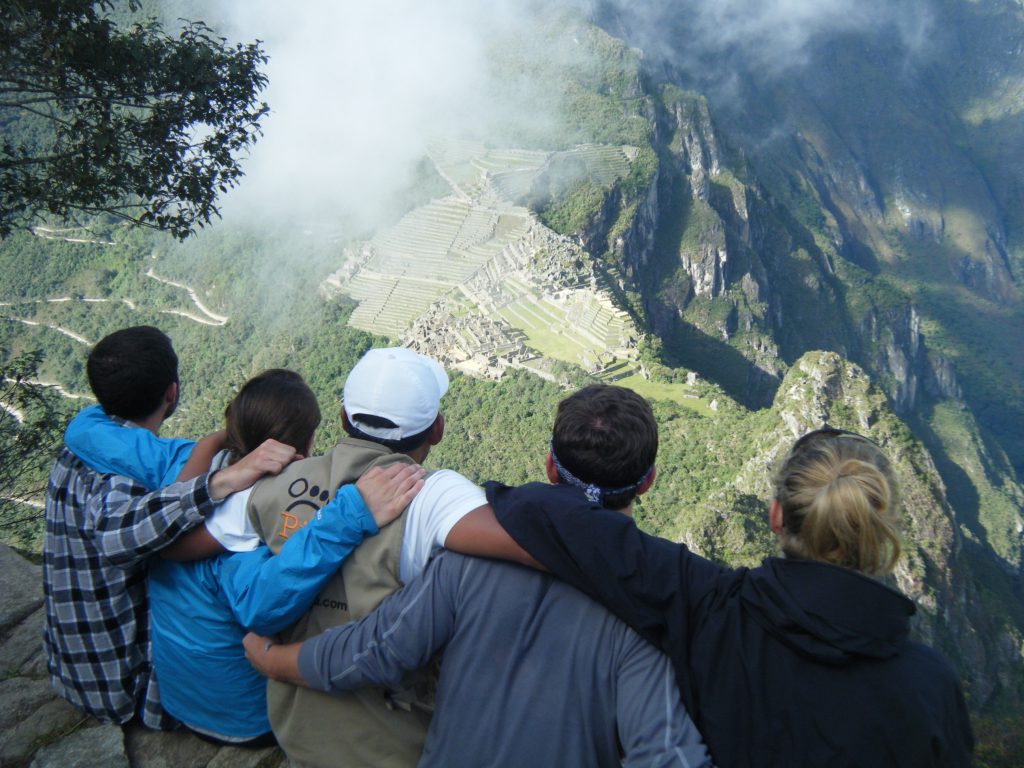 In this blog post we are going to:
Introduce The Inca Jungle Trail 
Explain the activities in The Inca Jungle Trail 
Provide the itinerary for The Inca Jungle Trail to Machu Picchu
Tel you the best time to travel to Machu Picchu
Explain the different varieties of Inca Jungle Trail to Machu Picchu and who the Inca Jungle Trail is suitable for
Describe how The Inca Jungle Trail is different from other Machu Picchu treks
Discuss altitude and acclimatization
Tell you what to bring on The Inca Jungle Trail to Machu Picchu
Encourage you to get out there and do it!
The Inca Jungle Trail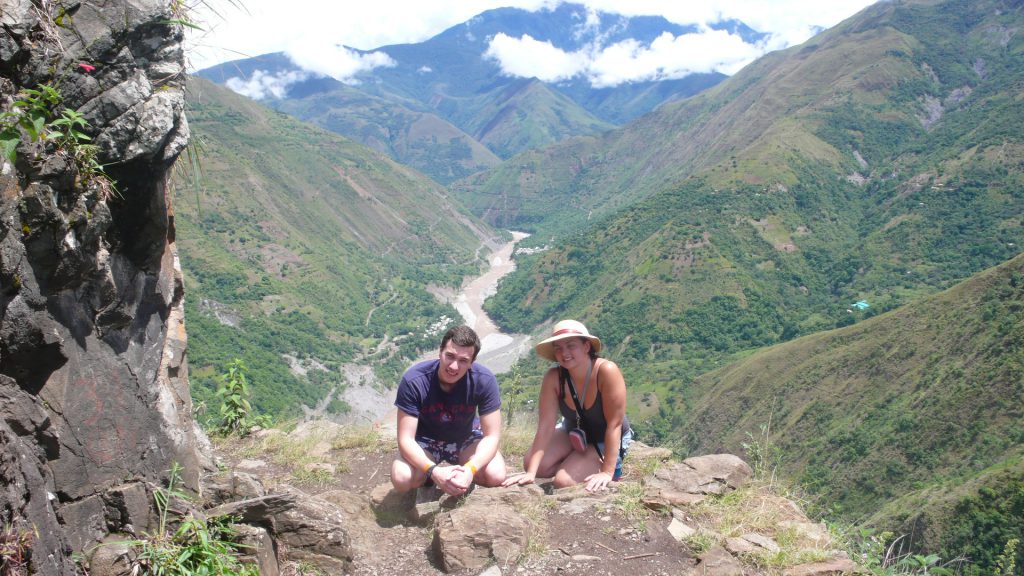 The Inca Jungle Trail to Machu Picchu is a varied and adrenaline-filled few days (4 days and 3 nights) and, in that respect, quite unlike the other Machu Picchu treks.
While those might test you physically, and take you to some perilous heights and sheer drops, they won't get your heart gasping and limbs trembling quite like the Inca Jungle Trek will.
The Inca Jungle Trek offers something a little different, with a combination of activities that will keep you breathless and make you forget about work or the office.
An array of adrenaline-pumping activities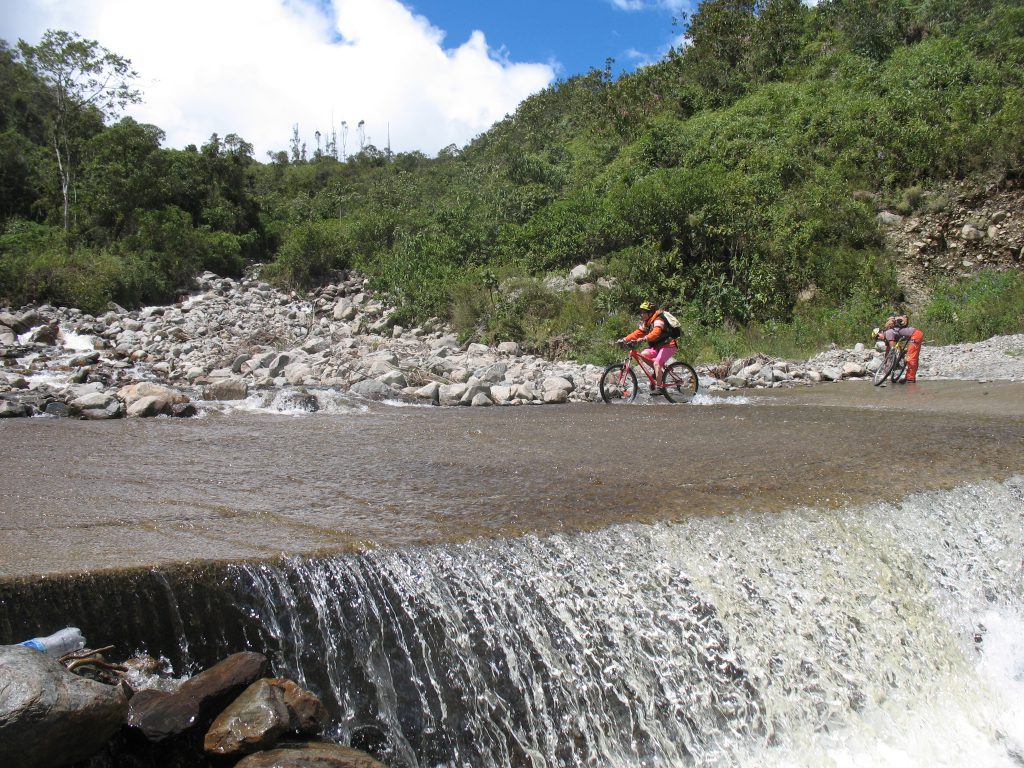 The Inca Jungle Trek to Machu Picchu features hiking, biking and ziplining.
And if you think that the hiking sounds like the least exciting of those three activities, well, maybe it is – just.
But it's still pretty exciting.
You'll traverse original and long-lost Inca trails, up to high elevations overlooking vast canyons and rivers.
Never before have you been faced with so much space around you, without railings, protective glass or safety barriers of any kind.
Just you, your group and the trail the Inca built and traversed throughout their fallen empire.
If you slip, it will not be good.
Of course, just because it could happen, really does not mean it will happen.
It never happens.
But it could.
So be careful.
Biking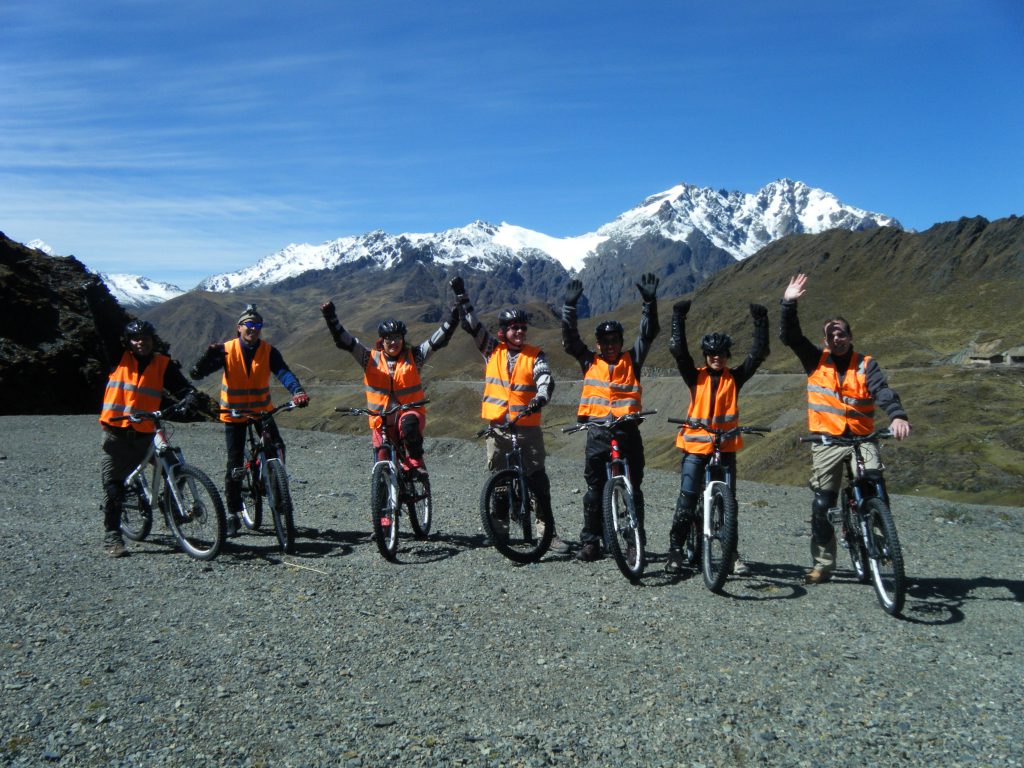 Biking is something that most of us have done, so this probably won't be an brand new experience.
But it is quite different and exhilarating doing it descending 2000m down twisting Andean mountain roads.
You will be navigating sharp switchbacks, frequent running streams bisecting the roads and the occasional – very, very occasional – rock fall.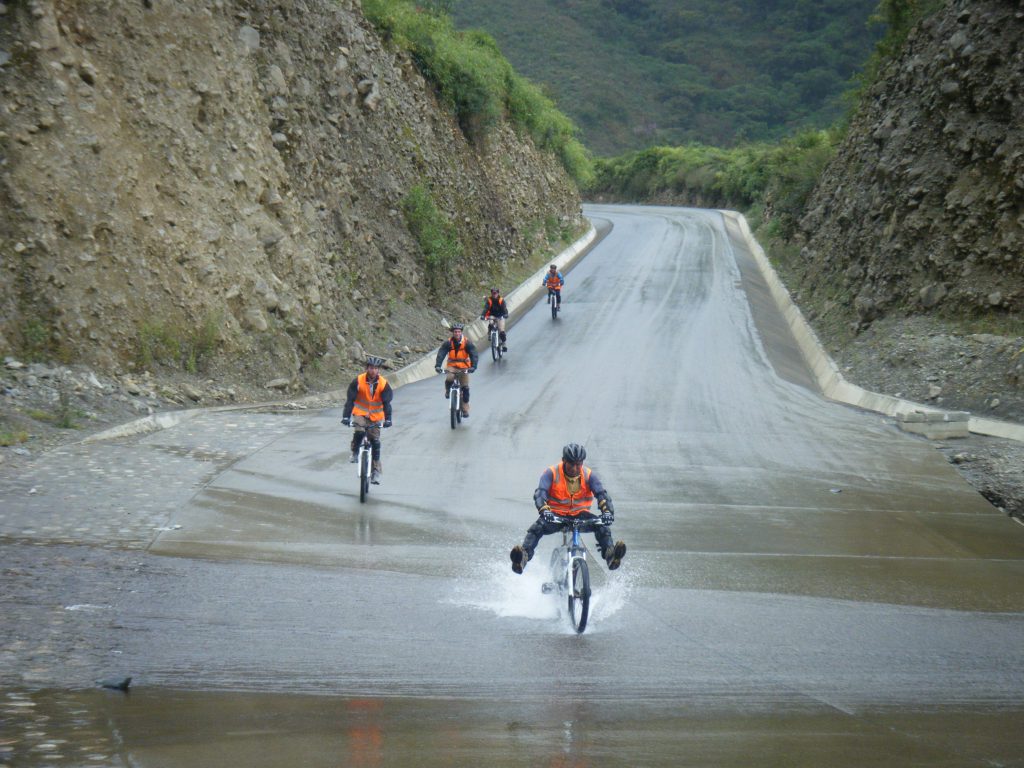 It can be quite challenging to watch the road, watch the person in front, and watch the majesty and beauty of the Peruvian Andes.
The journey is impressive, for you will descend from cloud-topped mountain through to lush jungle in the space of hours.
For some people, this even passes them by while they try to focus on staying upright.
But that would be a mistake – you need to take the time to appreciate exactly where you are, and what you are doing.
Just don't fall off in the process (the bike, not the mountain. Actually, don't fall off the mountain, either).
Ziplining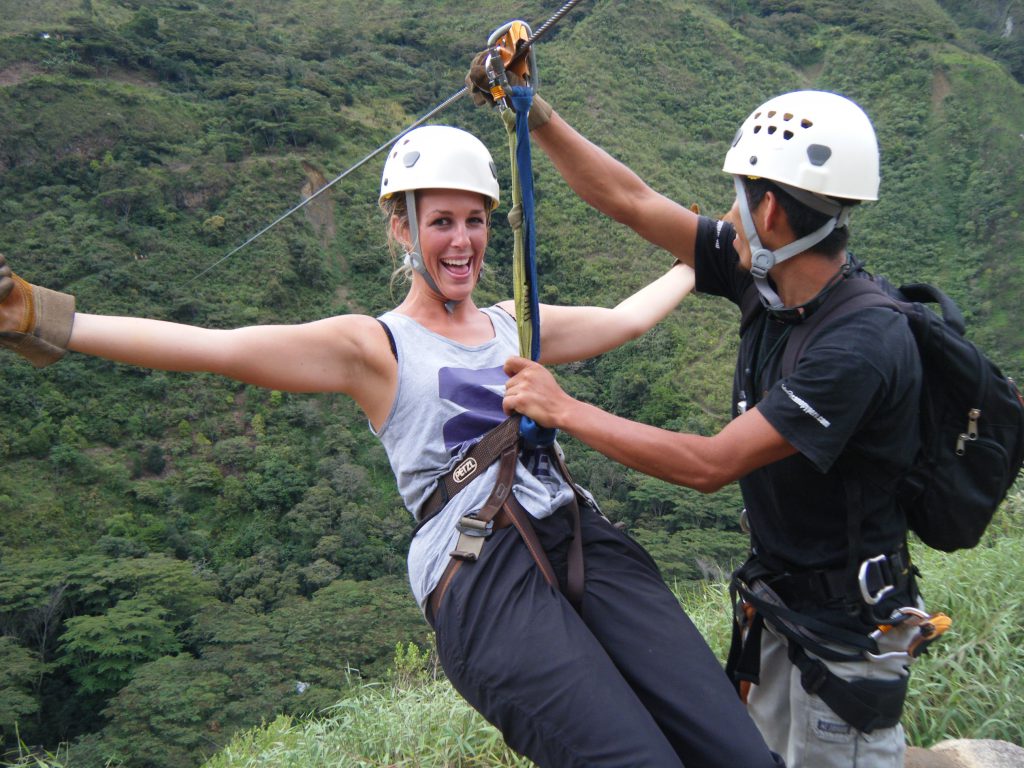 Ziplining is something that most people have not tried.
This is one of those 'illusion of danger' activities that scare the pants off of you, but actually pose no real danger to your health or mortality.
You can fall off the bike but you can't fall off the zipline.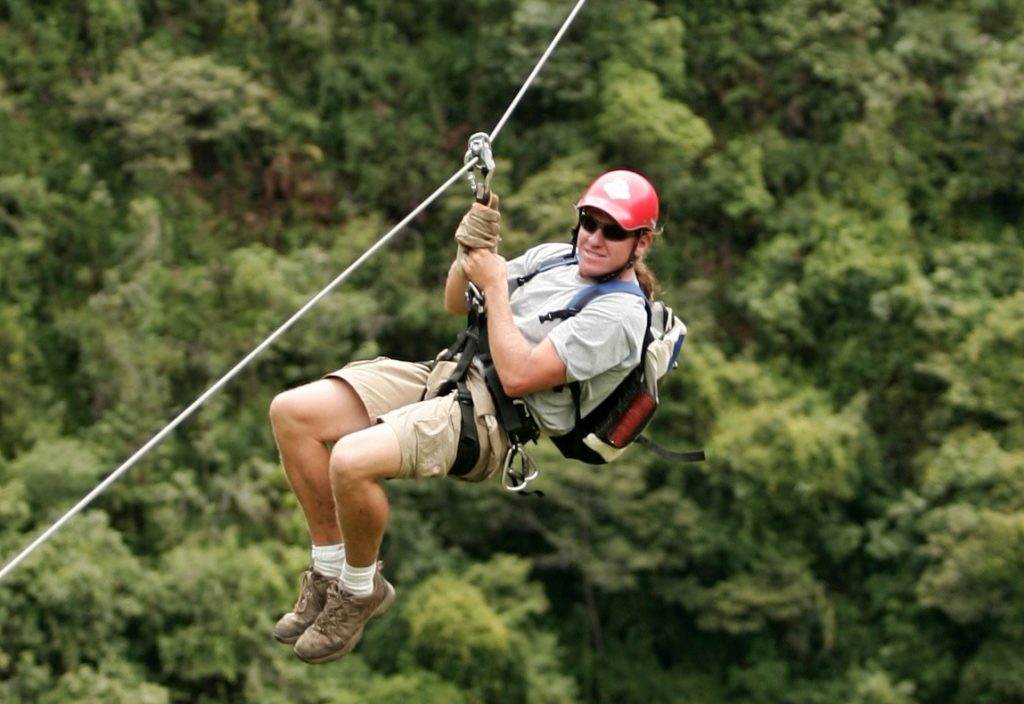 The activity involves climbing up to the highest point of a hill overlooking a river valley and waiting in a heart-pounding queue that builds up the dread anticipation as your turn approaches nearer and nearer.
It seems absolute madness that you're going to fly across this river canyon at around 50kph.
It's funny how your brain and mind exist in two very distinct states: your brain knows that there's no danger, but your mind is enveloped by the hideous fear of imminent pain and catastrophe.
Or perhaps it's the other way round.
And I'm not even going to mention the joys of crossing the rickety, wind-tossed bridge at the end.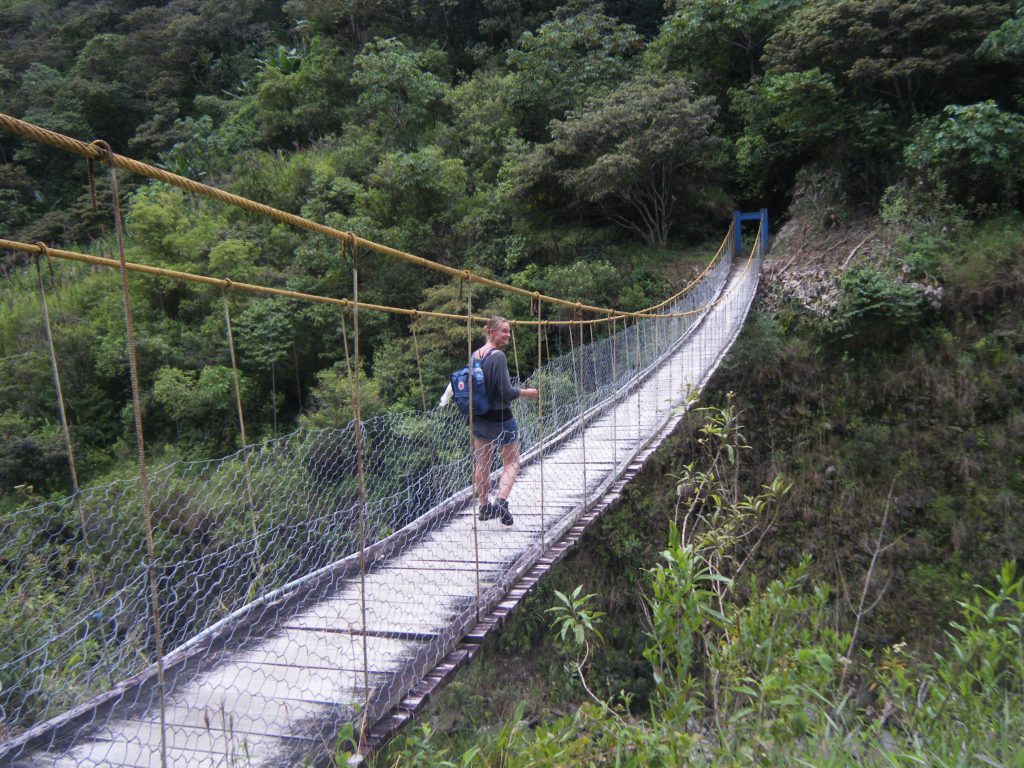 Hiking on original Inca Trails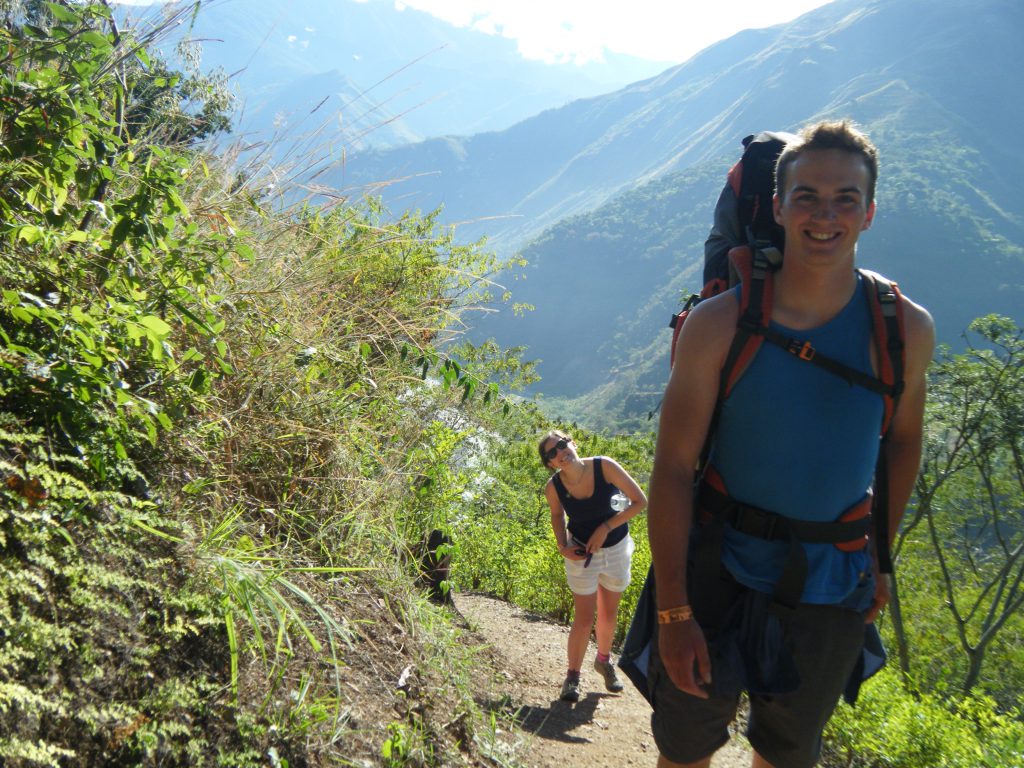 The hiking is on the morning of the second day and all the third day.
On the second day you will hike through jungle along an old Inca trail high above a river canyon.
This is an authentic trail laid down by the Inca more than 500 years ago with minimum maintenance.
The Inca were absolute master stone workers and it's still incredible to think how they carved this passage into the side of a mountain and laid just precise and intricate stonework.
And you will walk along it, climbing and descending.
The Inca didn't have much time for health and safety regulations, and at times the trail gets quite narrow.
So watch your footing.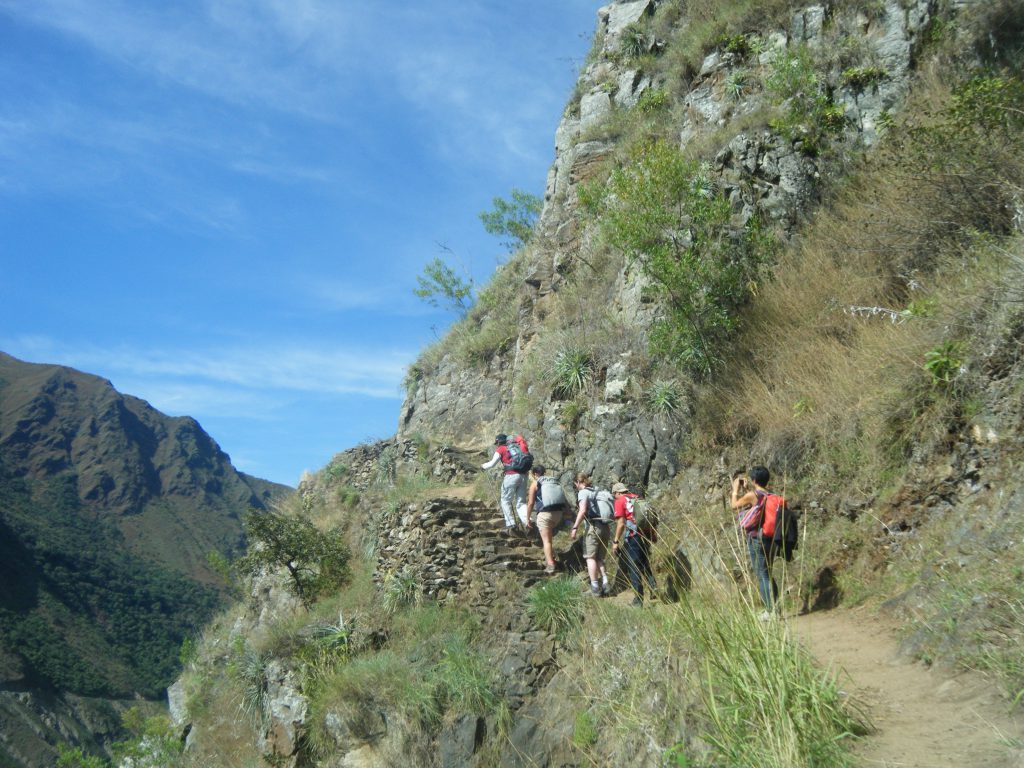 On Day 3 The Inca Jungle Trail takes quite a unique path to a recently discovered Inca trail which is untravelled by all tour operators (apart from Pie Experiences, of course).
This is fairly pristine Inca territory with some incredible views, not least of Machu Picchu from Llactapata.
Beautiful and tranquil but also quite strenuous.
Click here  to book your Inca Jungle Trail to Machu Picchu with PIE Experiences
Map – Inca Jungle Trail to Machu Picchu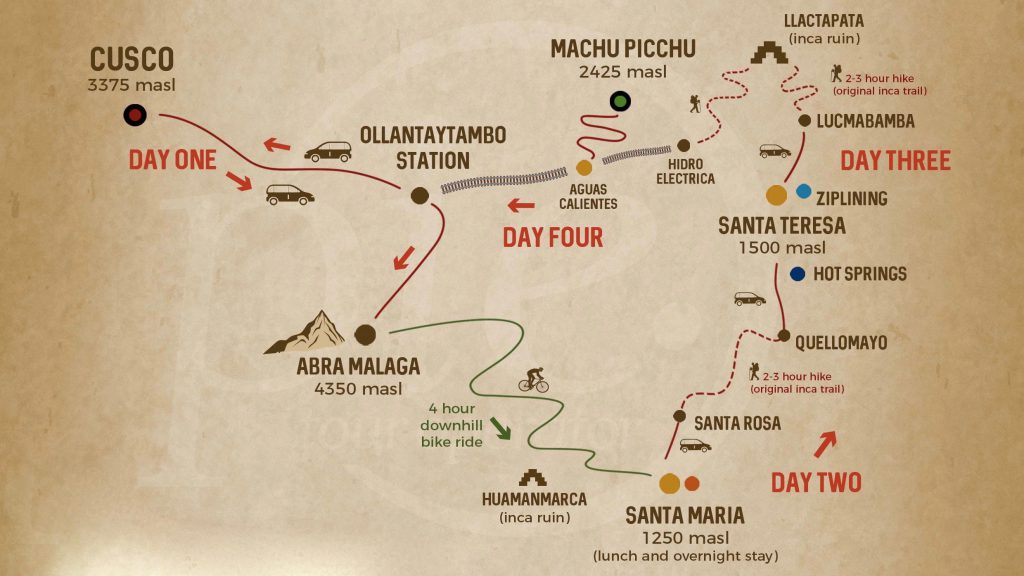 Itinerary for the The Inca Jungle Trail to Machu Picchu:
Day 1 | Cusco to Santa Maria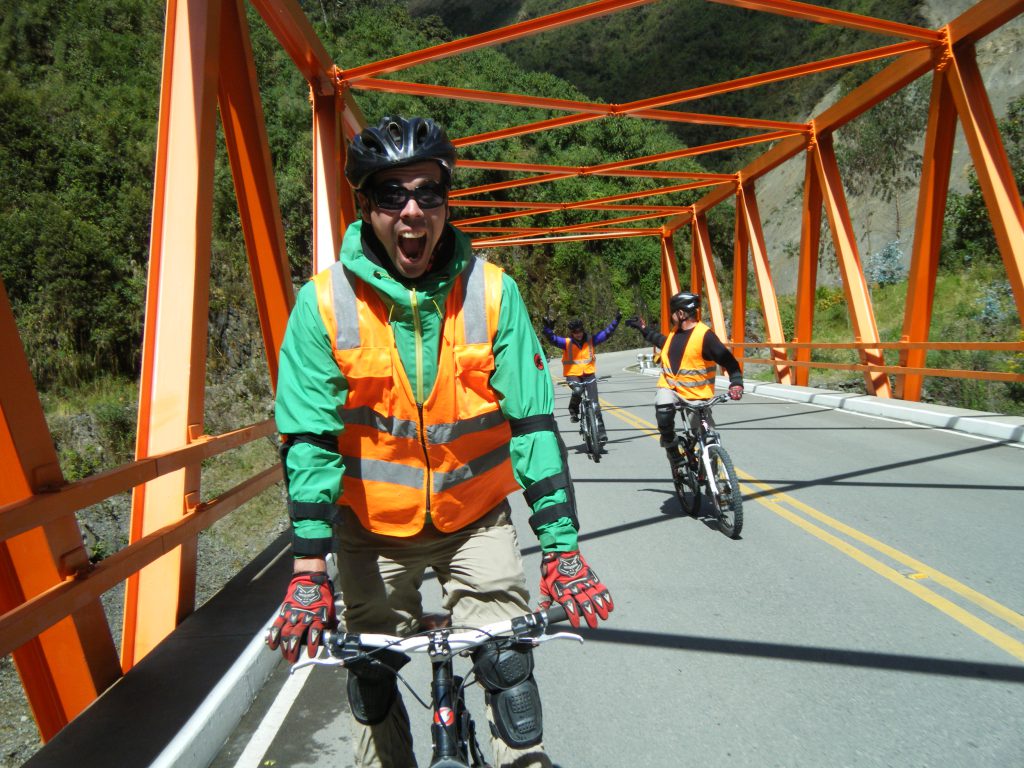 Depart Cusco to Abra Malaga where you will enjoy an exhilarating downhill bike ride to the beautiful town of Santa Maria.
Along the way, you'll visit the archaeological site of Huamanmarca and experience diverse landscapes.
All the time the biking is followed by a van and those who are tired can ride in it.
Day 2 | Santa Maria to Santa Teresa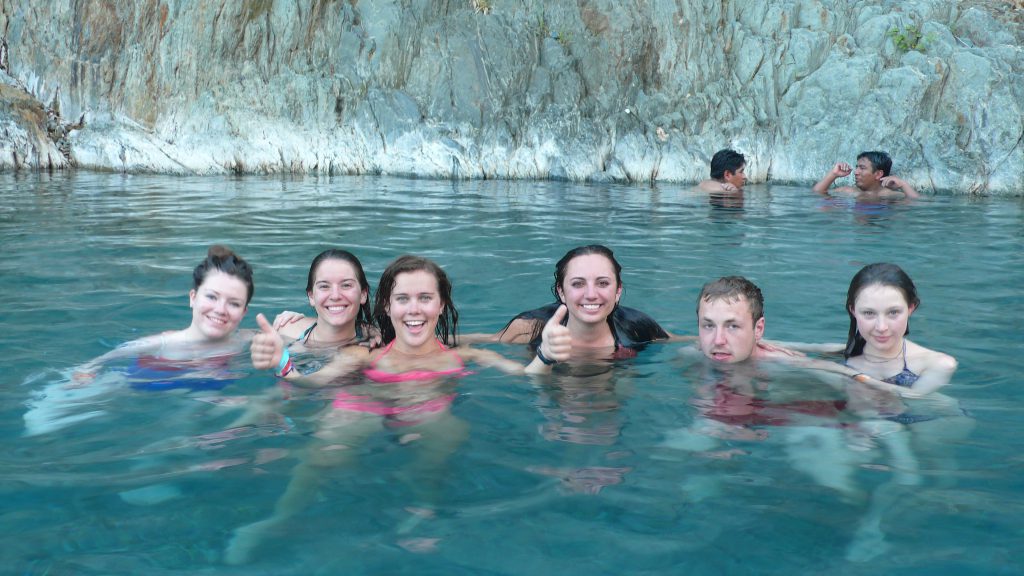 You will trek along an Incan Trail, zip along the highest zipline in Peru, and take a dip in the hot springs at Cocalmayo before a relaxing night in an eco lodge.
Day 3 | Santa  Teresa to Aguas Calientes via Llactapata Pass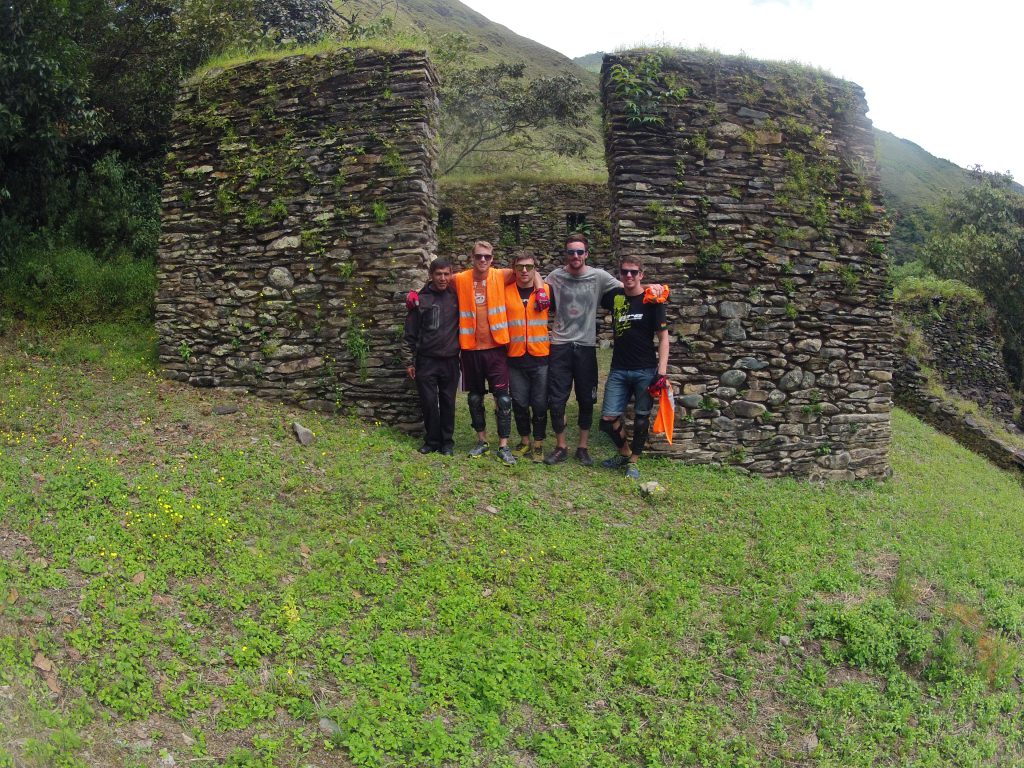 Wander a remote Inca Trail towards Llactapata Pass, where you will enjoy an exclusive preview of Machu Picchu.
Take the train to Aguas Calientes to rest up for tomorrow's main event – Machu Picchu!
Day 4 | Aguas Calientes to Cusco via Machu Picchu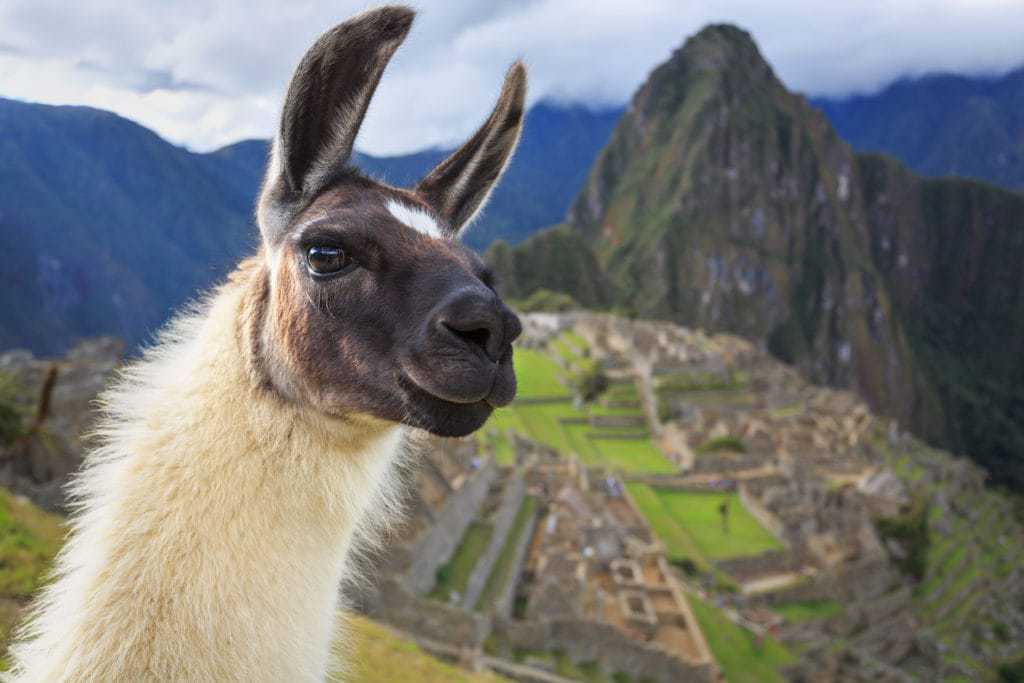 Rise early for the short bus ride to Machu Picchu.
At the ruins, explore with a guided tour and hike to Huayna Picchu (optional).
Return back to Aguas Calientes by bus, before taking the train to Ollantaytambo and a private transfer back to Cusco.
The Best Time to Travel
Although you can do The Inca Jungle trail all year round, the best times are between March and December, when the weather is dry and calm.
The weather during the four months of December to March are the rainy months, so the weather is less suitable for 4 day jungle treks to Machu Picchu, but generally not a huge barrier for the hardier souls.
However, the largest threat arises from flooding, which is happening with increasing regularity in Peru.
The flooding itself causes problems with transportation and infrastructure, but the greatest threat to human life during these disasters is mudslides and landslides.
Be aware that these can literally sweep trekkers away into oblivion.
It's still a very small risk, but also the reason why the best time to travel are the months from March to December.

Which Inca Jungle Trail To Book?
The Inca Jungle Trail – Backpacker Tour
You have many, many options to book the Inca Jungle Tour to Machu Picchu, with a multitude of tour operators.
And each operator offers a slightly different version.
It is typical for the tour to be divided into a 'backpacker' tour and a 'premium' tour.
Although both are largely the same experience, the premium is obviously much more luxurious and comfortable.
Basic essentials such as the equipment and health and safety are the same for both, but the backpacker option will cut costs on food and accommodation, with some pretty poor and shabby $5 hotels being the norm.
So prepare yourself for the possibility of no toilet paper, dirty rooms, stinky sheets, and so forth.
Also, all transportation will be either on a minivan or on foot (as opposed to train), which is not too disagreeable.
But you'll find vehicle transportation is much slower than the train in the twisting, winding mountain roads.
And can also be genuinely, genuinely terrifying.
Best not to look out of the window as the drive takes muddy switchbacks with sheer drops at 40kph.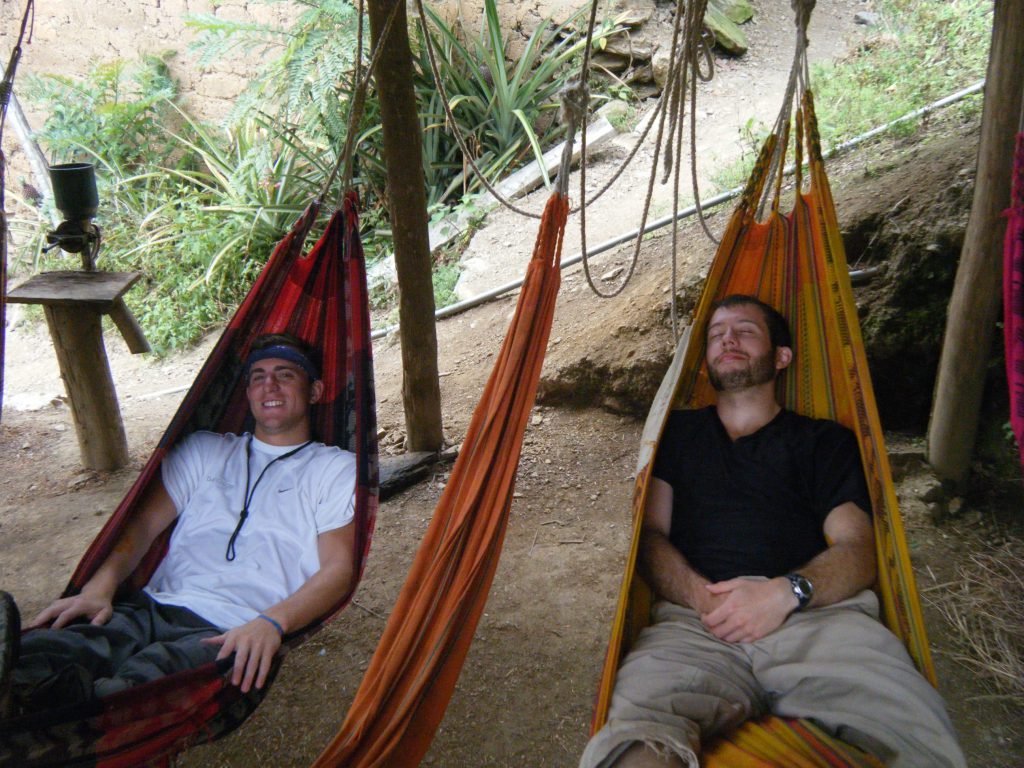 With the 'all-inclusive' tour, you do not have to worry about sharing a room with strangers, why your pillow case smells of sewer or whether bread and jam is an adequate breakfast for a long day's hiking.
On the first night you will stay in a bed & breakfast at Santa Maria, a reputable establishment that works exclusively with Pie Experiences.
The accommodation has private rooms, dinner in a gourmet restaurant and an American breakfast in the morning.
Every day, you will eat a hearty lunch in a decent restaurant.
The second night you will stay at Eco Quechua Lodge, a beautiful lodge nestled within the Peruvian jungle that will serve up a delicious dinner and a buffet breakfast.
The third night will be at smart lodgings in Aguas Calientes, with dinner in the gourmet restaurant of Chullpi.
To book this tour, you will want to find a reputable, experienced tour operator.
There are many.
You can compare the various tour companies you find on Google; look for accommodation, food, transport, activities, duration, and price.
Pie Experiences offers this tour at the 'premium' level.
Who This Tour Is For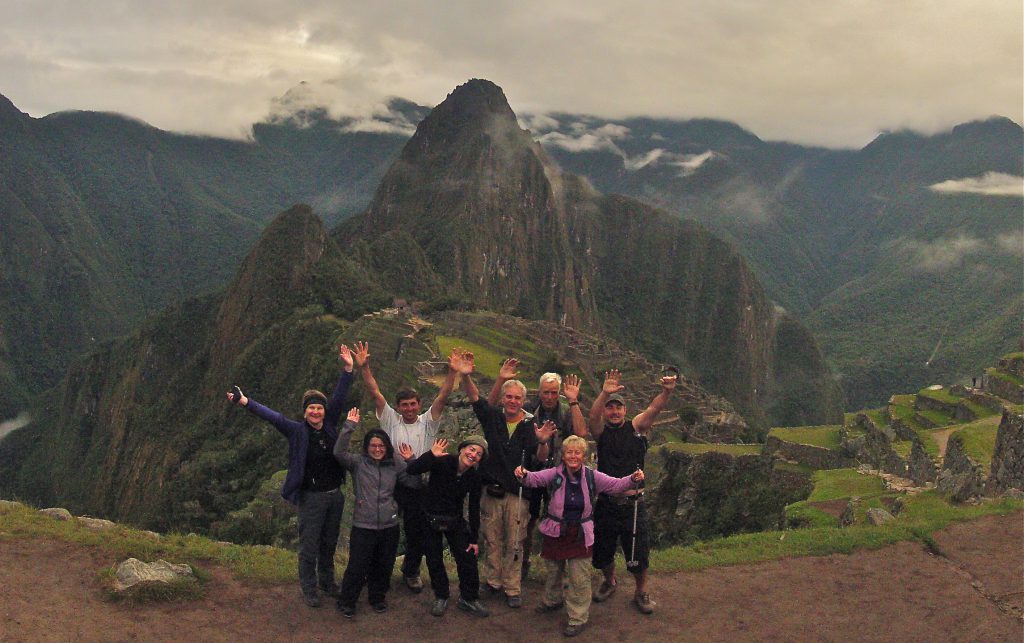 This tour is very popular with all ages, genders and personality types, regardless of what your interests might be.
All the activities, while thrilling, are at a 'beginner' level,  and thus you don't need to be vastly experienced or have a super level of fitness.
The trails can be steep, but nothing a regular person cannot handle.
The downhill biking has its risks, but they depend on the speed that you elect to travel at, and the ziplining entails no risk or even physical exertion.
Physically, the trail is within the capabilities of most, although obviously those who do not enjoy a modicum of thrills might be better off with a more sedate trek, such as the Sacred Valley tour or the Huchuyqosco tour.
As an aside, those already experienced with adventure sports might like to see if they can tailor the tour up a level or two.
Often, rafting can be added to the tour (for additional cost) and this is usually at Level III, which is quite gentle for someone who has done it before.
At certain times of the year, the river will be higher and at Level IV.
There are also options to extend the hiking distance or choose a more challenging route.
You should speak with your tour organiser if you wish to organise this.
Click here  to book your Inca Jungle Trail to Machu Picchu with Pie Experiences
How The Inca Jungle Trail differs to other tours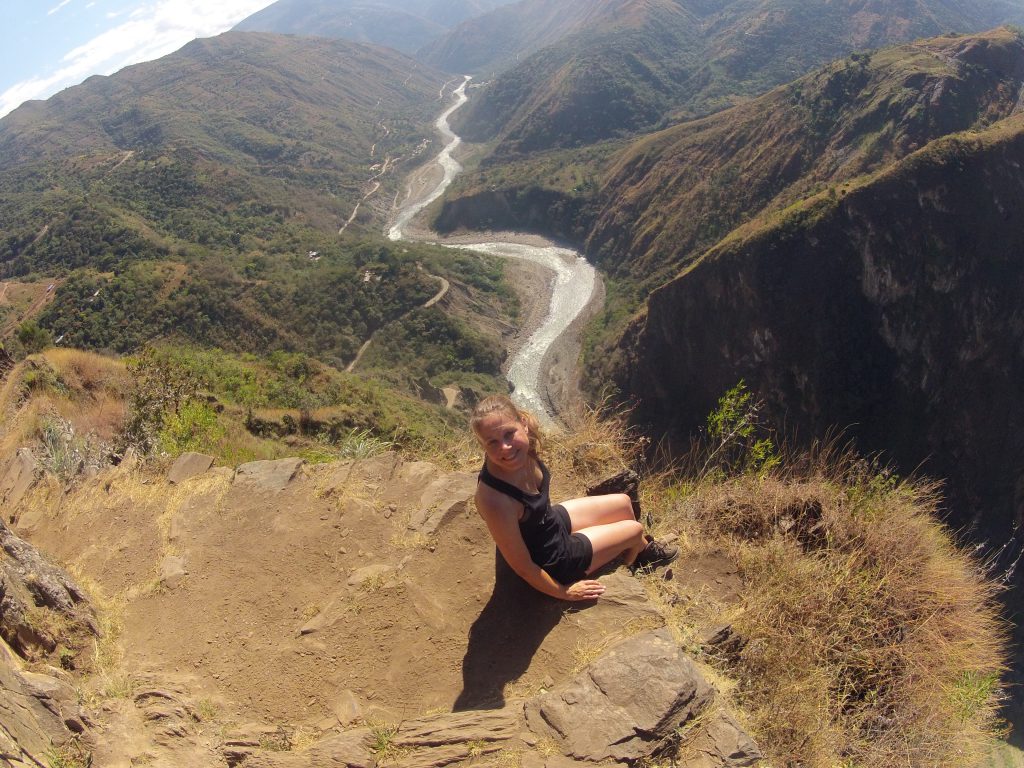 As detailed above, The Inca Jungle Trail is quite different from the usual array of Machu Picchu treks.
The most popular tours are:
The Huchuyqosco to Machu Picchu trek
And a handful of other, minor treks.
These treks will vary in terrain, duration and difficulty, but all remain the same in one crucial respect: they are hikes.
The Inca Jungle trail to Machu Picchu is a combination of adventurous activities, including hiking.
In its own way it is more fun than the standard treks, engendering a great team spirit among the group you undertake the activities with.
Altitude and acclimatisation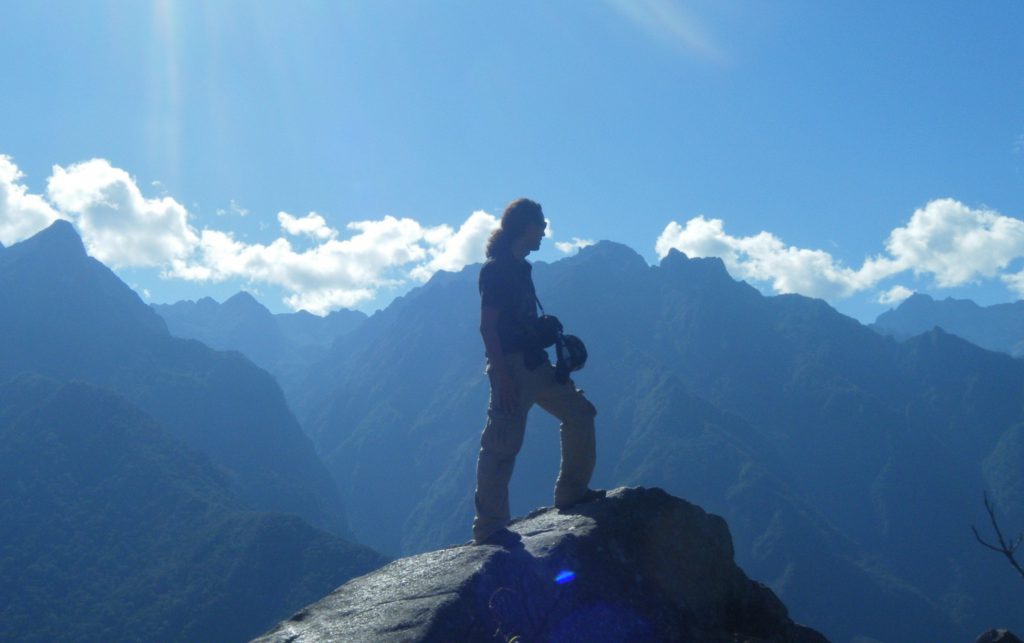 The Inca Jungle Trail to Machu Picchu doesn't touch on the truly high altitudes, such as the Salkantay trek or the Rainbow Mountain hike, yet it is still at altitudes higher than most are accustomed to.
The very start of the trek, which is the downhill bike ride, will start at over 4000 metres altitude.
Although you will descend pretty rapidly, you will consistently be above 2000 metres.
For the average activities, such as sitting down, eating, playing on your phone, you will not notice the altitude.
But if you have to walk for a duration, or walk uphill, or undertake any form of exertion, you will find yourself out of breath quickly, with your chest tight, and you'll wonder how you got so out of shape.
But do not despair!
You are not out of shape, it is just the altitude.
It does not pose too great a danger, unless you attempt extreme exertion at extreme altitudes that you are unacclimatised for.
In this case, altitude sickness can ensue.
For this reason, we always recommend spending three days in Cusco, walking around, visiting some of the sights, and generally acclimatising oneself to the Andean conditions before attempting any trek.
Acclimatisation does not mean that you will enjoy the fitness in the Andes that you enjoy at sea level.
You'll still be puffing, taking it slow and stopping for breaks to catch your breath.
It just means your body won't think that you're trying to kill it.
What To Pack For The Inca Jungle Trail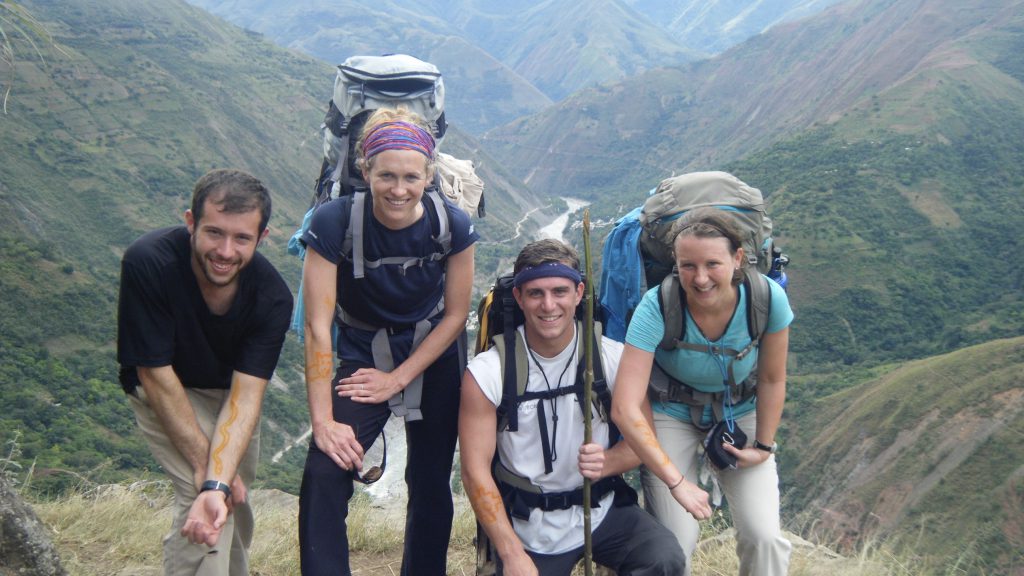 The Inca Jungle Trail to Machu Picchu takes you through a varied Peruvian landscape of valleys, peaks, jungle and mountains.
But you do not need to pack for an expedition up Mt Everest.
Mostly the climate will be warm and at night you will be sleeping in comfortable accommodation.
You'll want to bring light, flexible clothing, plus one set of clothes and a rain jacket or poncho.
Hiking footwear is essential.
There are a few specific items you should definitely bring to deal with the conditions.
For example, the sun is strong at higher altitudes, so sun cream and sunglasses recommended, plus a hat.
Mosquitos and sand flies are a true menace and so absolutely bring some POTENT INSECT REPELLANT.
If you fail to bring this, you will be the class dunce always asking others to borrow some of their limited supply.
But we also stress the necessity of serious repellant, ideally with one thousand per cent deet.
There are a variety of insect repellant brands out there which do not repel insects.
To our thinking, this is a on par with a war crime; selling a useless product for such necessary use.
There is no more frustrating feeling than applying repellant to your pristine legs on then one hour later scratching them in half.
Clothing
Shorts – for day hiking
Long trousers / sweatpants – For nights, early mornings or colder altitudes (eg. Machu Picchu)
Sleeveless vest top – for the hot day hiking
Sweater or light jacket
Rain poncho (if you don't bring a rain-proof jacket)
3 t-shirts
Lots of socks – you'll often get through more than one pair a day
Underwear – better to bring more than one per day
Items
Flashlight (phone light will do)
Cables / chargers for phones / GoPro
Camera (GoPro ideal but any camera is suitable)
Sun cream
STRONG insect repellant
Sun glasses
Hat
Toiletries
Tissues
Get out there and do it!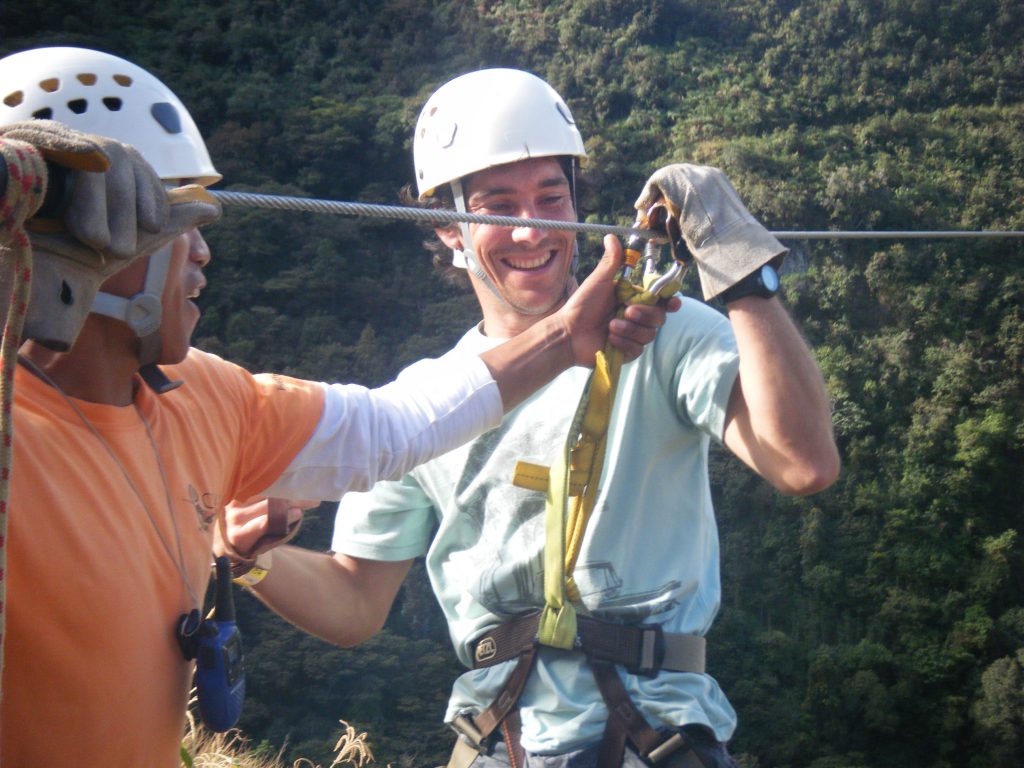 The Inca Jungle trail to Machu Picchu may not be the right trek for you.
It may be that you just want a leisurely hike through Inca territory enjoying a few ruins, some nice scenery and a day in Machu Picchu.
There are many options better suited for you.
But if many days of simple hiking sounds too monotonous, or you desire more adventure and variety, then the Inca Jungle Trek to Machu Picchu could just be the perfect option.
Click here to book your Inca Jungle Trail to Machu Picchu with Pie Experiences
Like it? Pin it!