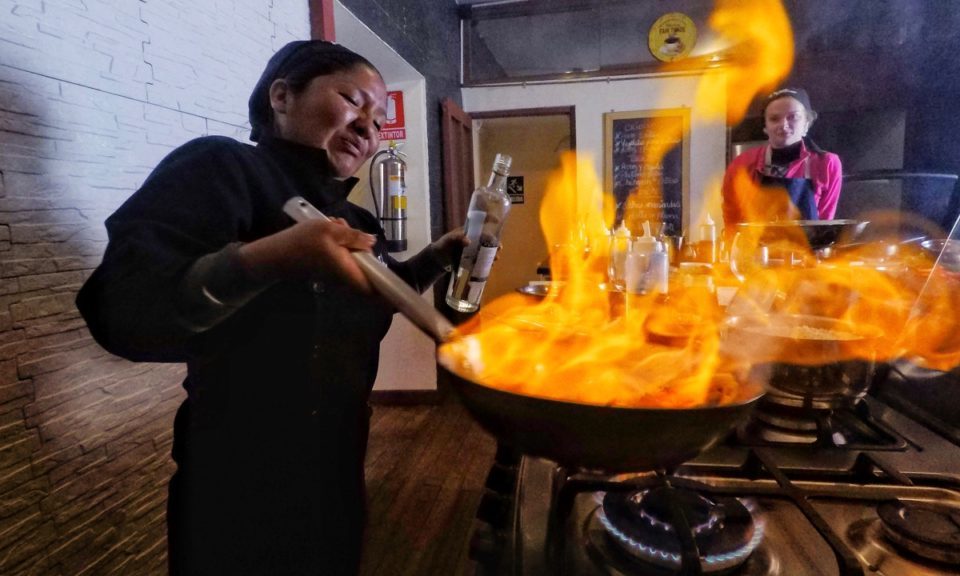 Most outsiders accept the popular assumption that South American cuisine is strictly meat-dominated. But in fact, this statement mows over the vast complexity of Latin America cookery. That being said, get ready to blossom your culinary creativity with the Vegan Cooking Class in Cusco―a perfect opportunity to add a vegan twist to traditional Peruvian dishes.
Of course, avoiding meat dishes when traveling across South America becomes a difficult task. Yet at the same time, many Peruvian dishes possess vegan-oriented ingredients. For example, the pseudocereal Quinoa originates from the Andes mountains, both in Peru and Bolivia. Naturally, with an increasing awareness of environmental and animal welfare, vegan dishes have boomed in South America.
About Green Point
The magic starts here: at the 5-star vegan restaurant, Green Point, located in the San Blas district. Green Point has distinguished itself as a vegan haunt for boasting flavorful dishes at an economical price. Moreover, wanting to share their spice for life, Green Point introduced a vegan cooking studio to the public. Upon entering the studio, a rustic setting blankets the atmosphere, contrasted with gleaming, modern kitchen facilities. At the same time, the studio's open working space is perfect for fostering fresh creativity.
Jump Straight into an Intimate Vegan Cooking Class
Like making a delicious dish, our class began with preparation: accordingly, we were given Welcome Packs, met fellow students, then tied on our aprons made of vegan ingredients. Afterwards, we were ushered upstairs to the studio where we met our chef instructor. As she introduced herself, her enthusiasm lit up the room. Passion and expertise undoubtedly melded the likes of our teacher. Though she didn't speak much English, the class was supervised by an English-speaking Green Point manager. Correspondingly, we settled at our cooking stations and began our course.
To begin, the class was promptly shown a large chalkboard with details of the day's dishes. Our teachers then presented us with fine vegan wine to quench our thirst while our hands began crafting the debut dish, Lomo Saltado .
(As a side note, only 1 out of the 4 students enrolled were actually vegan. Therefore, with sparse vegan-cooking experience, our teachers had a big task at hand. Suffice it to say, their patience and professionalism was astounding.)
Seitan Stir Fry- The Ultimate Meat Substitute
At first, we gathered around a cooking station. Presented before us was a bowl of gluten wheat flour, placed next to a bubbling pot of herb-broth. As aforementioned, our debut meal was a vegan version of the traditional Peruvian dish,  Lomo Saltado. (a type of Peruvian stir fry)
Our first task was easy, but tedious: we were instructed to knead the gluten flour together with herbs and spices. After forming a perfect dumpling, we had to drop them in the bubbling broth. Next, our chef explained to us the benefits of this meat substitute. She also gave us the origin of Lomo Saltado, all while we sipped on our crisp wines.
Thereafter, we moved on to prepare our next dish, the vegan-version of the entrada ceviche.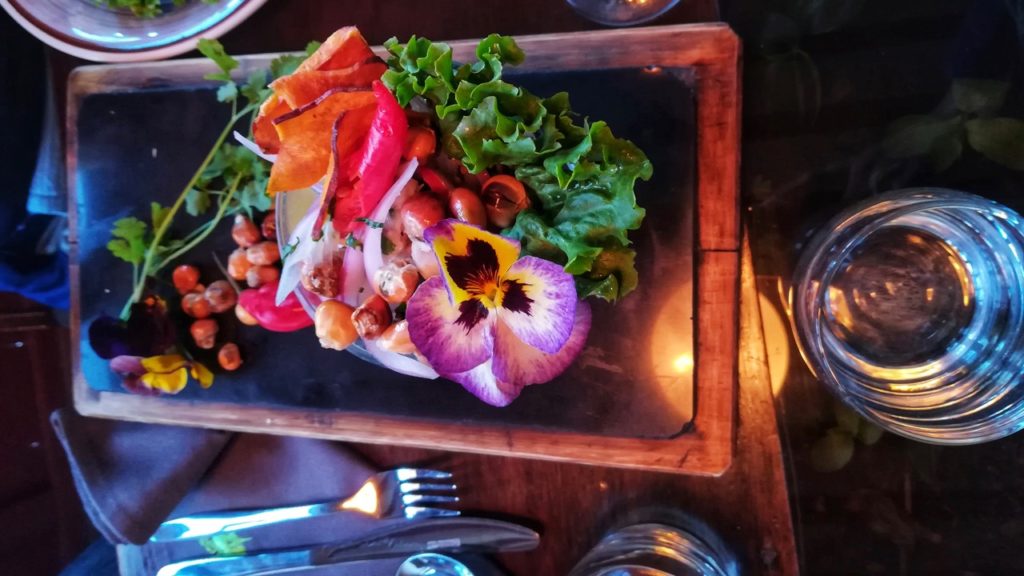 Entrada – A Vegan Ceviche in Cusco
Traditionally, ceviche is served with raw fish, marinated with spiced dressings. But for the class, we instead substituted fish with chunky oyster mushrooms.
Again, the chef informed us of the dish origins, along with the wide range of vegan substitutes used in our specific version. Following this history lesson, we then took turns preparing the ceviche ingredients. As budding chefs, we also put into practice a newly-introduced technique to finely chop onions.
Once we tossed all the ingredients into the bowl, we moved on to prepare our final dish.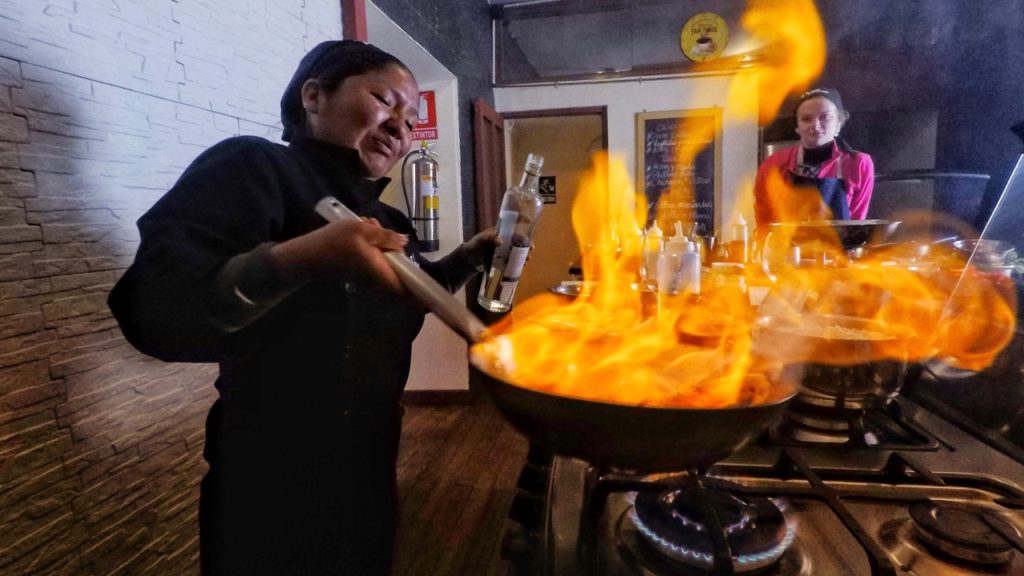 Tacu Tacu – A New Take on A Traditional Dish
Typically, this last dish cobbles together beans, rice and meat. But conversely, to make it vegan-friendly, we substituted the meat with oyster mushrooms.
To prepare the final element of our feast, we began finely chopping onions, garlic and mushrooms. Likewise, we next threw in oregano, salt, pepper and vegan tacu tacu to add extra flavor. Next, we fried our marinade with beans and rice to form a delicious patty, ready to be cooked.

Final Touches
For the final touch, our chef gathers us around the dishes. We begin to fry the finely sliced Seitan in a flaming wok, add the garnishes to our perfectly marinated ceviche then slice some fried plantains onto the Tacu Tacu patties.
All that's left now is to enjoy our efforts.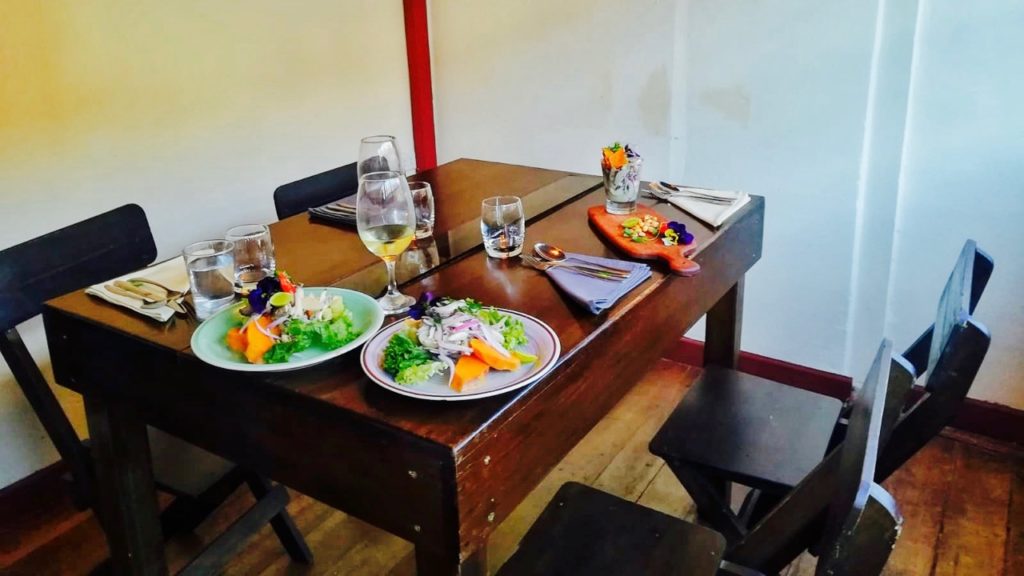 The Perfect End To Our Vegan Cooking Class
After we take off our aprons, our kind hosts usher us into a quaint dining room. Once we sit at our set table, they fill our glasses with more wine and bring out our scrumptious creations!
Before we gorge ourselves with these delectable dishes, our hosts close the class with a warming speech. For a bunch of non-vegans, I'd consider today a total success! This course proved to us that South American cuisine doesn't have to centralize meat. And on top of that, each student thought the prepared ingredients formed lovely meals!
Book your Vegan Cooking Class Today !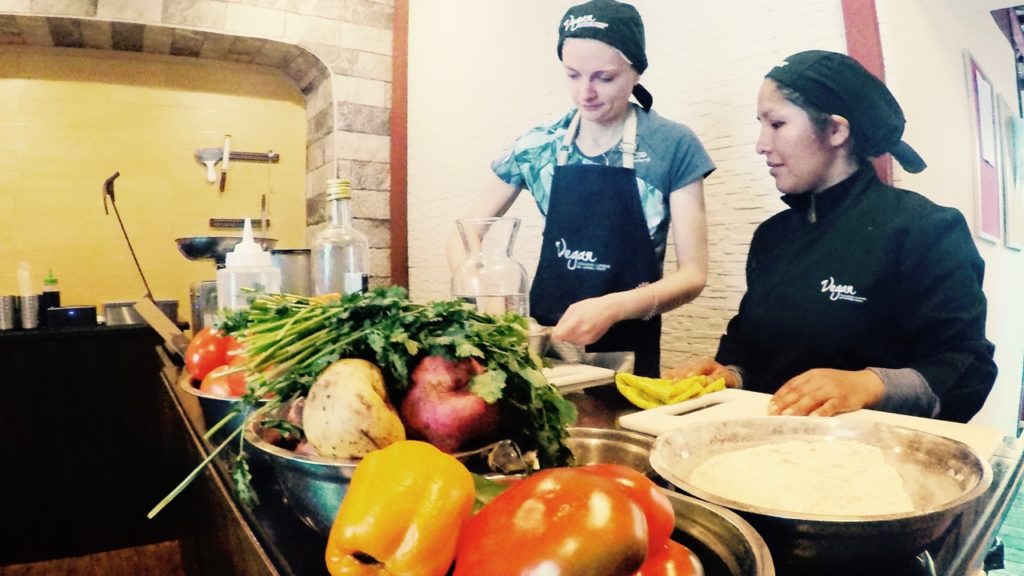 Like It? Pin It!