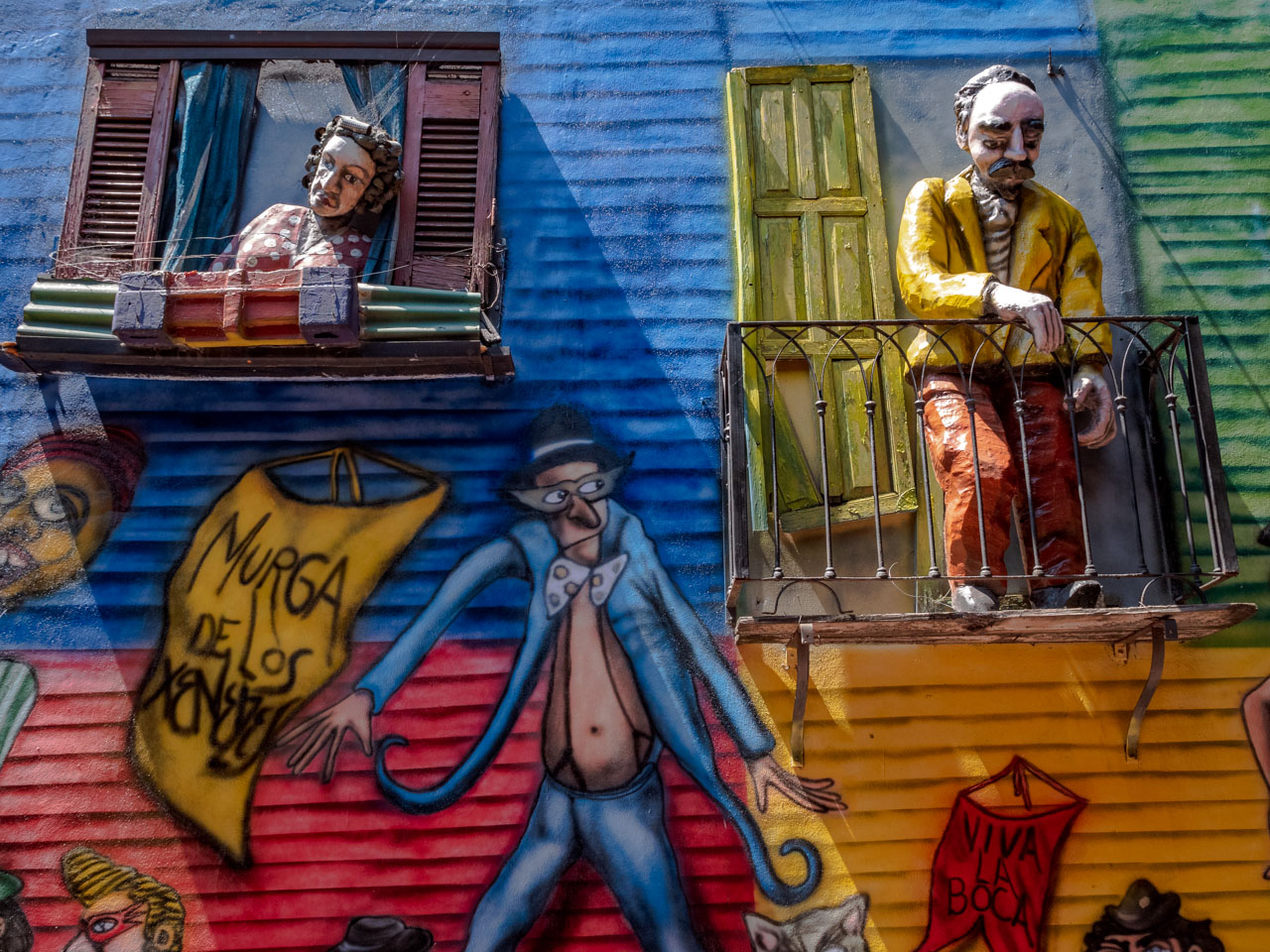 Buenos Aires is electric. The Argentine capital is like no other place you're likely to visit. Bursting with character, full to the brim with life, everything in this 13-million-strong city is an incessant show of passion, romance and dance. Here you'll be surprised to find grand European buildings, elegant squares and calm café culture: but you're never far away from the classic South American frenzy. Sip back delicious Malbec, and losen your belt for some of the world's best asado. Get ready to explore beguiling neighborhoods with our guide to the Best Things to Do in Buenos Aires.
Buenos Aires Neighborhoods You Can't-Miss
A sprawling and huge metropolis, it's impossible to see every Buenos Aires neighborhood in one visit. Luckily, you don't have to. These are the neighborhoods which combine fascinating history, charming culture and some of the city's most beautiful buildings. Without doubt, neighborhood-hopping is one of the best things you can do in Buenos Aires.
San Telmo
First up is the city's oldest neighborhood – gorgeous San Telmo. Once the city's most well-to-do neighborhood, a yellow fever outbreak killed thousands and forced the rich to flee north to Recoleta. Filled with cobbled streets, crumbling old mansions and a bohemian atmosphere, these days there are as many tourists as locals. It's easy to see why: located just south of the central Plaza de Mayo with great places to eat and drink, including a famous Sunday market, you won't be short of things to see and do.
One of the top things to do in Buenos Aires is visiting the San Telmo market on a Sunday. By morning you'll find cafes and canteens bustling with locals, and just about every street filled with vendors selling antiques, goods, trinkets, and craft. As the afternoon arrives the street-performers come alive and many of the plazas and avenues are filled with music and dance until the early hours. It's the place to be on a Sunday in Buenos Aires.
During the week there's still plenty of market-hopping to do and mysterious antique stores to visit. Street art, delicious food, and leafy boulevards are sure to keep you entertained between visiting your favorite shops. If that's not enough, then how about professional tango shows? The dancers work their way between cafes in the area and even dance for free in Plaza Dorrego. If you'd rather see a show, then El Viejo Almacén and Bar Sur are the ones for you with authentic, exciting tango shows daily. And, if all of this is sounding a bit suffocating, then Costanera Sur nearby is an ecological reserve and a huge green space to unwind and reconnect with nature.
Recoleta
Recoleta is another classic barrio you cannot miss. It's one of the hottest and most prestigious areas in town and can feel that way at times with high-end shopping, intricate architecture and flash book stores. However, it's also diverse and next to glitzy cocktail bars and fancy hotels you'll still find dive bars and street food. It hosts one of the more bizarre and most-visited sights in the city: the Cementerio Recoleta.
Cementerio Recoleta has thousands of elaborate mausoleums and grand graveyards erected for the famous and the rich. You'll find many of Argentina's most historically famous names in this open-air museum. Spend an hour or so wandering the alleyways and enjoying the atmosphere along with the nouveau designs and sculptures. Notably, you'll have little problem finding Eva Peron's grave, which is regularly adorned with flowers.


La Boca
After the rather morose and gray Recoleta Cementerio, it's time to splash things up a bit with some color! Nowhere has more green, orange, blue and yellow facades than lively La Boca. Take a stroll down El Caminito – local artist Benito Quinquela Martín's masterpiece. Complete with artist studios and container-markets it's a pretty cobblestone walkway and even has an open-air tango stage. Enjoy the atmosphere, music, and dancing between grotesque and absurd Diego Maradona statues littered on the streets.
Football fans will no doubt be keen on visiting La Bombonera – home to Boca Juniors and one of the sport's most famous rivalries in the Superclasico. It's possible to get tickets to take in a weekend game, but be advised that tickets for the Superclasico can be pricey and very difficult to come by. Guided tours are available and highly recommended – it can be a dangerous area for tourists.


Palermo Hollywood & Soho
We've talked about the oldest barrio and the most colorful, now it's time for the biggest one: Palermo. Barrio Palermo is actually split in two: Palermo Hollywood and Palermo Soho. This is the coolest neighborhood in Buenos Aires and visitors looking for shopping, art, hipster cafes and food have will find a paradise of things to do here.
You could easily fill your time taking in the art of Palermo alone. Along with cutting edge contemporary museums, there's one of the best street art scenes in all of South America and tours, where you'll learn about the artists and their work, are affordable and engaging. Shoppers will find endless promenades filled with the latest fashion and pop-up markets on the weekend. Argentina isn't known for its cafe culture but you'll find some outstandingly cool cafes with small batch roasts. The area is fresh, young and constantly changing with a buzzing atmosphere. Cafes, bohemian bars and inviting beer gardens constantly out-do one another and the nightlife can't be rivaled.


There are botanic gardens for those looking for a slightly 'greener' space, and walks through the Bosques de Palermo are particularly welcome with a sore head on a Sunday morning. Combined with the abundance of the city's best restaurants, it's little surprise that Palermo is so popular: it's the perfect place to visit in Buenos Aires.
Tigre (Outside of Buenos Aires)
For something a little different, why not try exploring the Venice of Argentina? Way less visited and strikingly beautiful, Tigre is the delta where five rivers meet, some 30km north of Buenos Aires. This suburban province has recently become a residential hotspot but also has plenty to keep visitors entertained.
One of the most popular things to do is enjoy boat trips around the islands. Sunbathing, swimming, rowing and even waterskiing are also great options in the canals and channels where boat access is restricted. For more land-based activities there's plenty to see and do too. The Mercado de Frutos is a great introduction to local life, with plenty of tasty cafes and restaurants, and the chance to haggle for crafts from the local area. There's also the impressive Paseo Victoria, the town's central promenade, perfect for a leisurely stroll. And don't forget the Museo de Arte de Tigre, if for you're looking for some cultural things to do in this Buenos Aires barrio.
Best Time to Visit Buenos Aires
There's no bad time to visit Buenos Aires. However, choose your time wisely and you can be enjoying your wine in bright sunshine, instead of avoiding the outdoors to stay wrapped up indoors as much as possible.
The best times to visit Buenos Aires are spring (September-November) and fall (March-May), since the temperatures are pleasant without being too hot or too cold. Summers (December-February) are normally hot and humid and while the winters (June-August) won't plummet to sub-zero temperatures, it can be rainy and chilly. We recommend visiting in spring to make the most of the blossoming avenues, sunny excitement and long, warm days.
Amazing Buildings to Visit
Buenos Aires has an incredible number of things to do and see. Alongside vibrant neighborhoods, happening bars, and fascinating art, there's exciting art in town as well. These are the best of what Buenos Aires can offer and the super buildings you can't afford to miss.
Teatro Colón
If you're looking for a classy night in Buenos Aires then look no further than Teatro Colón. Ready your tuxedo and evening dress for a night in this glorious central building. Considered one of the best theatres in the world it celebrated its 110th birthday just last year. Its phenomenal acoustics is lauded worldwide, and the list of artists that have performed here is a testament to that. With ballet, opera, theatre and orchestra year-round, there's sure to be a show at this classic institution that will blow you away.
El Ateneo Grand Splendid
Constantly voted one of the best bookstores in the world, El Ateneo Grand Splendid is certainly a contender for the most unique. Initially constructed as a theatre, the doors opened in 1919. It played host to ballet, opera, and theatre but in 2000 was converted instead to a bookstore. Its design is beautifully preserved with the originally painted dome and traditional decoration. Drop in and work through any of their 100,000 books, CDs, DVDs to take in the atmosphere. The balconies provide particularly pretty views and if you're feeling jaded, there's even a café at the back.
MALBA Museum
It seems incredible that we're going to talk about more art, but we are. The Museo de Arte Latinoamericano de Buenos Aires (MALBA) should be top of your list for art when you're in town. This unique building was specifically designed to blend in with Palermo's surroundings and provide a perfect relationship between art and experience. Inside you'll find photography, sculpture, painting, print and more over a wide range of periods.
Casa Rosada
The Casa Rosada is the home of the Argentine government and dominates the central Plaza de Mayo. This grand building has played an important part in the city's history, where presidents and their wives have addressed eager supports from the balconies. During the 1940s and 1950s, Juan and Eva Perón appeared to address the masses below them. Interestingly, its pink exterior was a deliberate attempt to try and pacify the two local political parties. The Federal party, using traditionally red, were opposed by the Unitarians in white. Free guided tours of this historic building available in both English and Spanish, but you'll need to reserve your space online beforehand.


Try the Local Cuisine in Buenos Aires
The Argentinians will tell you that their meat is the best in the world – and Porteños will claim the best of it is found in Buenos Aires. Why not one of the 10 best restaurants in the world (New York Times) in Cabaña las Lilas Restaurant? Have a thing for sports memorabilia? Then El Pobre Luis is the one for you. Enjoying an afternoon Asado is one of the must do things in Buenos Aires and you won't struggle to find quality cuts.
If you're short on time, then you won't go wrong sticking to San Telmo. Some of the city's best restaurants are here. Choose from one of these San Telmo favorites: Gran Parrilla del Plata is a classic, and El Desnivel is a wonderful cantina offering great value for money. Around the corner Sagardi serves exquisite tapas – nobody does tapas better than the Basque.
Where to Stay in Buenos Aires
There's a huge range of accommodation in the Argentine capital, and something to suit every traveler. These are three of our favorites.
Alvear Hotel
This swanky 5* option is fit for royalty. Recent renovations have only added to the level of luxury with presidential suites, a spa and indoor pool found inside. Teatro Colon is only a mile away.
from $250 per night- BOOK HERE
The Glu Boutique Hotel
For something slightly more affordable which also guarantees satisfaction, you can't go wrong with the Glu Boutique Hotel. Glu prides itself on its intimate atmosphere and was designed by architects with a deep appreciation for style. Situated in the heart of Palermo Soho, you couldn't be better located.
from $116 per night –BOOK HERE
Selina Palermo
Selina has put real thought into the design of each of their rooms and offer a place to connect with others. The location is also a vital component – it needs to be immersive, active and unique. With a plethora of cafes, restaurants bars literally on its doorstep, booking with Selina Palermo is a wise move.
[envira-gallery id="20443″]
from $55 per night for a private bedroom
from $19 per night in a shared bedroom
LIKE IT? PIN IT!