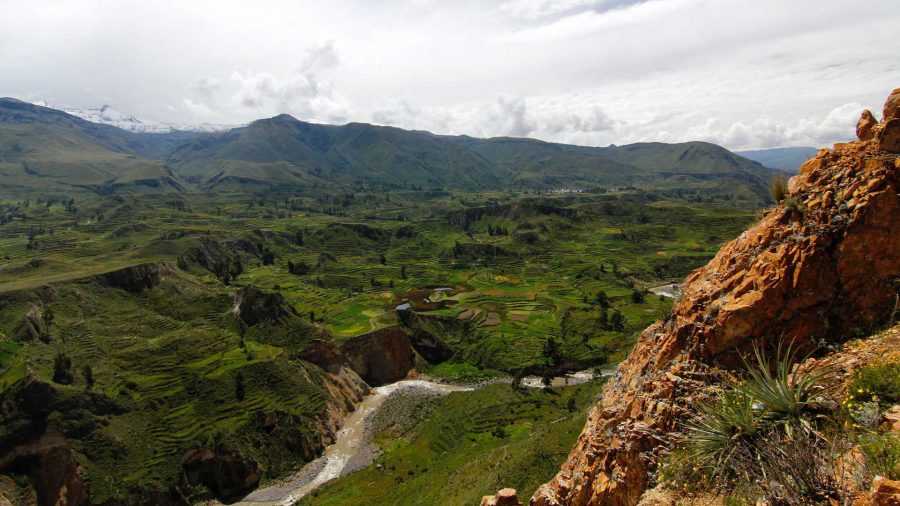 If you love hiking and exploring, then a Colca Canyon trek in Peru provides the ultimate nature lover's adventure.
The Colca Canyon is one of Peru's many drawcards, with its giant condors, majestic volcanoes, hot springs, historic churches and traditional Andean communities.
The region is obviously overshadowed by Machu Picchu, but still provides some of the best trekking in the country.
Most noteworthy, at 3270 metres (10,725 feet), this Peruvian wonder is the second deepest canyon in the world, just shallower than its nearby Cotahuasi Canyon.
Furthermore, Colca Canyon is more than twice as deep as the famed Grand Canyon in the USA.
At the floor of this profound and picturesque crevass lies one of Peru's hidden gems – the stunning oasis of Sangalle.
A secluded paradise of retreats, swimming pools, palm trees and gardens, Sangalle at first appears out of place among the dusty, arid landscape of the canyon.
But, it is perhaps this very reason that makes it is so appealing.
The lush green foliage provides relief from the heat, while the invigorating aqua pools are the perfect place to cool off from a trek.
Another Colca Canyon hotspot is the picturesque Llahuar Lodge.
Located right on the Colca River, Llahuar Lodge has its own natural hot springs.
Your Colca Canyon trek will likely start in the town of Cabanaconde, home to the region's famous Andean condors.
Be sure to visit the Cruz del Condor viewpoint before or after your trek in order to get up close with these magnificent birds.
The Andean condor is the largest flying bird in the world and has a wingspan of up to three metres.
It is therefore astounding to witness them gliding past at close range.
Colca Canyon trekking information
With its seemingly endless pathways and zigzagging trails, there are many options for trekking in Peru's Colca Canyon.
Most people venture into the canyon for two or three days before journeying back up to the top.
A scenic and secluded trail that is relatively devoid of tourists is the trek from Cabanaconde to Llahuar.
Spend the night in Llahuar and visit the oasis of Sangalle before returning to Cabanaconde.
(You can opt to spend a night in Sangalle if you desire more time there, or if your weary legs aren't quite ready to venture back to the top.)
Alternatively, you might want to begin your hike in Cabanaconde, head down to Sangalle for one night and return to Cabanaconde the next day.
This trail is much more popular and therefore you will come across a lot more trekkers if you select this option.
However, we recommend the less touristic trek from Cabanaconde to Llahuar.

Cabanaconde to Llahuar
Enjoy breathtaking scenery as you traverse the ridgeline, descend into the mouth of the canyon and make your way down to the stunning Colca River.
This trek is remote and peaceful, as not many tourists opt to hike this way.
Once at Llahuar, you can stay at Llahuar Lodge, enjoy a spot of trout fishing in the river and bathe in natural hot springs.
Taste traditional local food and enjoy a calm night beneath the stars accompanied by the lullaby of the babbling river.
Trekking time: About 4 hours
Difficulty level: Strenuous
Llahuar to Sangalle
This trek takes you along a dirt road as you trace the canyon's winding ridgeline.
Be aware that the first half of this trek is mainly uphill and can be quite demanding.
However, you get to enjoy views to the opposite side of the canyon and see the trail you hiked the previous day.
Gazing back at Llahuar, you can marvel at how far you've come and also appreciate the dramatic jagged rock formations of the canyon walls.
Soon, you'll be overlooking the beauty of the oasis and begin your descent down to this leafy paradise, passing by waterfalls and crossing the Rio Colca once more.
At Sangalle, the tranquil setting of Jardin el Eden (Garden of Eden) awaits.
Sip cocktails by the resort pool, bask in the sunshine and fuel up with a tasty and hearty lunch at the restaurant.
It is important to relax and rejuvenate before attempting the steep trek back up to the top of the canyon.
Trekking time: About 4 hours
Difficulty level: Strenuous
Cabanaconde to Sangalle
More popular than the Llahuar trek is the Cabanaconde to Sangalle trail, which also includes the town of San Juan de Chuccho.
This trail involves roughly three hours of hiking descent to arrive at San Juan de Chuccho before a further two hours to reach the oasis.
Trekking time: About 5 hours
Difficulty level: Moderate to strenuous
Sangalle to Cabanaconde
This is the steep uphill section of the canyon, which is known to be quite challenging.
A sharp zigzagging path is etched into the canyon wall and, because it is impossible to see the top of the trail, it can be difficult to know how far you have walked.
However, it is important to take your time and keep up your water intake as you tackle this arduous stretch.
After reaching the top of the canyon, you'll still have a short walk back into town, but do not despair – your cosy hotel, hot shower and drinks from the bar await.
Trekking tip: Try to head uphill from Sangalle in the early hours of the morning or late afternoon in order to avoid the midday heat, when temperatures in the canyon can be scorching hot.
Trekking time: 3-4 hours
Difficulty: Hard
Cabanaconde to Yanque
Back in Cabanaconde, after some much needed sleep and relaxation, you can visit Colca Canyon's famous Cruz del Condor (Condor Cross).
One glimpse of these famous canyon residents and you will be absolutely astonished.
While the Andean condor mostly uses the wind to glide through the canyon at ease, if you get to hear their wings flapping, you will begin to appreciate how large these birds truly are.
Making your way through the Colca Valley, there is also the opportunity to have lunch in Yanque, at Casa Bella Flor.
Here you will meet with a local family, eat traditional food and experience some true Colca hospitality.
Trekking Colca Canyon without a guide or a tour
You might be wondering if it is possible to undertake a Colca Canyon trek without a tour or guide, and yes there are certainly options for independent travel.
However, the very best way to experience the Colca Canyon is on a pre-organised tour with a professional and knowledgeable guide.
A guide will not only lead you on the best trails, but can also provide you with detailed explanations about the local landscape, flora and fauna.
Not to mention the region's history and culture.
And because Peru's Colca region encompasses such fascinating traditions, along with a rich diversity of plant and animal life, you are going to want to discover as much as you can about this unique destination.
Can you do a Colca Canyon trek in comfort?
Yes! It is completely possible to undertake a Colca Canyon trek in absolute comfort.
There are lovely hotels in Cabanaconde, and the lodges in Llahuar and Sangalle are basic but comfortable.
We highly recommend taking an organised tour with a professional guide, as this will minimise the potential for difficulty.
Having a guide with you takes the hassle out of your trek, allowing you to better enjoy the magnificent scenery the Colca Canyon offers.
While decreasing the potential for getting lost or injured, a guide can help enrich your experience though local knowledge.
While we can't argue that the trek itself can be difficult in places, you are free to travel as slow as you desire and a professional guide will never try to rush you.
As the canyon trails can be steep and slippery, we recommend the use of walking poles, which will also aid your journey.
Where to stay during your Colca Canyon trek
Kuntur Wassi Hotel, Cabanaconde
Kuntur Wassi Hotel is the only three-star hotel in Cabanaconde town and features a number of spacious and inviting rustic-style rooms.
With single, double triple and matrimonial suites, you'll feel right at home in this pleasant hotel.
Kuntur Wassi features a rooftop lookout with mountain views, garden terrace, library, cafe/bar area and a restaurant that serves quality, Peruvian-inspired food.
It's the perfect place to unwind after an active Colca Canyon trek.
La Granja del Colca, Cabanaconde
This relatively new hotel lies about 15 minutes out of Cabanaconde, but is perfect for those seeking a deeper connection with nature.
Situated right on the canyon's edge, you'll get spectacular views from the restaurant, particularly at sunset while you sip a glass of wine or beer and bathe in the warmth of the cosy fireplace.
Rooms have been masterfully carved into the cliff, meaning you'll find suites with feature walls made from the cliff itself.
Most importantly, the condors fly right by here after breakfast, so you don't even have to move to enjoy one of the best shows in the entire Colca region.
Llahuar Lodge, Llahuar
The thermal pools are the main drawcard for this secluded riverside lodge, although the surrounding scenery is also pretty special.
The rooms here are very basic cabins with shared bathroom facilities and there is a restaurant with terrific views overlooking the river that is open for breakfast, lunch and dinner.
Jardin el Eden, Sangalle
The 'Garden of Eden', is a pretty retreat offering basic accommodation.
If you don't plan on staying here, you can pay a small fee to use the pool.
You can also buy lunch and drinks from the restaurant.

Packing list for Colca Canyon trekking
Colca Canyon can get extremely warm during the day, while the nights can be very cold.
If you plan on doing a Colca Canyon trek between December and March, you will also encounter regular rainfall.
Hence, it is important to pack for various types of weather.
Furthermore, this is not an easy trek, so it is essential to pack good quality trekking clothing and footwear.
Here is an itemised list everything you will need for a 2-3 day Colca Canyon trek.
Passport– You MUST take your passport (a photocopy is not sufficient).
Waterproof hiking boots – Good quality, comfortable footwear is essential. Ensure your boots are lightweight and well worn in.
Waterproof clothing – especially from December to March.
Plastic bags – to keep your belongings and clothes dry (wrap everything in plastic bags).
Toilet paper – Very important! Also, small plastic bags for rubbish.
Small towel and basic personal toiletries – You may wish to shower at one of the lodges. Alternatively, bring wet wipes for your trek.
Water bottle – It is extremely important to keep hydrated. You can buy more water on the trek if needed.
Warm clothing for night time – Fleece, long pants, woollen hat, gloves.
Thermal underwear– if trekking in winter (May to August) or if you feel the cold.
Trekking clothing (layers) – e.g. zip off trousers, fleece, T-shirts.
Personal medication and basic first aid kit – bandaids, Imodium, Panadol, rehydration sachets.
Camera with spare batteries and memory cards – Note: there are no electrical outlets on the trail so make sure you fully charge or have spare batteries.
Snacks – Chocolates, chips, biscuits, fruit and energy bars.
Torch (flashlight) – Very important. Plus spare batteries.
Sunscreen, sunglasses and sunhat
Tropical strength insect repellent
Antiseptic hand gel
Swimwear
How to get to Colca Canyon
Colca Canyon is most easily reached from Arequipa, Peru's second largest city.
Arequipa from Lima
You can fly to Arequipa from Peru's capital, or take a 15 hour overnight bus ride.
Arequipa from Cusco
There are flights between Cusco and Arequipa, or you can take a 10 hour overnight bus ride.
On arrival in Arequipa, you will find regular buses to Chivay.
(Don't forget to look for the herds of wild vicuñas en route from Arequipa to Chivay.)
From Chivay, you will be able to easily move about the Colca Valley.
However, the easiest and most comfortable way to experience the Colca Canyon is to take an organised tour from Arequipa.
• View our Colca Canyon tours here.
Important information for your Colca Canyon trek
• Tourist ticket: Everyone who enters the Colca Canyon must buy a 'boleto turistico' or tourist ticket. This may be included in the cost of your tour, however if not, then they are available to buy for 70 soles in Arequipa or Chivay.
• Trekking maps: Make sure you have a good, up-to-date map, know where you are going and how long it should take. Always inform a third party of where you will be.
• Travel insurance: Do not trek without first arranging travel insurance.
• Fitness: A good level of fitness is required to participate in a Colca Canyon trek.
• Bad knees? Because the canyon is steep and the path is usually dirt or gravel, if you have knee problems it might not be wise to trek.
• Acclimatisation: Trekking at altitude can be tough and tiring, so make sure you spend at least two days in Arequipa to acclimatise.
• When to go: The best time for a Colca Canyon trek is May to November, when the canyon has its most favourable climate and trekking conditions.
• Other places of interest in the Colca Valley: Chivay – A market town famous for its hot springs, Sibayo – A charming historic village offering homestays in traditional housing, Yanque – Features a lively main square hosting traditional dancing and a market each morning, Uyo Uyo – Inca ruins near Yanque with panoramic views of the valley, Colca Lodge – a luxury resort with hot springs just out of Yanque.
Further activities in the Colca Valley: Horseback riding, biking and rafting. Ask us to organise homestays with local families.
Fancy creating your own itinerary? Simply tell us what you enjoy and our travel experts will create a tailor-made Colca Canyon tour just for you. Find more details here.
Like it? Pin it!