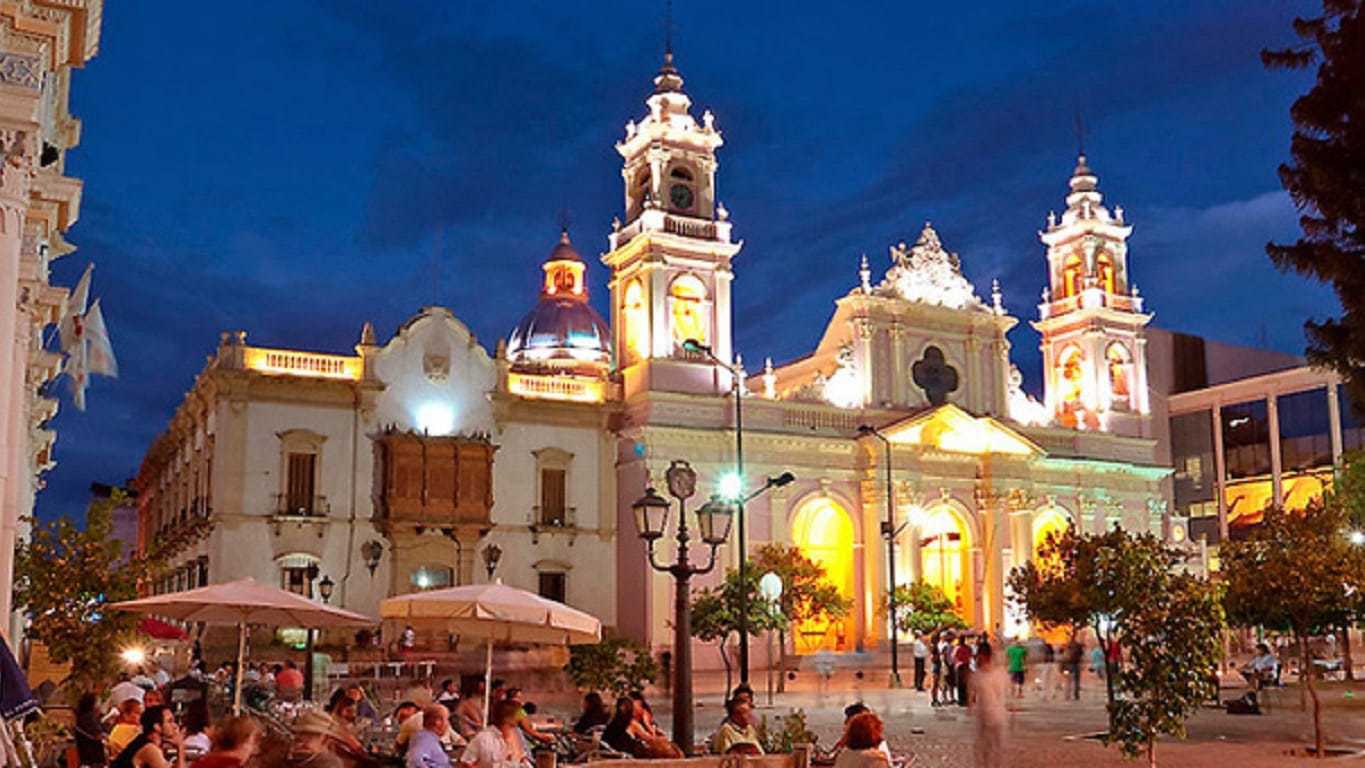 In the far north-west reaches of the colossal country that is Argentina, Salta is a little different from other South American cities. If you choose to visit – and you really should – you'll enjoy an authentic Andean city with plenty to keep you entertained.
Found in 1582, Salta is far more Incan than European. The old colonial city boasts elaborate Spanish architecture, modern museums, Argentina's best empanadas (that's really saying something) and a fascinating Incan influence. You'll find it at the foothill of the Andes. Surrounded by impressive mountains and jungle, it's the perfect place to base yourself if you decide that you want to see the incredible surrounding scenery too. The highest vineyard in the world is nearby where you can try some outstanding high-altitude wine too.
Places You Need to Visit in Salta City
There are an awful lot of things to do in Salta, so let's start with the places you absolutely cannot miss while in town.
Calle La Balcarce
Packed with local restaurants, a cluster of bars and artisan shops, Calle La Balcarce feels like the center of Salta. This pedestrianized street, just off Calle 12 de Octubre, has a great atmosphere by both day and night. Whether you fancy traditional folklore in a peña, shopping or people-watching with an ice cream, Calle La Balcarce is one of the best things to do in Salta.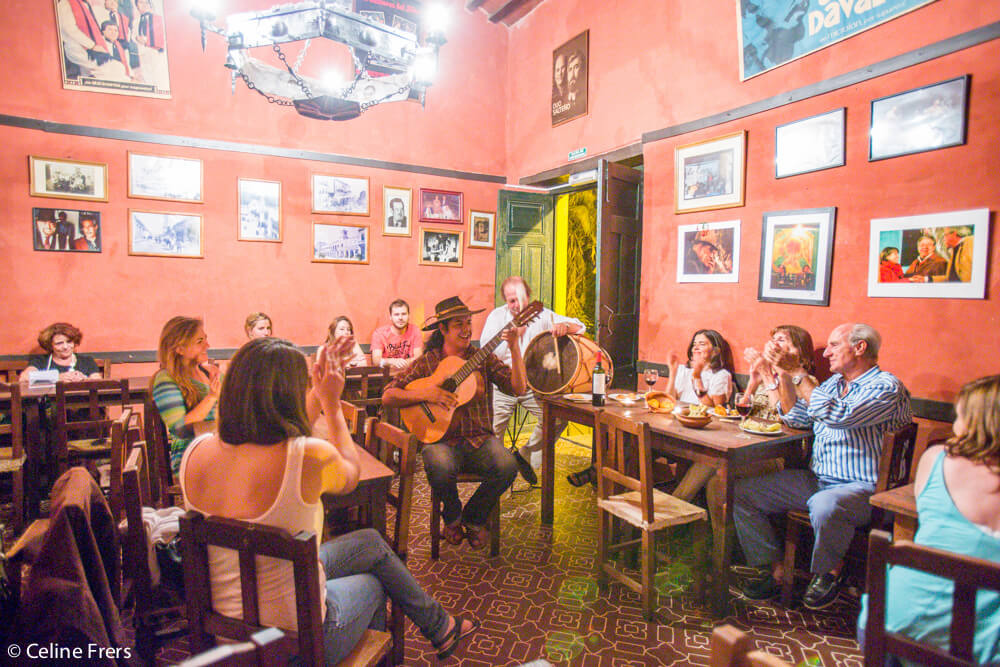 Museo de Arqueología de Alta Montaña de Salta
You may not have imagined impressive history and artifacts in Salta, but the Museum of High Altitude Archaeology (MAAM) is an excellent, manageable museum. The exhibits focus mostly on anthropology and high-altitude artifacts, keeping alive the importance of Andean culture and preserving the history of Salta.
In 1999, the remains of three mummified Incan children were discovered by scientists at Llullaillaco Volcano, the third highest volcano in the world.  The remains have been incredibly well preserved due to the cold, mostly avoiding the mummification process. You'll still be able to see hair, clothes and even internal organs at the exhibit. Only one mummy is displayed at a time and is changed every 6 months. The grizzly story of the sacrificed children is fascinating, and you can learn all about it with excellent English and Spanish descriptions.
Basílica y Convento de San Francisco
This is perhaps the most photographed building in the city, and it's easy to see why. Used on many promotional posters, this is the city's most recognizable sight. Like the Casa Rosada in Buenos Aires, the building's exterior is a brilliant pink. This is complemented with fantastic greens, blues and golds to make a very colorful addition to Plaza 9 de Julio.
Inside there's a small religious museum, and the ashes of General Martin Miguel de Gümes – a revolutionary war hero. If you'd like to see the typically Argentinian proceedings, then you can attend the service on a Sunday morning too.
The basilica is also beautifully lit at night, where its pink colors dominate the square and make it the center attraction.
Plaza 9 de Julio
As you wander around the 'linda' streets of Salta, you'll find it difficult to avoid Plaza 9 de Julio. It's the city's main square and here you'll find the best of the Spanish colonial architecture. Cozy cafes line the edges of the green square which is filled with palm trees and other plants. There are plenty of cobblestone streets and alleyways leading off the square which will keep you entertained on your stroll through town. The Basilica and Convent of San Francisco and MAAM are just a couple of the square's most beautiful surrounding buildings.
Cabildo
Another Salta highlight is El Cabildo, the 18th-century colonial town hall. The building itself is very picturesque and it also hosts the History Museum of the North. There are more Incan artifacts and intriguing displays about the war for Argentine independence, but all of the text is in Spanish. Regardless, it's a great insight into Salta's colonial era. Outside there's a peaceful courtyard filled with well-kept flowers, and there are tall balconies which overlook the square itself. There are plenty of things to see in Salta's Plaza 9 de Julio alone.
The Best Time to Visit Salta
If you're only concerned about clear skies and sunshine, then there's no real bad time to visit Salta. The colonial city generally enjoys the year-round sun. However, at certain times of the year, sunshine during the day can mean bitter cold nights. These are the seasons you should know about.
The best times to visit Salta are in the summer months, from December through to February. Although there's a chance of precipitation, these are the hottest months with an average daily temperature of 70°F. Rain is likely to be in bursts, and never lasts the full day. Following that, Fall (March – May) is also very pleasant and full of sunshine.
Spring  (September – November) can be a great time to visit as the temperatures are a little milder, but the chance of rain is still low. Meanwhile, from June until August there's very little chance of rain, but the temperatures cool off to around 52°F during the day and can be much colder at night. Pack warm clothes if you're visiting at this time of year, and book in advance if you're visiting during the Virgen del Milagro festival in September.
Try the Local Cuisine
Even in a country known for its rich gastronomy, Salta is a top foodie destination. A passionate Incan heritage transfers even to the meals which are unique and nourishing. Sampling the food – which you won't find in many other places – is one of the most enjoyable things to do on a sunny Salta day.
Empanadas
You'll probably think of empanadas as a 'fast food', but they're a way of life in Argentina. These delicious pastries can be filled with meat, cheese, seafood and other condiments to make a great, flavour-filled snack. Salta is known for creating the best empanadas in the country – be sure to try try some and decide for yourself.
Locro
When in town you can't miss perhaps the most typical Andean dish there is – locro. This hearty stew is exactly what you're looking for in the colder winter months. The filling meal, made with corn, beans, chorizo, carne, vegetable and onion is likely to satisfy every starving taste bud with its sweet, spicy flavours.
Humita en Chala
Humitas are another delicious Salta speciality. The traditional dish combines sweet and salty flavours and can be adapted either way for personal preference. Onions and corn dough are fried and then combined with cheese, squash, spices and milk. Thereafter wrapped in corn leaves, cooked until boiling point and ready to serve. Beware the spicy varieties!
The Best Places to Eat in Salta
So you know the best dishes to try, but where should you find them? We've listed our favorite Salta hangouts for great atmosphere, value and quality fare.
Doña Salta
In recent years Doña Salta may have adapted itself for growing tourist numbers, but this is still a classic Salta experience. Smartly dressed staff will show you to your table and present you with a menu consisting of local dishes which haven't changed for generations. The attractive interiors and extensive wine lists make this a great night for every visitor. The locro here is a must.
Chirimoya
You've probably noticed a lot of typical Argentinian food includes very generous cuts of meat. But there's a growing vegetarian and vegan scene, perfectly exemplified with the innovative Chirimoya. The inspiring chefs work in an arty, colorful space and use entirely natural products. As well as offering healthy juices, they have an inventive menu full of consistently high-quality dishes, including lactose-free and gluten-free options too.
Jose Balcarce
Jose Balcarce combines the best of the cozy atmosphere and brilliant Andean food. Although the small menu focuses on traditional, local Andean dishes, many have a modern and creative twist. We recommend enjoying your meal with one of the many perfectly-paired local wines behind the bar.
La Casona del Molino
While Doña Salta may have adapted for tourism, La Casona del Molino certainly hasn't. This is a super traditional restaurant in a gorgeous old house; a true peña. There are lots of rooms and alleyways and in each quarter you'll find music and singing, the best empanadas and a wonderful atmosphere. A perfect way to while away a night in Salta.
Where to Stay in Salta
You'll find a great range of accommodation options in Salta, on a budget to suit every traveler. These are the pick of the bunch.
Kkala Boutique Hotel
Kkala Boutique is the established luxury residence in Salta and a charming boutique hotel. Each of their 10 rooms, uniquely designed, combining local craft and stunning mountain views to create a quiet, comfortable atmosphere. Staff is attentive, the pool and gardens are beautiful and the bohemian decor will guarantee a good night's sleep. Due to the attention to detail in each of the rooms, the entire hotel is really beautiful, the gardens, the terrace and each room decorated with such care. we loved it, enjoy the swimming pool, the delicious breakfast and personalized attention at every moment.
Highly recommended!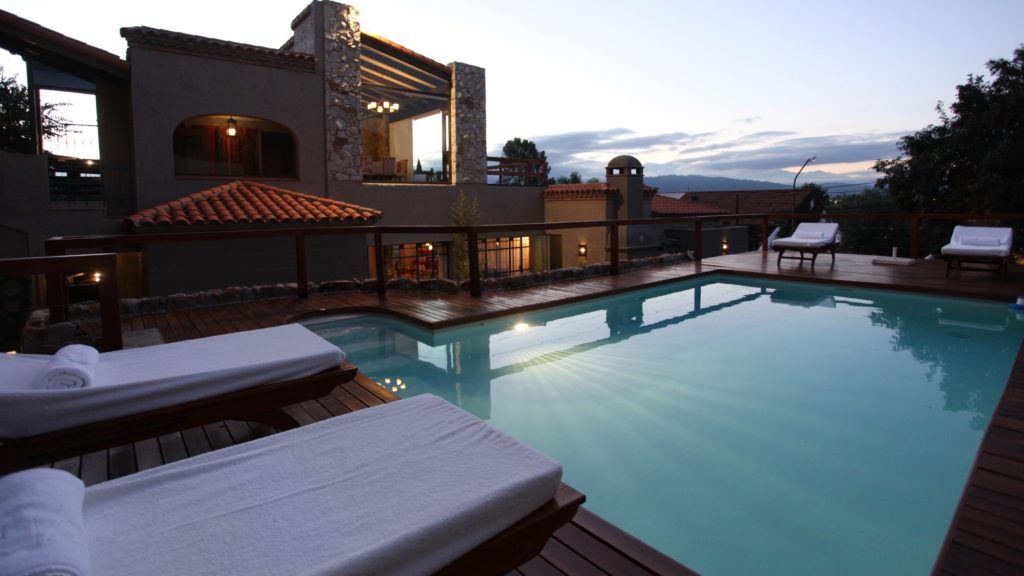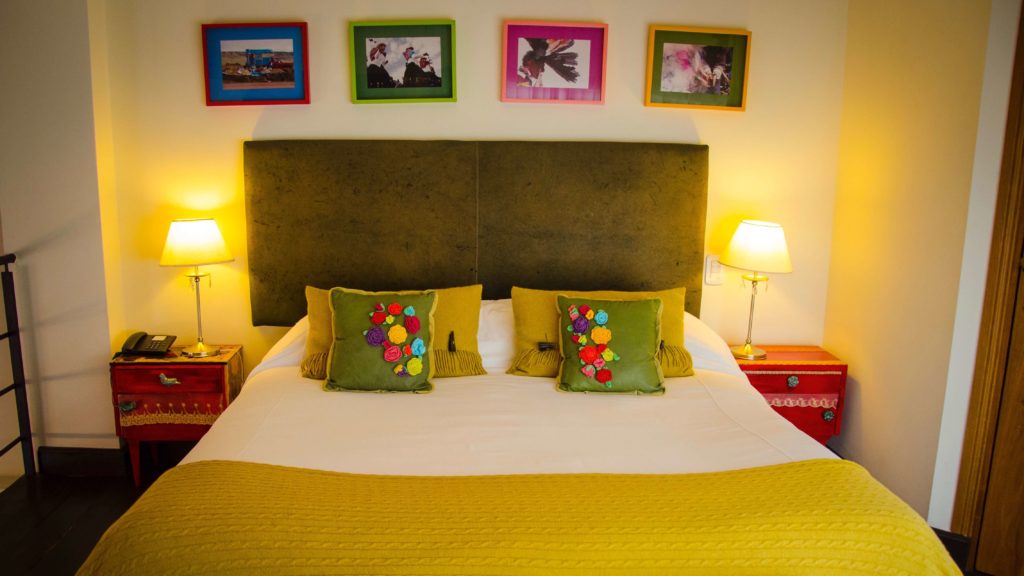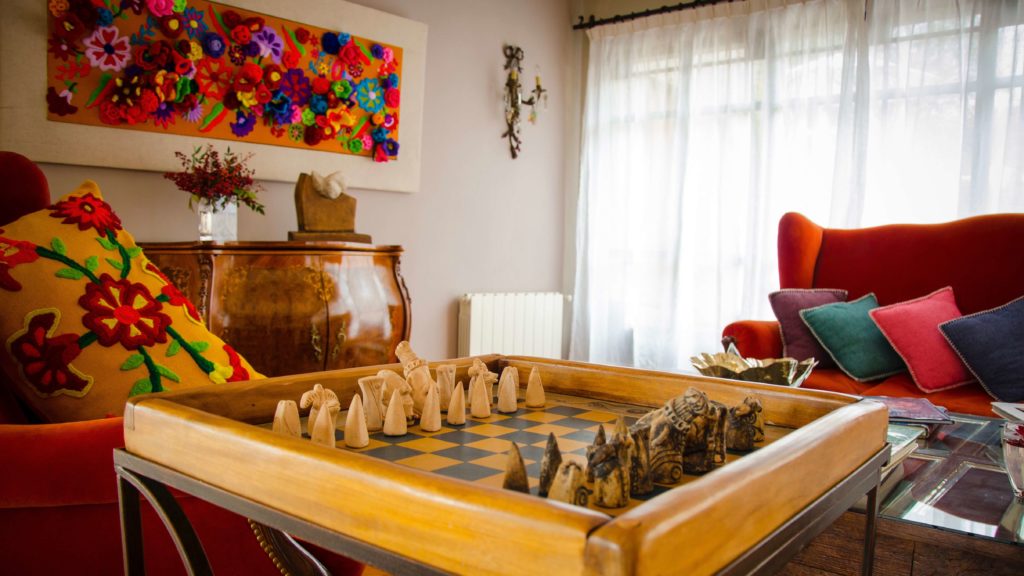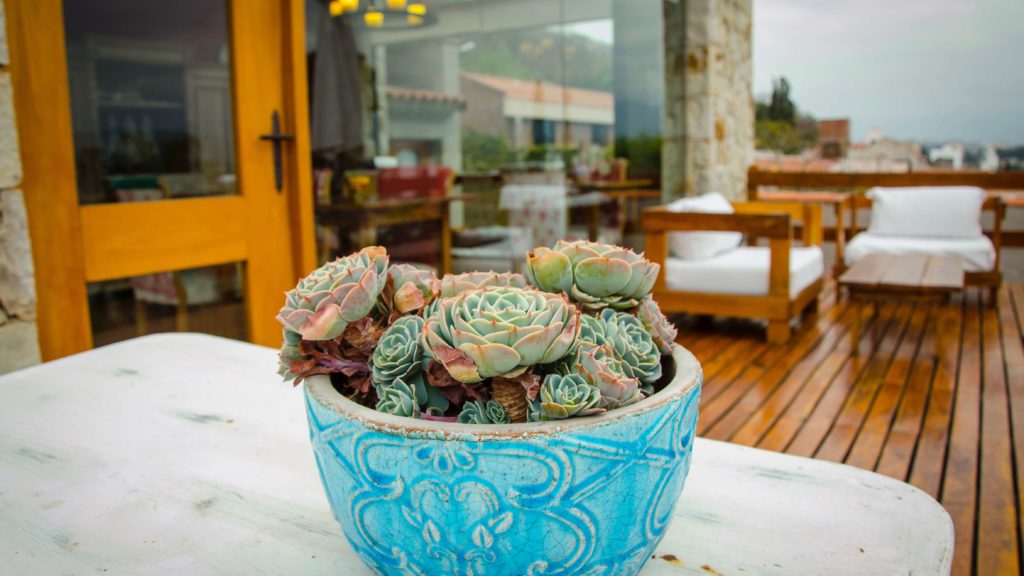 from $200 per night –MORE INFO
Solar de la Plaza
Equally attractive is the colonial Solar de la Plaza. This classic building could not be better located and ensures the highest level of comfort for every guest. Inside you'll find a stylish design, four-poster beds and elegance in every chamber. With both an indoor and outdoor pool it's phenomenal value for money and highly recommended.
from $105 per night –MORE INFO
Hotel Las Chirimoyas
For a relaxing and atmospheric stay, look no further than Hotel Las Chirimoyas. This cozy hotel features huge rooms with garden access and an outdoor pool in the peaceful Tres Cerritos neighborhood. You'll love the family atmosphere, laidback vibes, and affordable rates.
from $60 per night– MORE INFO
The Best Day Trips from Salta
Although there are plenty of things to see in Salta City, it's also well-known for its stunning day trips which are affordable and offer great value for money. Basing yourself in the city you have a great range of options – these are the best ones.
Tren de la Nubes
You're in the right place for Argentina's most famous train journey. The 'train to the clouds' takes you down into the Lerma Valley, before re-ascending to the incredible viaduct at La Polvorilla at an unbelievable 4,220m. It has to be seen to be believed. You'll see some of the best scenery in the area and marvel at the human engineering that makes it all possible. Prepare for a long day though – you'll leave at 7am and return at 7pm.
Cafayate and Wine Tasting (full-day tour)
If you've come this far, you can't miss wine tasting around Cafayate. It's one of the top things to do in the country, never mind in Salta. These wine tours give you the chance to explore numerous styles of vineyards, try the unique wines and take in the gorgeous surrounding scenery. How often do you get the chance to visit a winery at 2,200m? You'll be picked up and driven through the astounding Calchaqui valley landscape, before lunch and wine tasting where you'll learn about the unique winemaking process.
If you are passionate about high-quality wines and walks through incredible landscapes, Cafayate is an idyllic place worth staying a minimum of 2 nights.
Quebrada de Humahuaca (full-day)
Exquisite and magnificent landscape surrounds Salta City. Quebrada de Humahuaca might just be the most impressive of all, and that's saying something. This 96-mile long valley follows the Río Grande, snaking through the Jujuy province all the way to Bolivia. This extreme, densely-populated area was named a UNESCO World Heritage site in 2003. On a full day tour from Salta you'll see a landscape full of eye-catching colors, one that's constantly changing. There are canyons, gorges, bizarre rock formations and more to see on a day trip you won't forget anytime soon. If you have some extra time you could visit also the amazing Hornocal close to Humahuaca town.
Salt Flats Tour (full-day)
The salt flats in Uyuni, Bolivia, are rightly popular. But did you ever consider visiting the Salinas Grandes from Salta? These salt flats, around 3,550m above sea level, were once a 525km2 lake. They're best visited on a day trip from Salta.
If you visit during the dry season you'll be blown away by the magical terrain. The sharp white contrast between barren salt flats and blue sky make it fun to take perspective photos with a bright, blinding background. In the rainy season, the flats are covered with a layer of water and a unique reflection makes for incredible pictures. You won't need any train to feel like you're walking in clouds.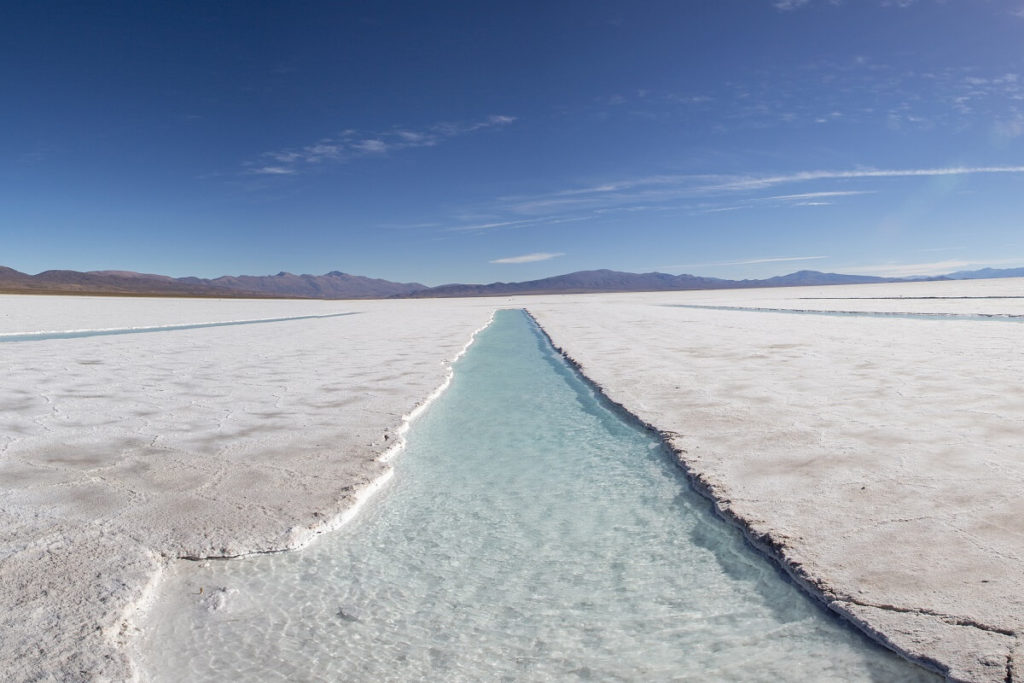 LIKE IT? PIN IT!