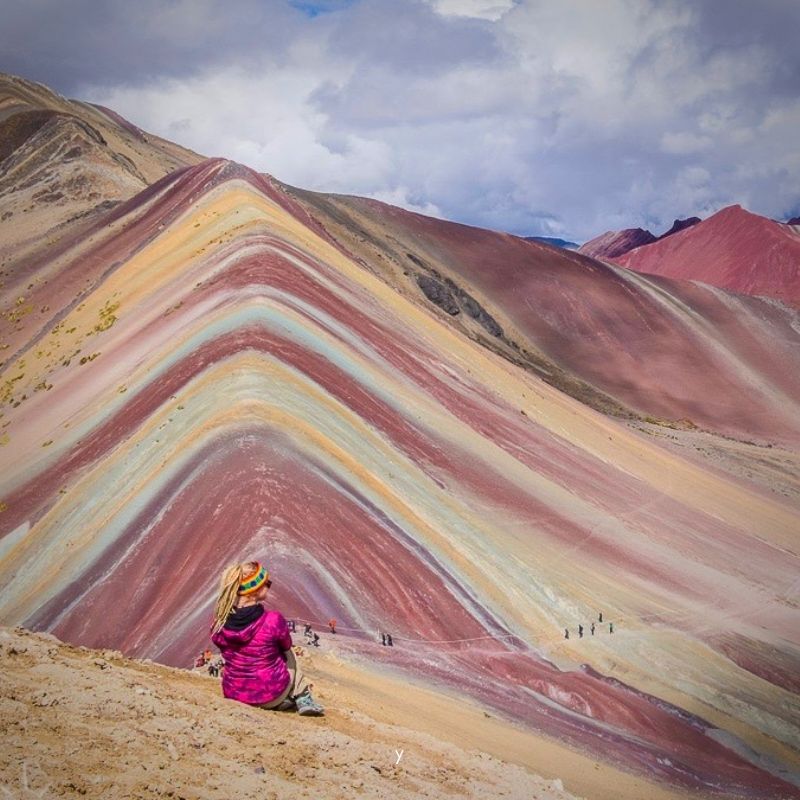 Are you planning to visit Rainbow Mountain?
If you go 100km from Cusco in any direction, you are liable to find yourself on or near a mountain.
This is because Cusco is situated in the Andes mountain range.
There are hundreds of mountains in the Andes mountain range above 4000m.
If you lowered that number, it would become thousands – thousands of mountains running through Chile, Argentina, Bolivia, Peru, Ecuador, Colombia and even Venezuela.
But visit Rainbow Mountain and ask yourself: how many of these other mountains are magical mountains painted with rainbows?
The answer is very, very few.
Perhaps just one.
And you can visit Rainbow Mountain, known officially as Vinicunca Mountain, in an easy day trip from Cusco.
Hardened hikers and tourist day-trippers alike love the Rainbow Mountain – a point of interest that was not even on the radar two or three years ago.
Interest as a hiking/tourist destination suddenly exploded, and hence now one of the most popular activities among visitors to the Cusco region of Peru is to visit Rainbow Mountain and its 5200m peak!
But what exactly is the magical Rainbow Mountain?
The Geography of Rainbow Mountain
Vinicunca Mountain acquired its colourful stripes one day many millions of years ago when a clumsy pixie-faerie accidentally dropped her magic rainbow paint all over it after carelessly inhaling her own pixie dust.
Ever since then, the mountain has had this marvellous colouring that stands it out against all the other plain and dour mountains of the Andes, like Ausangate and Salkantay, and much to their raging jealousy.
This explanation is the current consensus among the scientific community.
Other explanations posit that the subduction of the Nazca continental plate underneath the South American continental plate applied pressure to the latter, which resulted in the formation of the Andes mountain range.
This mountain range was accompanied by volcanism, which brought various rare minerals to the earth's surface.
Exposure of oxygen and water (weathering) reveals iron oxide, and the tectonic movements over the aeons have pushed the crusts onto their sides, turning the horizontal layers vertical and creating the rainbow effect.
But it's basically cut-and-dried and there is little debate over the two theories.
Visit Rainbow Mountain for yourself and see which one you believe!

How to visit Rainbow Mountain
From Cusco
A Cusco tour to visit Rainbow Mountain is usually a one-day affair.
Pickup will usually be at the hair-raising time of 3am-4am, and you drive through the early morning fog and up some windy and precarious mountain roads.
It's best not to look out of the window at this point.
A rudimentary breakfast will be provided and last minute preparations made, and then the trek begins.
It will take an average of 2-3 hours from start to peak.
The route is through some heavenly green mountain valleys, populated with alpacas and llamas and the local people.
The path is not well maintained, and gets muddy and slippery.
This is a genuine hazard.
The path is not overly steep, and takes you deep into the lap of the mountains, until the peak comes into sight. Then the inclination increases, and the final hundred metres or so are a battle against gravity and the elements. And finally you arrive at the Rainbow Mountain.
After the hike back, a surprisingly decent lunch is laid on, and then more terrifying mountain roads until return to Cusco around 9pm. This option is very popular and is not very tranquil due to the large numbers of people who do it every day.
The Ausangate Trek is an Andes trek that takes you through some gorgeous valleys and past some serious Andes peaks.
This is the highest trek in Peru, and each night you will stay in Andean lodges offering heat, cosiness and comfort.
On day 3 you will arrive at Rainbow Mountain, having already pushed yourself to see a great deal of the awe and beauty that trekking in the Cusco region has to offer.
Via this manner, however, you will get to see far more of Rainbow Mountain, from differing angles, and for much longer.
The one-day trip is just a glimpse, but on the Ausangate Trek you will pass by the full extent of the mountain, stopping for lunch to appreciate exactly what it is you are seeing.
In addition, you will avoid the hordes that ascend daily on the one-day trek.
The Altitude and Weather at Rainbow Mountain
The altitude and the weather are two very important factors to consider before you visit Rainbow Mountain.
During the rainy season, December to March, the path is liable to be very slick and muddy.
As a result, this makes for unpleasant hiking conditions.
Even during the dry season the path will be muddy and well-trod due to the number of visitors.
But, on a sunny day, the hike is a joy.
With the sun shining, and at high altitudes, you will feel nice and warm.
But you must still bring a jacket and cold-weather clothes!
The true temperature is very cold, and as soon as the sun goes in you will feel it.
The altitude is no joke, at 5200m.
For clarity's sake, let us make this clear: Rainbow Mountain is higher than Mount Blanc, the highest peak in Europe, Mount Whitney, the highest peak in North America, and only a little shorter than Everest Base Camp.
At this altitude, any sudden exterion will leave you short of breath, and altitude sickness can occur.
The symptoms are: headaches, nausea, dizziness, a tight chest.
Altitude sickness doesn't afflict everyone, but it's possible.
Please note: Acclimatisation in Cusco of at least three days is imperative prior to visiting Rainbow Mountain.
Tips for visiting Rainbow Mountain:
Bring a warm jacket, hat, gloves and a scarf, because at the top of the mountain it is COLD. So cold it's hard to speak.
But be prepared for warm, sunny weather lower down from the summit.
Bring high-energy snacks because the breakfast isn't always filling.
Bring plenty of water.
Sunglasses.
Coca leaves can help with the altitude.
Be prepared to get muddy.
Walking sticks are recommended for balance.
It's possible to rent a mule to carry your luggage or yourself, should you find the hike a struggle.
Learn some Photoshop skills to airbrush out all the tourists from your iconic Rainbow Mountain photo.
Click here to book your Ausangate Experience with Rainbow Mountain.
Pin this post for later!